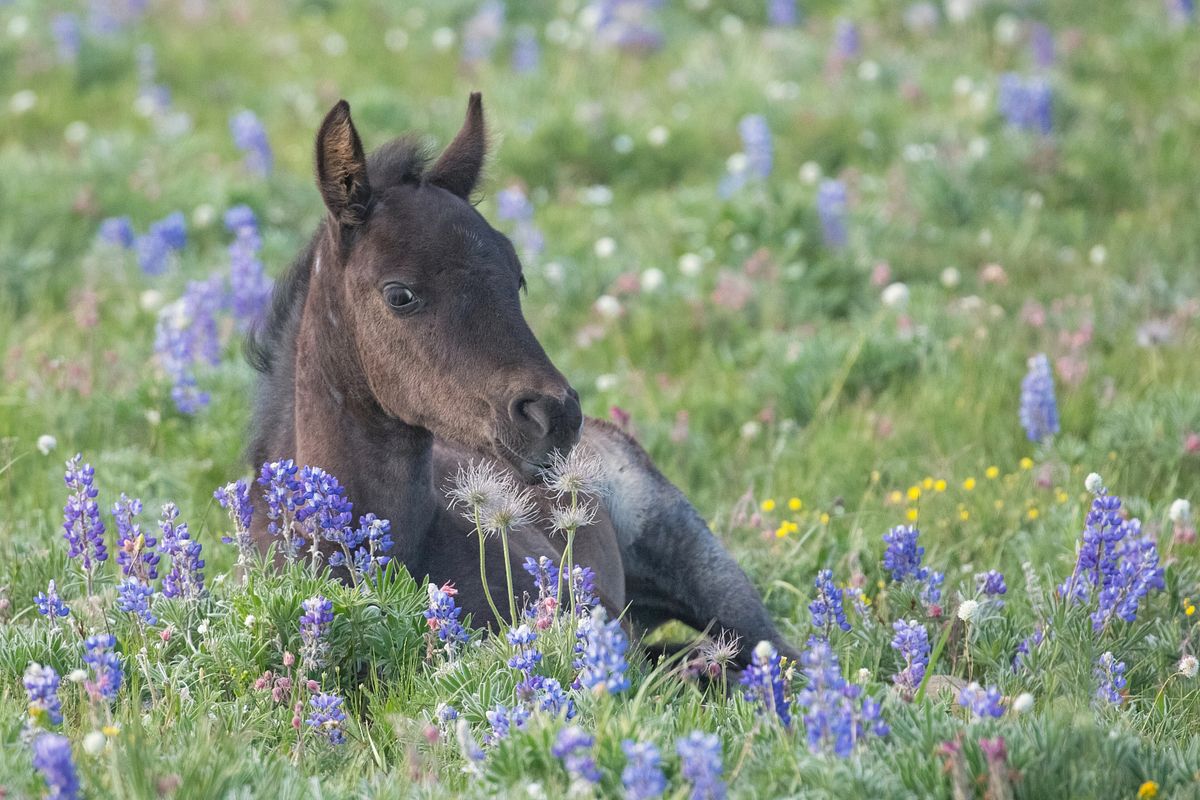 THE COMMENT PERIOD FOR THE BLM'S PRELIMINARY ENVIRONMENTAL ASSESSMENT FOR THE PRYOR MOUNTAIN WILD HORSES HAS ENDED. THANK YOU TO ALL WHO HAVE COMMENTED.
On March 15 2023, the BLM Billings Field Office released a Preliminary Environmental Assessment, including their Wild Horse Gather Plan, for the Pryor Mountain wild horses. In this document, the BLM suggests taking the current population of approximately 200 horses down to 150 horses in 2023. Subsequent removals will take the remaining population down to the low Appropriate Management Level of only 98 horses. I know that people around the world care deeply about this amazing herd, so it's up to us to comment to the BLM and let them know that we don't agree with their proposed plan.  All public comments to the BLM's Preliminary Environmental Assessment must be received by April 28, 2023 to be considered. You can read the BLM's Preliminary Environmental Assessment at the link below.

BLM HMAP ENVIRONMENTAL ASSESSMENT

I am by no means an expert on the Pryor Mountain wild horses. Using information provided by the amazing advocates most familiar with this beloved herd, I've listed some suggested talking points you can use as is, or modify, to send to the BLM in response to their removal plan for the Pryor Mountain wild horses. Without your voice, we could lose many of these horses forever and I know that none of us want that. If you have any questions, you can reach me at sandysisti@yahoo.com. Thank you all so much for caring about the Pryor Mountain wild horses.

Here are some suggestions on comments to submit to the BLM's Environmental Assessment:
Please Note: the talking points listed below cannot be cut/pasted using a mobile device.

The Appropriate Management Level (AML) for the Pryor Mountain Wild Horse Range is 98-121 horses. The estimated population is currently 200, but due to extreme winter weather, current population numbers have yet to be confirmed for 2023. For the first removal, the BLM proposes removing approximately 50 wild horses from the range, bringing the wild horse population down to 150. Subsequent removals are proposed that will bring the herd number down to 120 and then to the final number of 98, or low AML.

I strongly oppose the removal of 50 horses from the range as part of the initial removal slated for 2023/2024. The removal of more than 25% of the total population would result in a negative impact on genetic diversity and herd social structure. If it is decided by the BLM that some of the Pryor Mountain horses must be removed, an incremental removal over a 5-10 year period is requested. Specifically, removing 15 horses from the 1-4 year-old age group for the first removal will lessen the negative impact on herd dynamics, allow observation and study of the resulting environmental effects, and allow advocacy groups to work with the BLM to ensure placement of removed horses into good homes.
If the Pryor Mountain herd population is eventually reduced to only 98 horses, the herd will no longer be genetically viable. Dr. Gus Cothran, leading horse geneticist and professor emeritus at the Texas A&M School of Veterinary Medicine, states that, at a minimum, herd size must be maintained at 150 horses to ensure genetic viability and a healthy population. Lower population numbers lead to more in-breeding, resulting in the population being vulnerable to multiple health problems. According to the BLM's own Wild Horse and Burro Handbook, "A minimum population size of 50 effective breeding animals (i.e., a total population size of about 150-200 animals) is currently recommended to maintain an acceptable level of genetic diversity within reproducing WH&B populations (Cothran 2009)". If the Demijohn Flats and Sorenson Expansion/Pasture allotments are added to the range in its entirety, the Pryor Mountain Wild Horse Herd Area could easily support the current population and more.
It must be noted that there is a fairly high proportion of aging horses within the Pryor Mountain herd. With a total population of approximately 200 horses, there are 58 horses greater than 15 years of age, with 22 of these horses over the age of 20. Because of the high number of elderly horses, it is believed that natural attrition within the population could decrease the herd size significantly within the next few years. Any removal of excess horses would quickly bring the population well below the threshold for genetic viability, therefore, keeping the population above 150 is crucial. If it's decided to remove any of these older horses from the population, they will most likely become Sale Authority Horses and, if not rescued by a sanctuary, they could find their way into kill pens and eventually the slaughter pipeline. For horses that have known freedom their entire lives, this cruel end is unnecessary and unwarranted.
The current Resource Management Plan (RMP) contains a series of guiding principles related to the Pryor Mountain wild horses. This proposed RMP Amendment would change one of the guiding principles (MD WH-7) to read as follows: "maintain genetic diversity, as measured by Observed Heterozygosity (HO)." If the HO falls too low, then the BLM will take action to try to bring the HO back to the desired level by maximizing the number of fertile, breeding age horses within the herd; adjusting the sex ratio in favor of males, and introducing mares or stallions from other wild horse herds.

The proposed methodology to address falling HO as described in the BLM's RMP Amendment is a reactive, after-the-fact approach. Steps need to be taken to prevent the HO from falling below the desired level so the actions outlined above would be unnecessary. For over 50 years, the Pryor Mountain Wild Mustang Center has kept records of the Pryor Mountain wild horses. With this data, they have compiled lineages that can be used to proactively maintain genetic diversity. The data is available to the BLM to use for this purpose, thus negating the need to modify the original guiding principles.
The use of PZP Immunocontraceptive vaccine to manage the population at the Pryor Mountain Wild Horse Range should be continued. However, it would be useful to disclose data recording the extent of fertility control used on this herd in recent years. It is suspected that darting has not been performed consistently or within recommended seasonal time-frames to afford the most effectiveness. Given concerns about its potential for permanent sterilization and injection site abscesses, GonaCon should never be considered as an alternative fertility treatment for the Pryor Mountain mares. PZP has been used to effectively manage this herd and its use should continue into the future.
As per the BLM darting protocol for Pryor Mountain mares, initial treatment with PZP (priming/boosting) begins at 18 months of age. PZP darting data from the nearby McCullough Peaks Herd Management Area in Wyoming, has shown that young mares not primed/boosted at or near 12 months of age frequently become pregnant, and foal as they are nearing two years of age. It is recommended that the darting protocol be adjusted to allow initial PZP treatment of Pryor Mountain mares to begin at approximately 12 months of age, thus allowing mares to be fully mature before producing their first foal.
The Pryor Mountain wild horses are Montana's last remaining wild horse herd and are beloved by people around the world. As such, the BLM should take pride in managing these cherished horses using a plan that allows them to thrive on our public lands so that they may be enjoyed by future generations.
Thank you for your consideration of these comments.
---
Comments must be received by midnight on April 28, 2023 to be considered.
It's important that you submit your own comments.  Please don't rely on a "sign on" letter, because the BLM considers those as only one comment.

THE COMMENT PERIOD FOR THIS PRELIMINARY ENVIRONMENTAL ASSESSMENT IS NOW CLOSED. THANK YOU TO ALL WHO HAVE COMMENTED.
---
You can also submit written comments here:
Montana/Dakotas Bureau of Land Management
Billings Field Office
5001 Southgate Drive
Billings, MT 59101
---
WHEN MAKING PUBLIC COMMENTS TO THE BLM:
We need as many people as possible to submit comments and let the BLM know how important the Pryor Mountain herd is to them personally and to the public.
Keep your comments:
Civil
Mature
Professional
Scientific and fact based

DO NOT make any comments that are rude or threatening in nature. Any rude or threatening comments will only hurt our chances to protect this herd.

---
Acknowledgements:
Thank you to the dedicated advocates and advocacy groups that have so thoughtfully prepared comments to the BLM which I have sampled in the talking points presented above including:  Nancy Cerroni of Pryor Wild, The Pryor Mountain Wild Mustang Center, The Cloud Foundation, The American Wild Horse Campaign, Abbie Branchflower and Amy Trenner.

COMMENTING HAS BEEN DISABLED FOR THIS BLOG TO DISCOURAGE COMMENTING TO ME AND NOT THE BLM.