In 2004 a spunky black and white pinto colt was born to the mare, Jasmine, at the McCullough Peaks Herd Management Area. This little colt came to be known as Tecumseh, and like his namesake, the great Shawnee Chief, he grew up to be a fierce warrior. I saw Tecumseh for the first time in 2008 when he was four years old and since that time he's grown to be one of my favorites. When I first laid eyes on him he was a young bachelor stallion, recently chased away from his family band.
Like most young stallions driven from their families, Tecumseh joined up with other lone stallions to form a bachelor band. Although most of the stallions in his band were quite young, Tecumseh was the smallest of the bunch. Being small in stature didn't stop Tecumseh from being tough, and I watched as he fought with his much larger band mates.
Play-fighting among bachelors is an important part of their education, as they practice the moves they'll use to battle other stallions in their fight for mares. Although their fighting was now only play, it was still a dangerous business. Tecumseh's body was heavily scarred from all the bites and kicks he'd sustained during these mock battles. Even though I was concerned to see young Tecumseh in this condition, I learned that wild horses are amazingly tough and within weeks his wounds would completely heal, just in time for him to accumulate some new ones.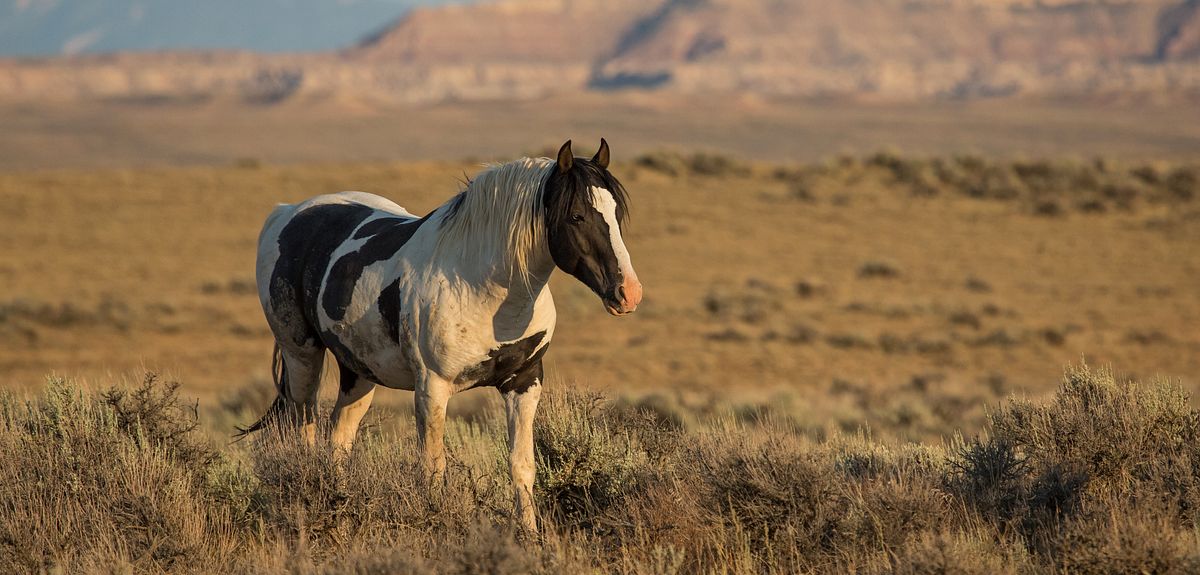 I next saw Tecumseh in 2009 and much to my surprise he had a small family band of his own, which included lead mare Tradebead, her daughter Ruger, and the sorrel sabino mare named Legend. 2009 was not a good year for the horses of McCullough Peaks as a helicopter roundup removed ninety-three horses from the range, ripping apart families and leaving band stallions and the remaining members of their family separated.
After that, I saw many of the mighty band stallions wandering the range without any mares, but somehow little Tecumseh was able to find himself a family. Like other stallions with a band of mares for the first time, Tecumseh was nervous about losing them, always watching them intently and keeping them away from the other much larger stallions on the range. Because of Tecumseh's protective behavior that year, I didn't see him much. Always favoring the Red Point section of the range, Tecumseh and his family seemed to have disappeared, but since keeping his family together was his main focus, his behavior was understandable.
In 2010, Tecumseh's family expanded with the addition of two new foals. The little filly Taurus and the colt Savage. During this time, Tecumseh seemed to be more comfortable in his position as a band stallion and brought his growing family back to the Red Point area where he'd spent most of his life. He was challenged by numerous bachelor stallions, most much larger than himself, but somehow Tecumseh always prevailed.
In 2011, there was another addition to Tecumseh's family, Tonkawa, the beautiful blue-eyed colt of Tradebead. Like his sire, Tecumseh, Tonkawa was smaller than many of the colts on the range, but he was always looking for trouble, even when it came in the form of one of his much larger siblings. At this point, despite his small size, Tecumseh had one of the largest family bands and did his best to keep them safe from marauding stallions and other dangers. Late in the summer of 2012, I found Tecumseh and his growing family foraging in the lush growth along Dry Creek. It was an incredibly dry summer and many of the bands were gathered near the creek along one of the last remaining water sources on the range. Although Tecumseh and his band were sharing the water with many other horses, Tecumseh still did his best to keep his family away from all the activity. While most of the horses gathered on the west side of the creek, Tecumseh and his family grazed on the east side, just far enough away from any stallions who might want to cause trouble.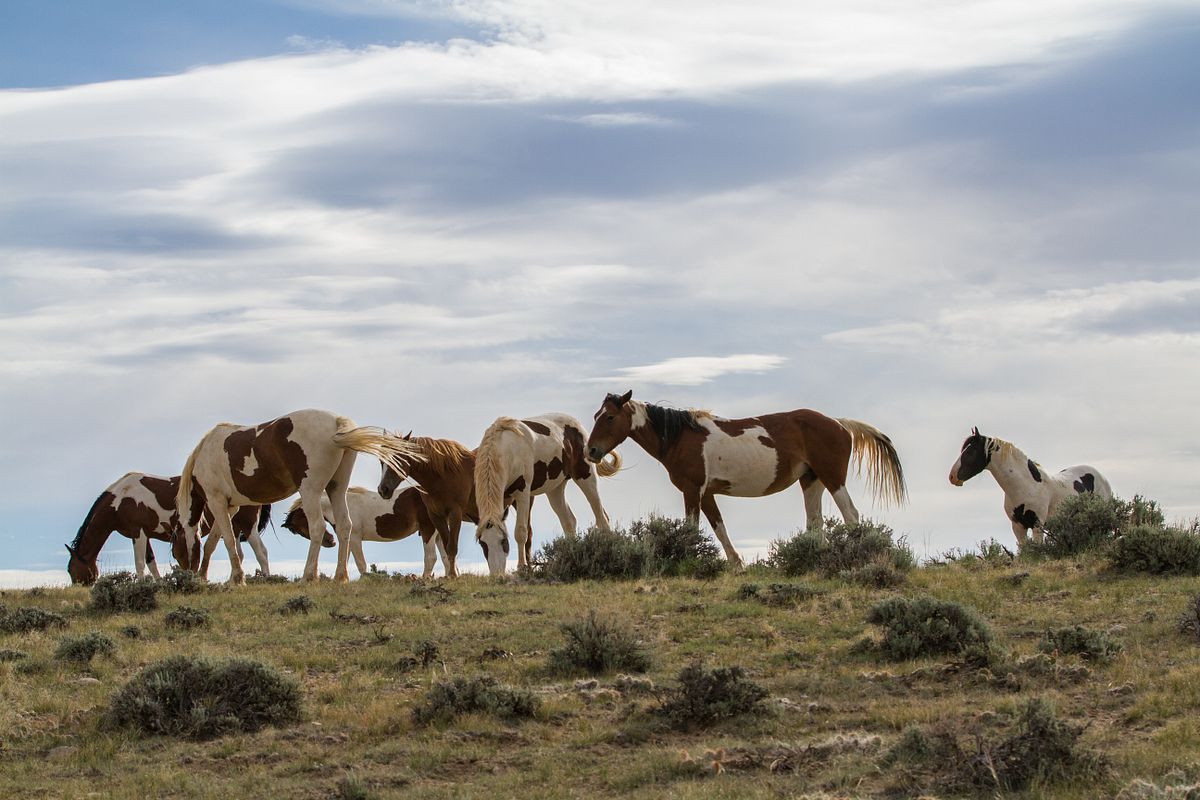 One day while photographing Tecumseh and his colorful band of pintos, I noticed that his mare, Ruger, looked heavy with foal. From the looks of Ruger it would only be a matter of time until she gave birth. I hoped it would be sooner rather than later since fall and winter were right around the corner. Just a few weeks later, on September 12, 2012, I located Tecumseh and his band again grazing near Dry Creek. I looked around at the beautiful band to determine if all the members were present and accounted for, but couldn't find the pregnant mare, Ruger. I searched, but not seeing any sign of her, I became increasingly concerned. I knew mares would sometimes leave their bands to give birth and I hoped that was the case with Ruger. After growing almost frantic with worry, I finally spotted Ruger slowly coming up the crest of a hill, her back legs and tail covered in fresh blood. Trailing behind her was a tiny, newborn colt. The little blue-eyed fellow, soon to be known as Rebel, was a bit wobbly at first, but he stood by valiantly as all the other members of the band came over to greet the new addition. From the condition of mother and colt, it was clear that Rebel had been born just the night before. He was barely able to walk. He stayed at his mother's side and did his best to follow her as she moved through the sage. Eventually, he collapsed in a heap on the ground and his mother stood guard over him as he napped.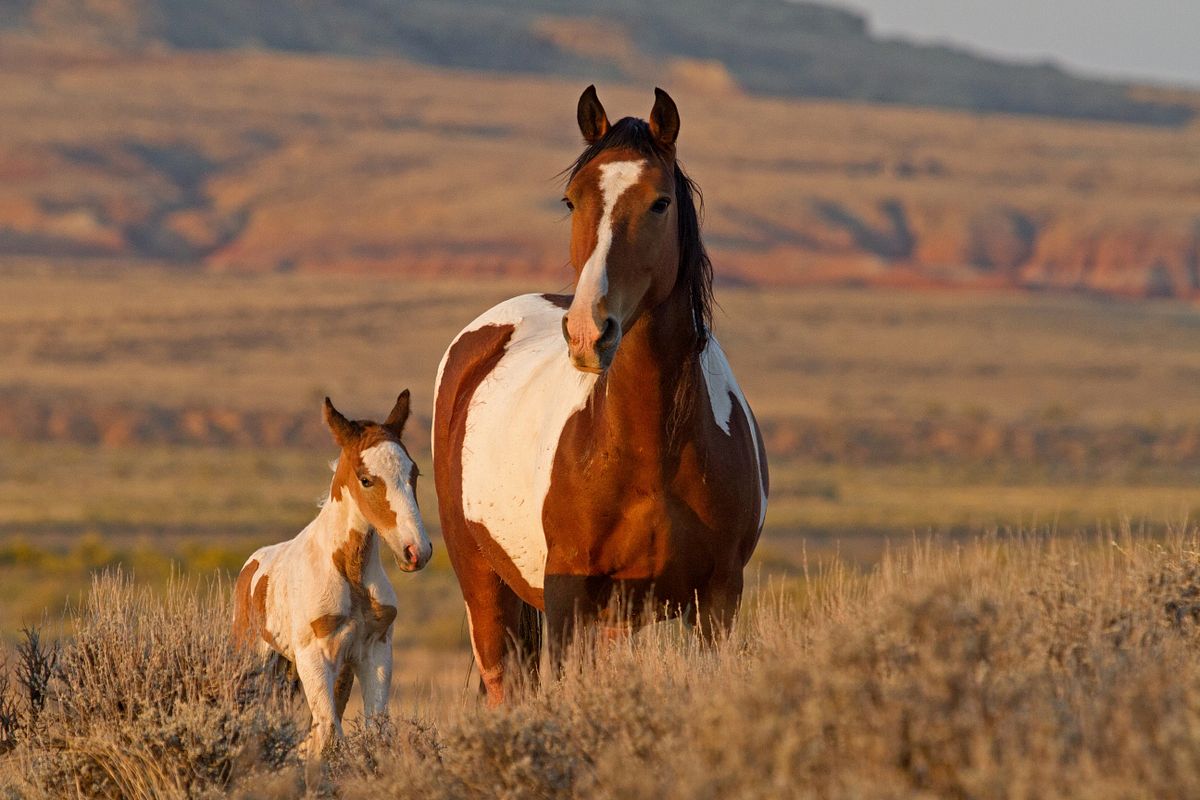 I saw a lot of Tecumseh and his family over the next few months. They frequented the area near Whistle Creek Road and were now joined by two other bands that were their constant companions--the stallion Red Rocker with his mares Legacy and Dazzle, and Medicine Hat with his mare Tigress. The three stallions formed an uneasy alliance, most times peacefully grazing with their families alongside one another, only to break out into combat if either of the stallions got too close the other's family. Keeping their family safe is a stallion's responsibility, so these little skirmishes were quite common.
In early winter 2012, I noticed Tecumseh's mare, Tradebead, was in poor health. Now twenty-one years old, she was moving slowly and appeared quite frail. She was having noticeable difficulty keeping up with the rest of her family. When approached by her colt, Tonkawa, who wanted to nurse, Tradebead had difficulty standing and swayed from side to side. I didn't think the matriarch would make it through to the end of the year, but miraculously she gradually improved and by January she seemed to be in good health again.
January 2013 was another difficult time for the horses of McCullough Peaks. The Bureau of Land Management determined in 2012 that the numbers of horses at the Peaks was above the Acceptable Management Level, so they planned to remove a small number of young horses from the range using a bait trapping operation. Instead of the far less humane helicopter roundup, bait trapping relies on the use of hay and sweet feed to lure horses into a trap where they're captured and removed. During this trapping operation, twenty wild horses and seven domestic horses were permanently removed from the range.
I steered clear of the range during the bait trapping, but returned after its completion to check on the horses. The first band I saw was Tecumseh's, making their way through the deep snow just east of Whistle Creek Road. All the horses in Tecumseh's band looked well, but I was sad to see that Tecumseh's young colt, Savage, had been removed during the trapping. Although the band looked fine, I couldn't help but wonder how distressed this close knit family was about the loss of one of their own.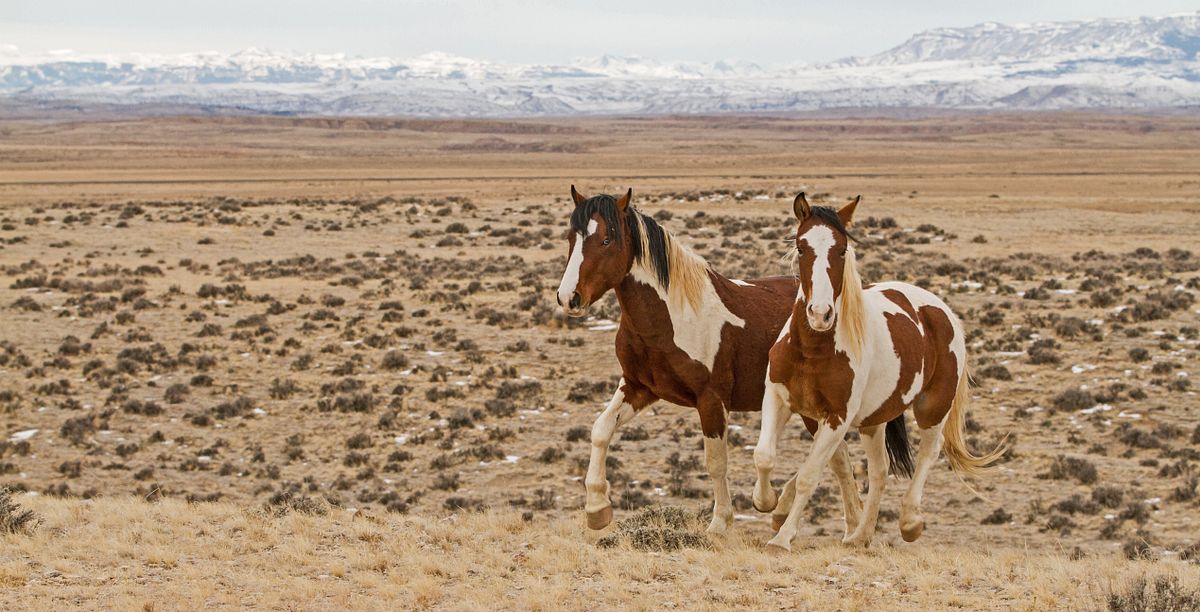 During the autumn of 2013, another new foal was born into Tecumseh's band. Ruger delivered her second fall baby as she brought the little colt Ringer into the world. Much darker than Tecumseh's other offspring, little Ringer was a carbon copy of his mother. As with all new foals, Ringer was the center of attention in the band, with all his family fussing and playing with the little fellow, especially his older siblings, Tonkawa and Rebel. Rebel was only one year old when his baby brother was born so he was still very attached to his mother. Tonkawa, on the other hand, was very interested in his father's mares and was often disciplined by Tecumseh as he pursued them through the sage. It's for this reason that stallions kick out their young colts once they reach a certain age and after seeing Tonkawa's antics, I felt his time was near.
The winter of 2013-2014 was very hard at McCullough Peaks. There was record cold and snowfall throughout northwest Wyoming. I worried for little Ringer and for Tradebead who was again looking frail. Both old and young horses often succumb to the ravages of winter, so I was very thankful to see Tradebead, Ringer, and the rest of the band in good health when the snow began to melt in early spring. Although the horses looked to have wintered well, Tecumseh didn't seem like himself. This proud stallion, was on high alert, herding his family every which way and challenging any stallion in his path. As I watched Tecumseh, I began to feel uneasy. I wondered what was bothering him and why he was acting this way. I chalked his aggressiveness up to the approaching spring and decided to come out and check on him again soon.
Unfortunately, I wasn't able to return for another few weeks because so much snow had fallen that winter. It was impossible to get into the range to see the horses once the spring melt began. The many two-tracks were filled with a thick, gooey mud that swallowed up car tires like quicksand. After a few failed attempts to gain access to the horses that had moved into the interior of the range, I decided to wait a week or two more for the ground to dry out. During that time, Yellowstone National Park's East Entrance opened for the season and my planned short absence from the range turned into almost a month.
In mid-May, I was told by a photographer friend that one of the band stallions at McCullough Peaks had been severely injured by another stallion and had been driven away from his family. They didn't know the name of the stallion, but told me the injured stallion was a black and white pinto. Tecumseh crossed my mind, but there were so many pinto stallions on the range, it could be any one of them. I had a lingering concern that Tecumseh could be injured as I drove to the range the next day in search of him. I spent the entire day looking for him and, although I found most of the other bands on the range, I couldn't find him or his mares. Then, just as I was about to leave, I scanned the area one last time and finally spotted Tecumseh's family--Legend, Ruger, Tradebead, Taurus, and Ringer--but they weren't with Tecumseh. They were with the black stallion, Mesquite.
The mares, accustomed to Tecumseh, were on edge, lashing out at Mesquite with their hooves as he herded them this way and that, trying to manage his newly acquired family. As I watched the group, I noticed that Tecumseh's two colts, two-and-a-half year old Tonkawa and one-and-a-half year old Rebel, were absent. The youngsters had probably been chased off by the new band stallion once their father was defeated. I worried for the two boys that seemed too young to be away from their families, but worried even more for Tecumseh. Where was he and how badly was he injured?
I scoured the range each day looking for Tecumseh. I searched the waterholes the other bands were frequenting and checked the groups of bachelor stallions but he was nowhere to be found. I couldn't locate Tonkawa or Rebel either. I hoped they were together, or had joined up with some other bachelors. After an unsuccessful search for Tecumseh in the interior of the range, I decided to take a drive along Whistle Creek Road. No horses had been in this area for a while, so I was pretty certain I wouldn't find any of them, least of all Tecumseh. As I drove deeper into the range, though, I spotted a lone pinto stallion in the tall grass. It was Tecumseh. From a distance I could see him favoring his right leg as he slowly walked closer. It wasn't until he neared the roadway that I saw the extent of his injuries. When stallions fight over mares, their battles are often very violent. They kick, bite, and lash out at their rivals with their front and back hooves. I've seen many stallions injured and driven from their bands, but this was the first time I'd seen a stallion injured as severely as Tecumseh. This most recent battle had left the healthy young stallion with numerous bites, a severely infected and swollen right front knee, an infected and swollen right rear leg, and swollen genitalia. In addition, Tecumseh looked extremely thin and was walking gingerly, often stumbling and losing his balance. It was hard to watch the beautiful band stallion in so much pain and my eyes immediately welled up with tears.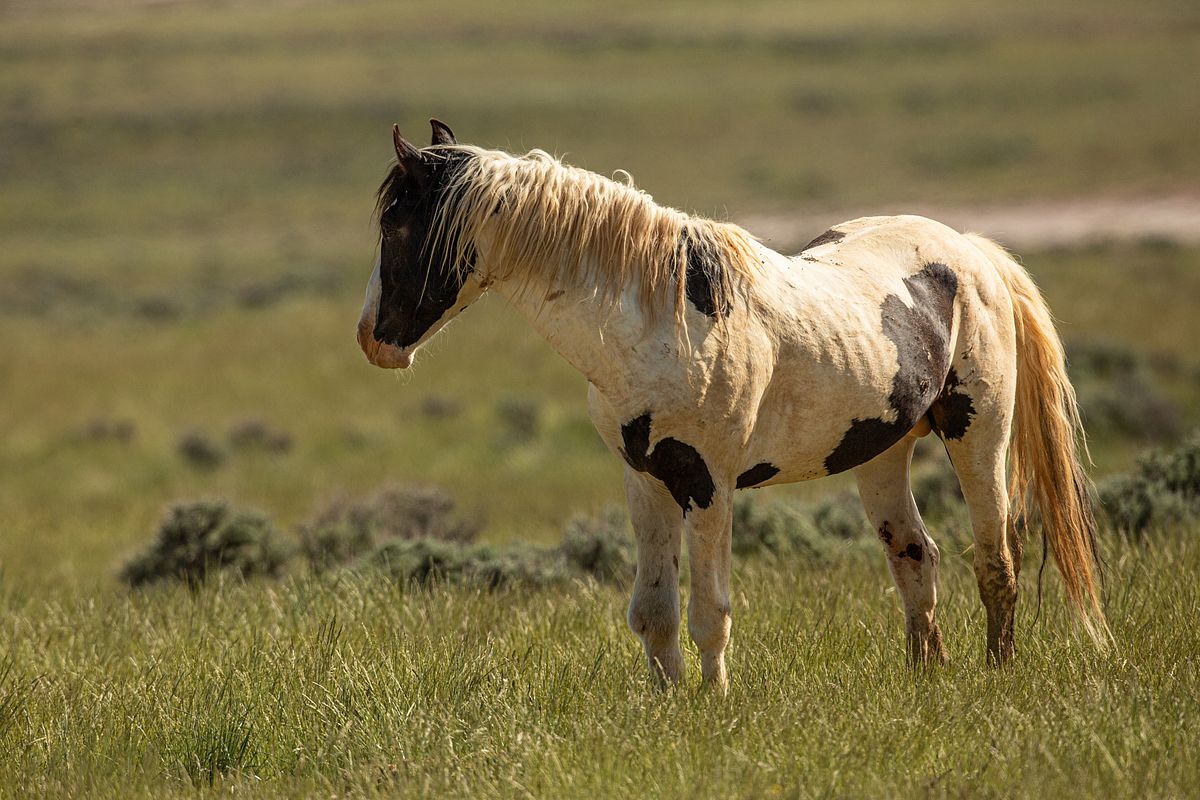 I spent a few hours with Tecumseh, watching him from a distance as he slowly made his way across the range. Since I was concerned about the extent of his injuries, I contacted Friends of a Legacy (FOAL), the non-profit wild horse advocacy group working to protect and preserve the wild horses of McCullough Peaks, to ask about him. The volunteers at FOAL assured me that although Tecumseh appeared badly injured, they were almost certain he would make a full recovery. In fact, they believed he was much improved during the weeks since his injury. It was hard for me to believe that the crippled stallion I'd just seen would one day be fully recovered and galloping across the range, but I clung to that hope since it was all I had. Years later, I was told by the former BLM wild horse specialist that she closely monitored Tecumseh when he was first injured. After being beaten so badly, Tecumseh stayed down for three days, leading the specialist to think he would never recover. On the fourth day, Tecumseh got up and went to water, and the specialist decided to give him a chance. She didn't think he'd ever gallop again, but was happy that Tecumseh proved her wrong.
After my initial sighting of Tecumseh, I didn't see him again for a few weeks, but when I did, he was in much better shape, and he wasn't alone. By his side was a young, bay bachelor stallion who seemed to have taken on the role of Tecumseh's caretaker. Early one morning the pair suddenly appeared at the waterhole after a large band of over fifty horses had watered.Tecumseh was still limping and moving hesitantly, but his wounds were healing and he seemed to have regained some of the weight he'd lost. As the pair approached the waterhole a group of bachelor stallions saw an easy mark and one of them lunged at Tecumseh, but his bay bachelor friend intervened and protected the older stallion.
As more weeks went by, Tecumseh gradually improved. Each time I saw him he looked better as he walked the range with the bay bachelor by his side. By mid-summer I was astonished to find that Tecumseh's two colts, Tonkawa and Rebel, had joined up with their father and the bay bachelor. Being bachelors, they still lagged behind the band stallions and their mares, but not too far behind. The one stallion they followed quite closely was Mesquite, the new band stallion for Tecumseh's mares. When I saw Tecumseh trailing his family band, I wondered if he would try to win them back from Mesquite. Although I wished that would happen, I knew Mesquite was much larger and healthier than Tecumseh and even though he was feeling better, Tecumseh was still no match for him. For his sake, I hoped Tecumseh realized that.
By the time autumn approached, Tecumseh was well enough to begin challenging other stallions. The first on his list was the bay bachelor, Tecumseh's constant companion and protector for the last four months. Tecumseh lunged at the young stallion continuously as his two colts looked on. This went on for days, but the bay bachelor always returned to Tecumseh clacking his teeth in submission. Then one day the bay bachelor was gone. It seemed he'd finally had enough of Tecumseh's aggressive behavior. This left Tecumseh in the company of his two colts, who obediently followed their father as he trailed closely behind Mesquite and his family.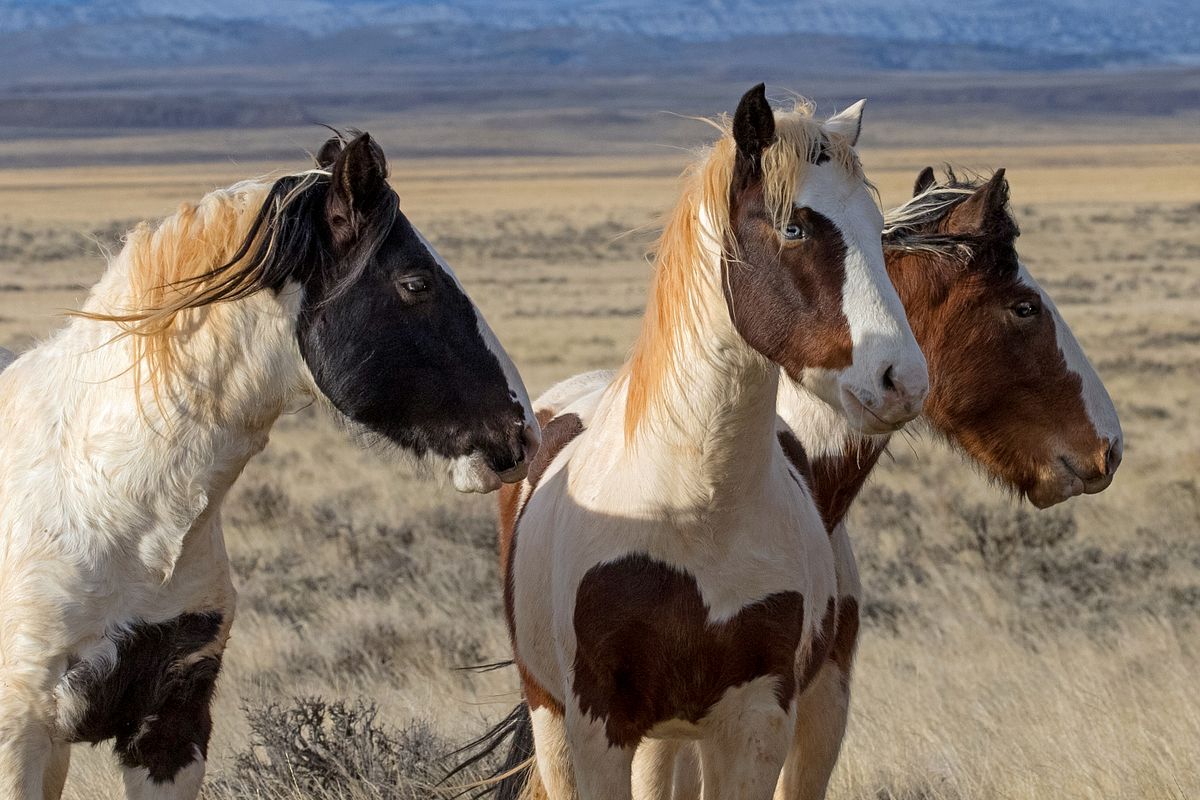 After a while, Mesquite no longer seemed bothered by Tecumseh's presence and let the stallion and his two boys follow his band at a respectful distance. They were now with Mesquite's band constantly. Tecumseh made no move to win back his family from Mesquite. I suspected he felt comfortable being around them as winter approached.
In early November the mare Tradebead once again began to look frail. At twenty-three, she was one of the oldest horses on the range. This time her health was noticeably deteriorating. One night when temperatures dipped well below zero Tradebead disappeared and did not return. This matriarch of Tecumseh's old band--mother to Tonkawa, Taurus, Ruger, and Remington--had breathed her final breath, but with so many grown foals on the range, she left behind a legacy that will live forever. After Tradebead's passing, things seemed tense between Mesquite and his mares. They'd finally gotten used to the black stallion, but the loss of their matriarch hit them hard. Gradually, over time, things settled down with Ruger taking on her mother's role as lead mare.
After a warm and dry winter, it felt like summer on the range in early March. Tecumseh and his boys were still following Mesquite and his band, but with spring in the air, the stallions were feeling spirited. It was the time of year when they battled for mares. I hoped Tecumseh wouldn't think of fighting and would remain with his sons for the rest of his days, but I knew that was a fantasy. He was a fighter--a one-time band stallion that again wanted a family of his own. With that knowledge, I could only hope that Tecumseh would come out on the winning end of the battle this time.
During a visit to the range in mid-March, I encountered more than sixty horses at one of the large waterholes, including Mesquite and his band. I looked for Tecumseh and his two boys, but they were nowhere to be found. After they'd followed Mesquite and his mares for so long, their absence seemed odd. I wondered if something had happened over the last few days. I didn't have to wonder very long before I saw a bruised and battered Tecumseh off in the distance. Unfortunately, Tecumseh's injuries seemed just as severe as they were the previous year. He didn't have any leg injuries and he was able to walk well, but his body and face were covered with many deep cuts. One bite on his side was so bad that at least ten inches of skin had been torn from his body. Again, it broke my heart to see this beautiful stallion so badly hurt. I knew fighting was the way of life for a wild stallion, but there were times when I wished there was something I could do to stop him. Tecumseh must have read my mind, since after his second bad defeat, I never saw him wounded this badly again.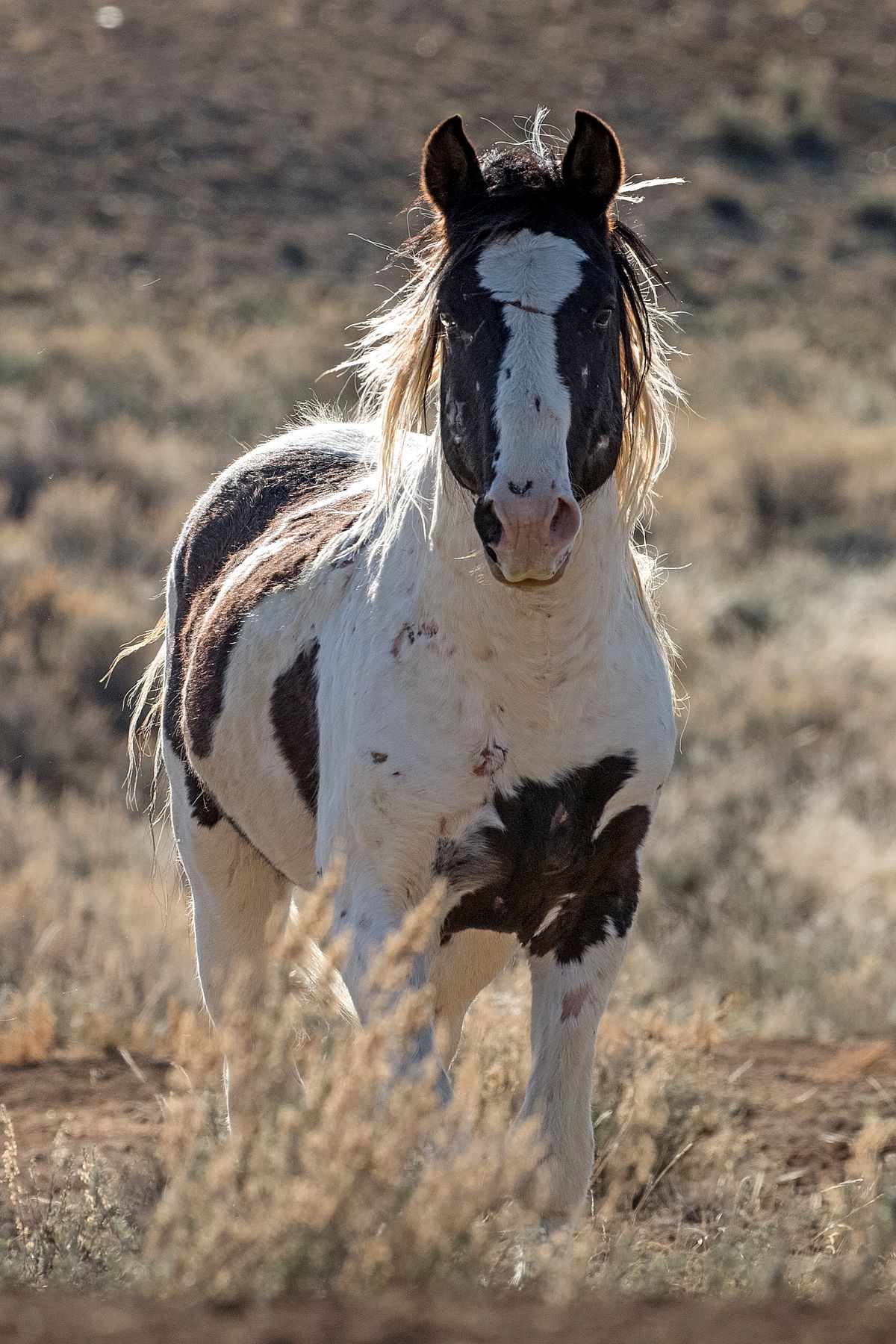 Because he was injured and needed to heal, Tecumseh again exiled himself from his two colts and the other horses. I watched as he hung back from the waterhole, waiting for the other horses to drink before he made his move. Even then, one of the young stallions charged at him when he approached and chased him away from the waterhole before he could drink his fill. With his head hanging down in submission, Tecumseh retreated from the other horses and sought the solitude he needed to recuperate from his wounds. Although horses are herd animals, an injured stallion is often relentlessly teased by young bachelors itching to play-fight, so Tecumseh stayed away until he was strong enough to protect himself.
Tecumseh's exile didn't last long as his wounds quickly healed. He once again began to trail behind Mesquite and the other bands as they traveled to and from the waterholes each day. Within weeks Tecumseh was aggressively chasing mares and attacking other stallions and for the second time in less than a month he came away injured. The weary stallion was forced to exile himself yet again as he recuperated from these new injuries.
The late summer and fall seemed to be a repeat of the previous year as Tecumseh again joined up with his two colts after the breeding season was over. Tonkawa and Rebel followed their father as he trailed behind the band stallions, Mesquite, Medicine Hat, Red Rocker, and Tyke. As the cold weather approached, the stallions once again fell into an uneasy alliance, allowing Tecumseh and his boys to winter with them.
During the spring of 2016, Tecumseh was in excellent condition, and was once again looking for love. I saw him attempt to steal mares from the band stallion, Lonesome; initiate battles with much larger stallions, including the magnificent stallion, Washakie, and the heavily muscled Chiracahua; and come to blows with his own almost five-year-old colt,Tonkawa. At that time, I wasn't sure what was in store for Tecumseh, but hoped he would find himself the family he so desperately wanted. After all Tecumseh had been through, I couldn't help but root for this tough, little stallion with the mighty heart. 
Part II of Tecumseh's Story, with more details of his storied life on the range, will be coming soon. Stay tuned.....