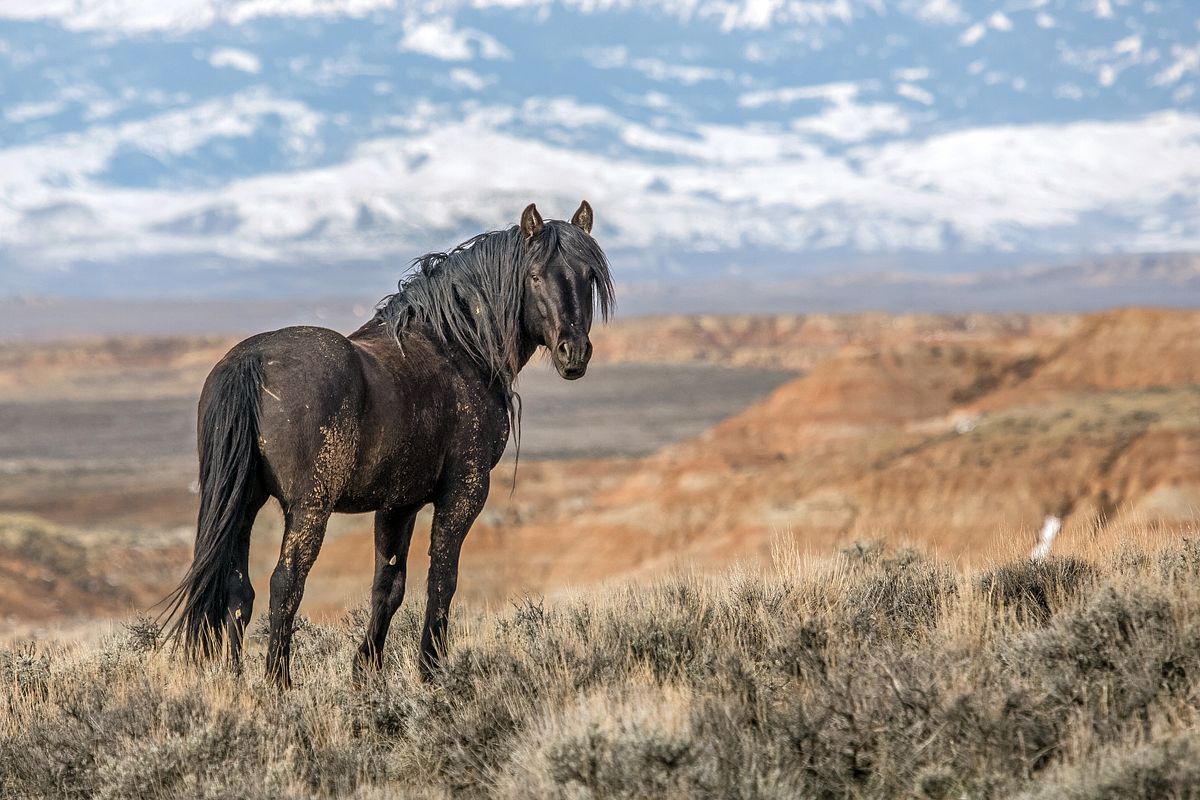 Even after receiving more than 4,100 comments on their Scoping Notice for the proposed bait trapping removal of the McCullough Peaks wild horses, the Bureau of Land Management's (BLM's) plan to remove more than 1/3 of the McCullough Peaks herd is moving forward. As per the "FY2023 Tentative Wild Horse and Burro Gather and Fertility Control Schedule" issued April 18, 2023, the BLM is planning permanent removal of at least 63 of our beloved McCullough Peaks wild horses this August. The Tentative Schedule is posted below. Specifically, the Tentative Schedule notes the removal dates as August 14-August 31, 2023. That's less than two months away!
It must be noted that the Tentative Schedule below was released by the upper echelon of the BLM/DOI (Department of Interior) in Washington, D.C., without input from the local BLM office in Cody, Wyoming, who are responsible for management of the McCullough Peaks herd. The local BLM's "Scoping Notice for Removal of Excess Horses in the McCullough Peaks Herd Management Area" issued on January 9, 2023, proposed taking the herd down to low AML (Appropriate Management Level) sometime in November 2023. The AML at McCullough Peaks is 70-140 horses. Currently, the McCullough Peaks herd totals 176 adult horses (aged yearling to 26 years old) along with 6 foals born in 2023.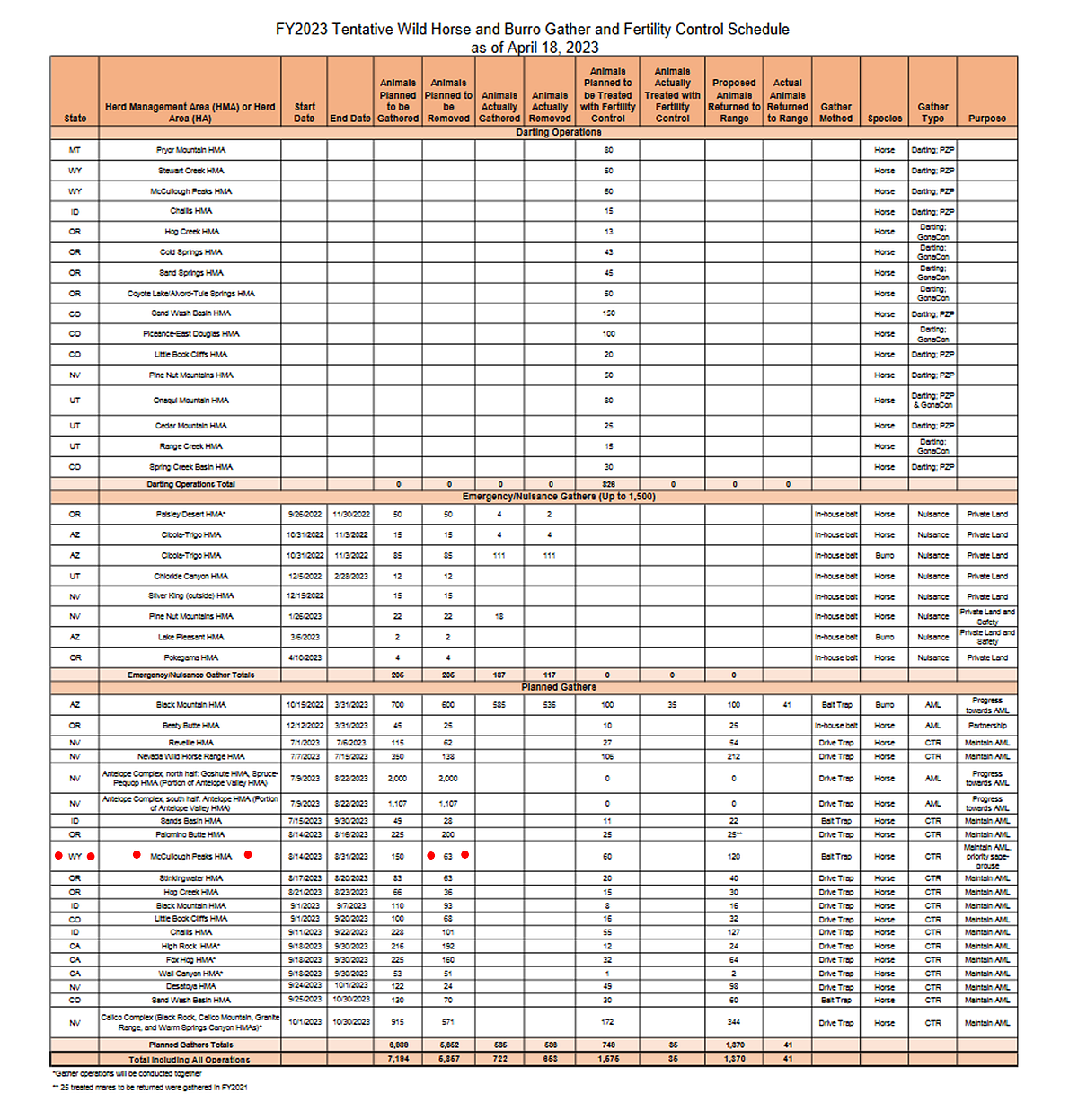 The BLM's Tentative Schedule indicates the "purpose" of the removal at McCullough Peaks is to "Maintain AML/Priority Sage Grouse". If the population is reduced by 63 horses or more, it will no longer be genetically viable. As per Dr. Gus Cothran, professor emeritus at the Texas A&M School of Veterinary Medicine, herd size must be maintained at a minimum of 150 horses to ensure genetic viability. This fact is acknowledged in the BLM's Wild Horse and Burro Handbook, thus confirming its validity.
"Priority Sage Grouse" is cited as the second "purpose" for removal by the BLM. There is currently a consistent population of sage grouse inhabiting McCullough Peaks Herd Management Area (HMA), and these birds are hunted each year. As per the Wyoming Game and Fish Department, the 2023 Sage Grouse Hunting season in Hunt Area 1 (within which McCullough Peaks HMA is located) opens 09/16/23 and closes 09/30/23. Hunt Area 1 has a daily bag limit of 2 sage grouse and possession limit of 4. With so much concern about the health of the sage grouse population, it would make more sense to curtail or limit the sage grouse hunting season instead of removing wild horses from the HMA whose impact on the sage grouse is negligible. In addition, with more than 1000+ cattle grazing on leased land at McCullough Peaks during winter and spring 2023 thus far, it would be erroneous to believe that a small number of wild horses residing on the range negatively impact the sage grouse, while the livestock do not.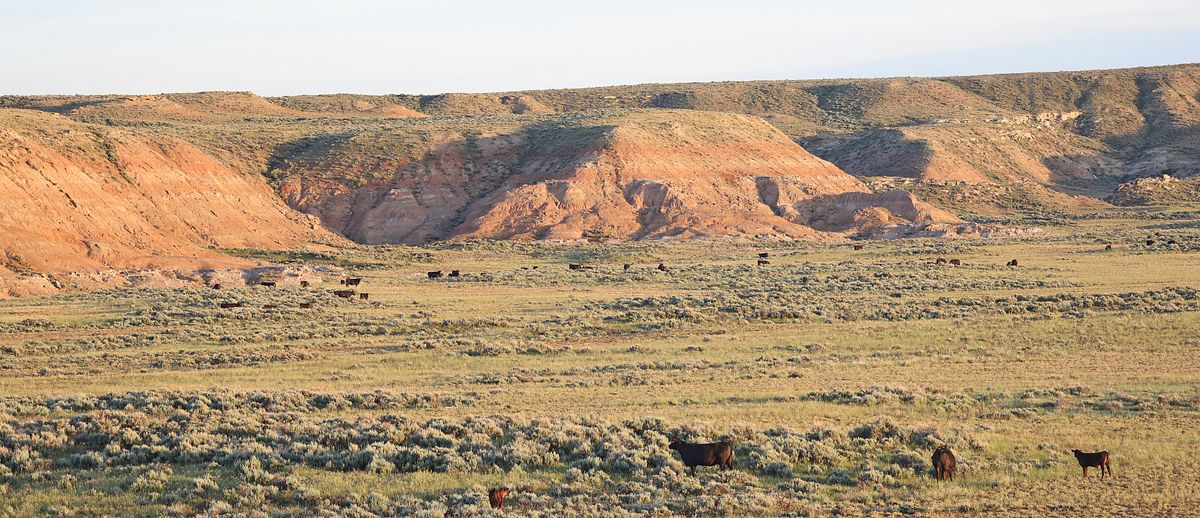 There will be no removal of wild horses from McCullough Peaks before an Environmental Assessment (EA) is completed by the BLM. At the time of this writing, the EA has not yet been completed. The EA will contain the proposed actions relating to the removal of McCullough Peaks wild horses. Once completed and released to the public, there will be another 30-day public comment period for the EA. If, after completing the EA, the BLM determines that the proposed action will not have a significant effect on the environment (most likely scenario), a Finding of No Significant Impact (FONSI) will be prepared. This determination confirms that an Environmental Impact Statement is not required. The BLM will then document its FONSI in a Decision Record.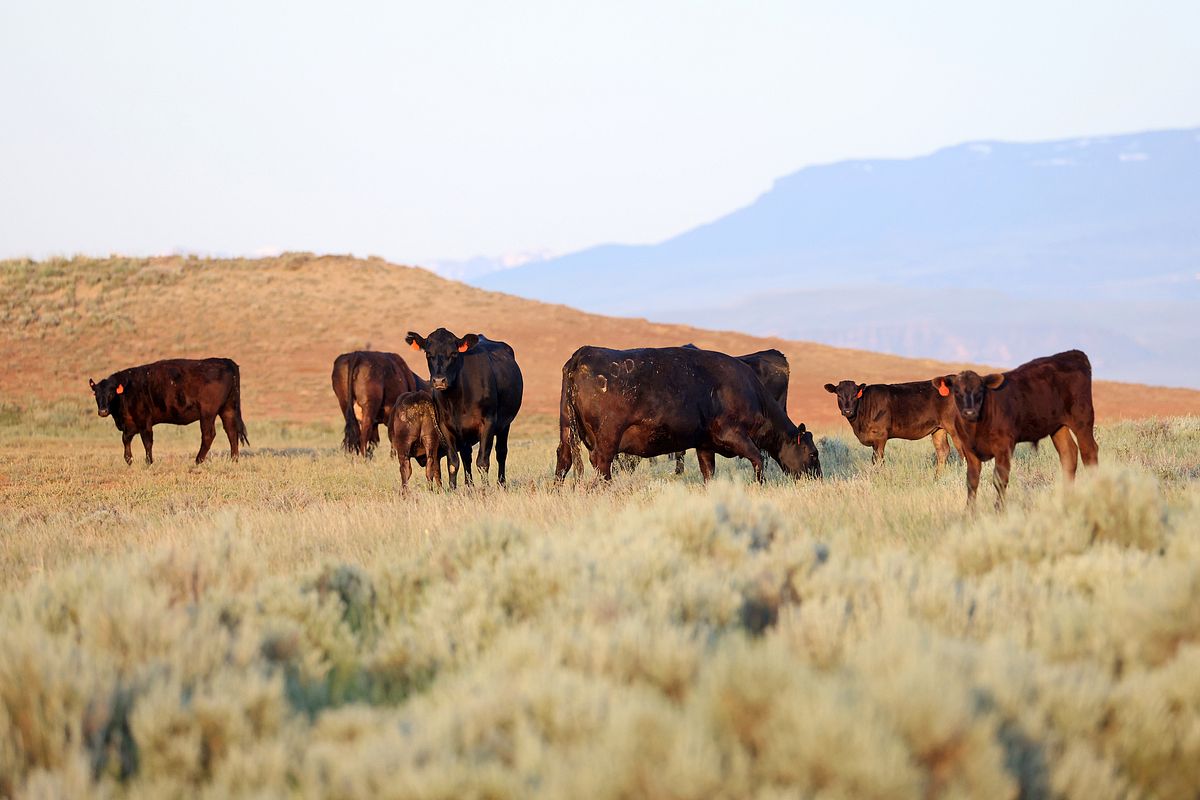 Although the timeline for the bait trap removal is not known with certainty, it will, most likely, occur during 2023. This is confirmed by both the BLM's Tentative Schedule which lists a start date of 08/14/23 and the BLM Scoping Notice which proposes the bait trapping operation be initiated during November 2023.
This removal will include many of the horses we've come to know, but particular horses targeted for removal have not yet been identified. Of major concern are the three older mares (Tuff, Taboo and Kodiak) who have been singled out by the BLM as being non-responders to the PZP Immunocontraceptive vaccine, as well as, their numerous offspring. The aging population of horses at McCullough Peaks is also concerning. With plans in place to remove at least 1/3 of the herd, population numbers would continue to plummet as natural attrition of elder horses would decrease the herd size significantly over the next few years. This expected die off will drop the population to dangerously low numbers, well below the requirements for genetic viability. Aging data for the McCullough Peaks population is outlined below.
1) As of 06/21/23, there are 178 adult horses at McCullough Peaks (yearling to 26 years old).
2) Of these 178 horses, 59 are greater than 15 years of age with 22 of them over the age of 20.  Of the 22 horses over 20 years of age, 5 of them are more than 24 years old.  The horses (all mares) over 24 years of age appear to be in ill health and may not make it through another winter.
3) In assessing the condition of the older horses, it is possible that the McCullough Peaks herd could lose approximately 15-20 elder horses over the next year.
4) As of 06/21/23, there have been 7 known live births thus far during 2023.  One foal passed away, leaving 6 foals. Their numbers are not added to the population count. With these foals added to the total, there would be 182 horses on the range.
5) Eleven horses were lost during the winter of 2022/2023-9 stallions, 1 mare and 1 foal.  Their numbers have been removed from the total population count. Horses believed to be lost are listed below. They are all missed terribly.
Washakie-Stallion: Born 2001
Sinew-Mare: Born 2001
Booker Rose-Stallion: Born 2002
Tecumseh-Stallion: Born 2004
Snoodle-Stallion: Born 2004
Kenya-Stallion: Born 2005

Flash-Stallion: Born 2005 (confirmed)
TNT Dynamite-Stallion: Born 2006
Tyke-Stallion: Born 2007
Jericho-Stallion: Born 2019
Soldier-Newborn Colt: Born October 2022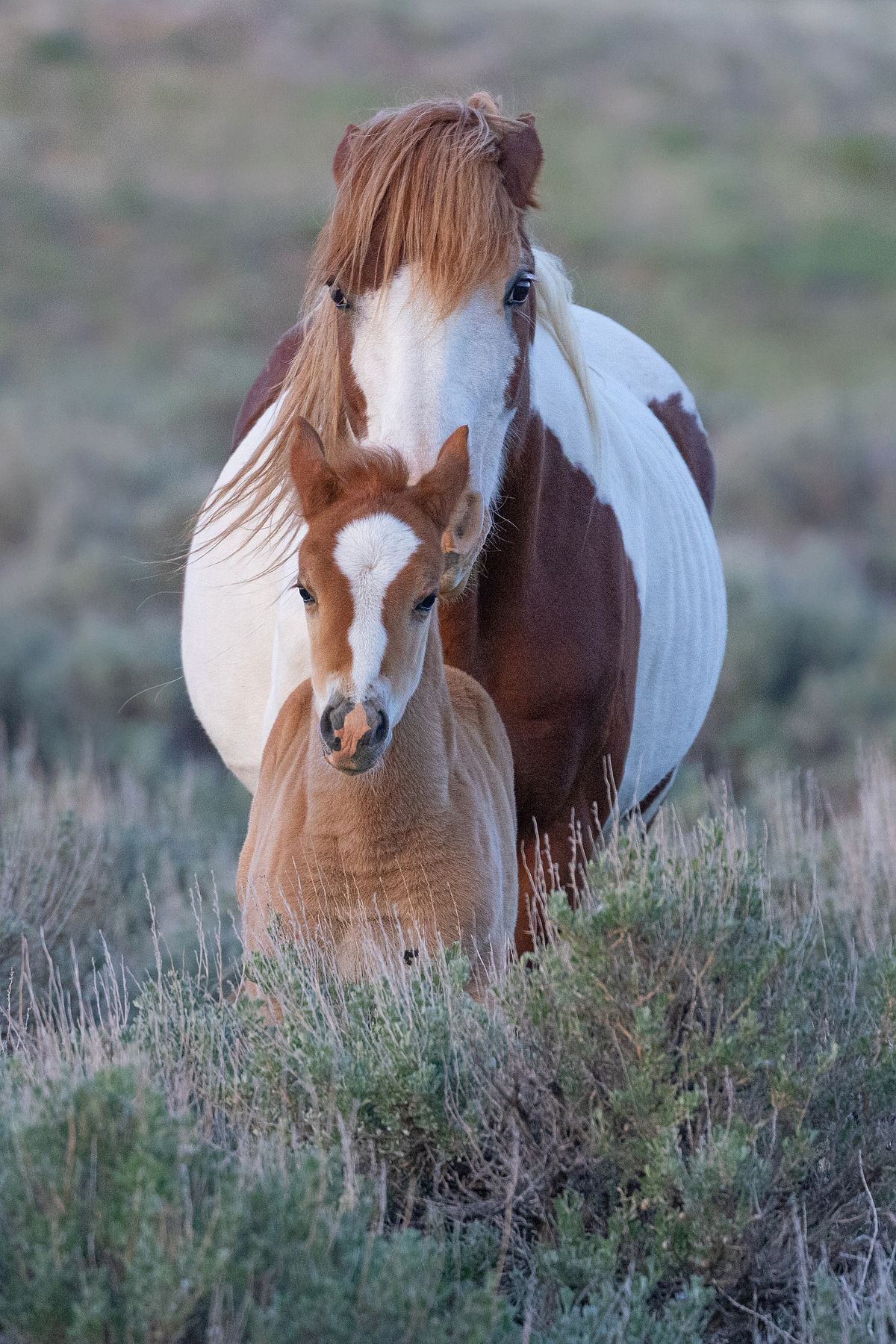 Behind the scenes, we're all trying to do everything we can to help the McCullough Peaks wild horses. We've been working on cataloging each member of the herd to aid us in identifying any horses that are removed. These catalog sheets are based on the design used by the Onaqui Catalogue Foundation. A catalog sheet for the two-year-old colt, Kassidy, is shown below. Kassidy is the 2021 offspring of the mare, Kodiak and her then band stallion, Maverick. Since Kodiak is a known non-responder to PZP and has numerous offspring on the range, there is a high likelihood that Kassidy be removed from the range in this bait trapping operation.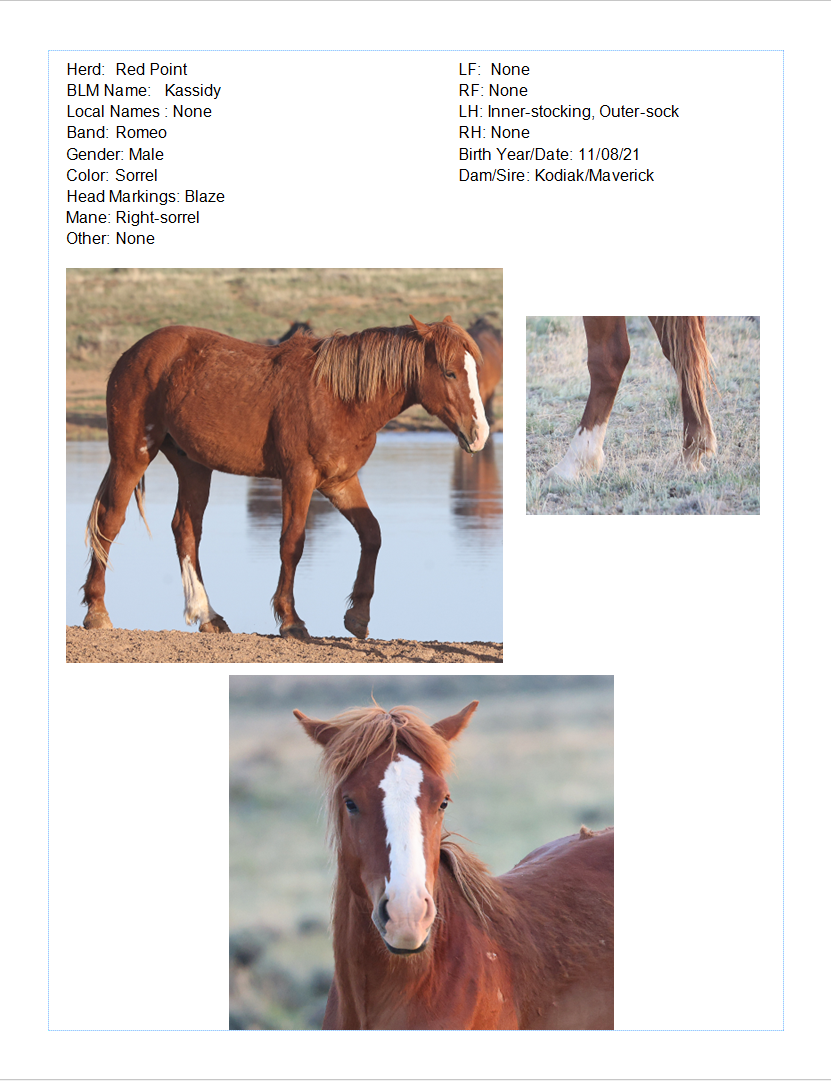 For those who would like to help the McCullough Peaks wild horses, please comment on the EA when it's released by the BLM. There will be notifications by myself and others online, once the document becomes public. In addition, talking points will be provided to assist you in compiling your response to the EA. In the meantime, please continue to support wild horse advocacy groups, like American Wild Horse Campaign and The Cloud Foundation who work tirelessly for our wild horses. You can also contact your congressional representatives to voice your concerns about the management of our wild horses. Here are some links to aid you in contacting your representatives:
Contact Senate Representatives
I know that it can be extremely discouraging when it seems as though our concerns aren't taken seriously, but our voices truly matter, especially to these wild horses. Please continue to speak out for the wild horses and be their voice when they need us most. Thank you so much for your care and concern for our wild horses!