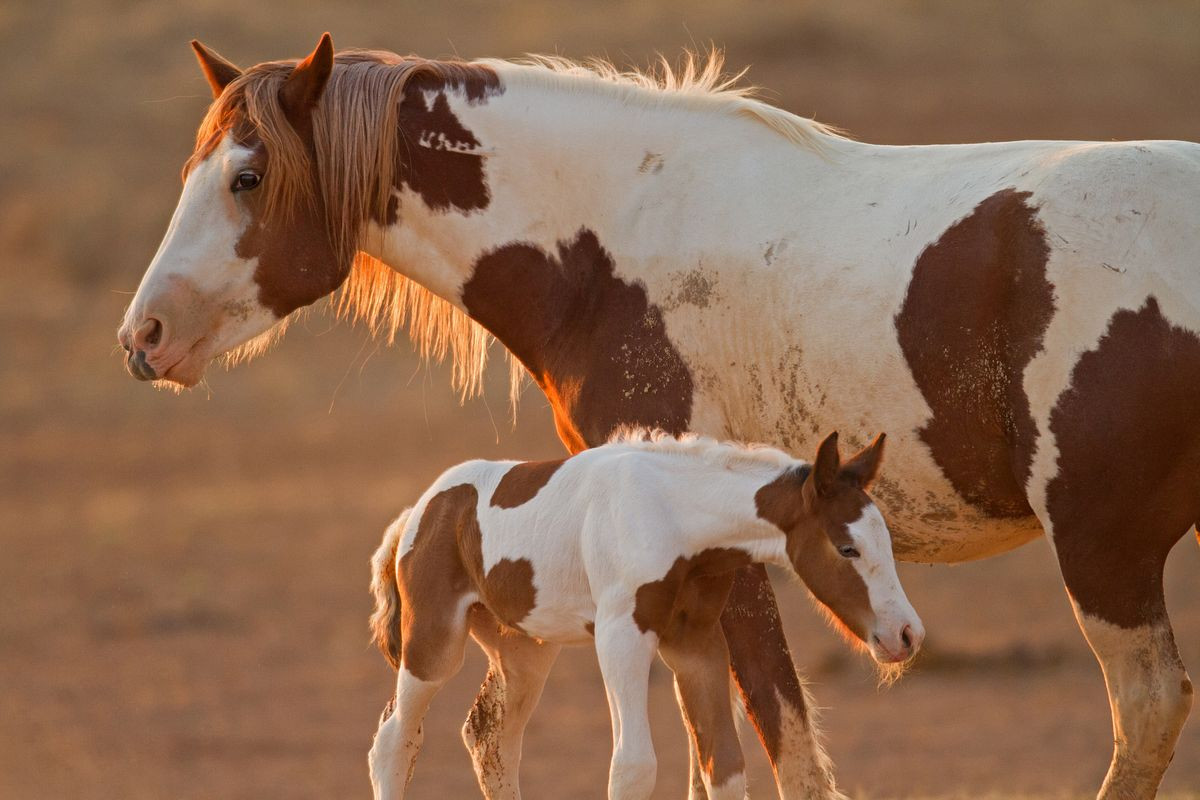 The flashy tovero mare, Tuff, was born on the high plains of McCullough Peaks in 2006 to the mare, Totem, and the late stallion, Medicine Hat. I first met Tuff in the summer of 2009 when she was a young mother with her first foal. She was grazing along Whistle Creek Road with her little filly, Tigress, and her band stallion, Derby. Back in those days, I didn't know you were allowed to drive on the two tracks to get into the interior of the range, so Whistle Creek Road was my one and only destination. Whenever I saw a horse alongside the road, which wasn't very often, it was a banner day.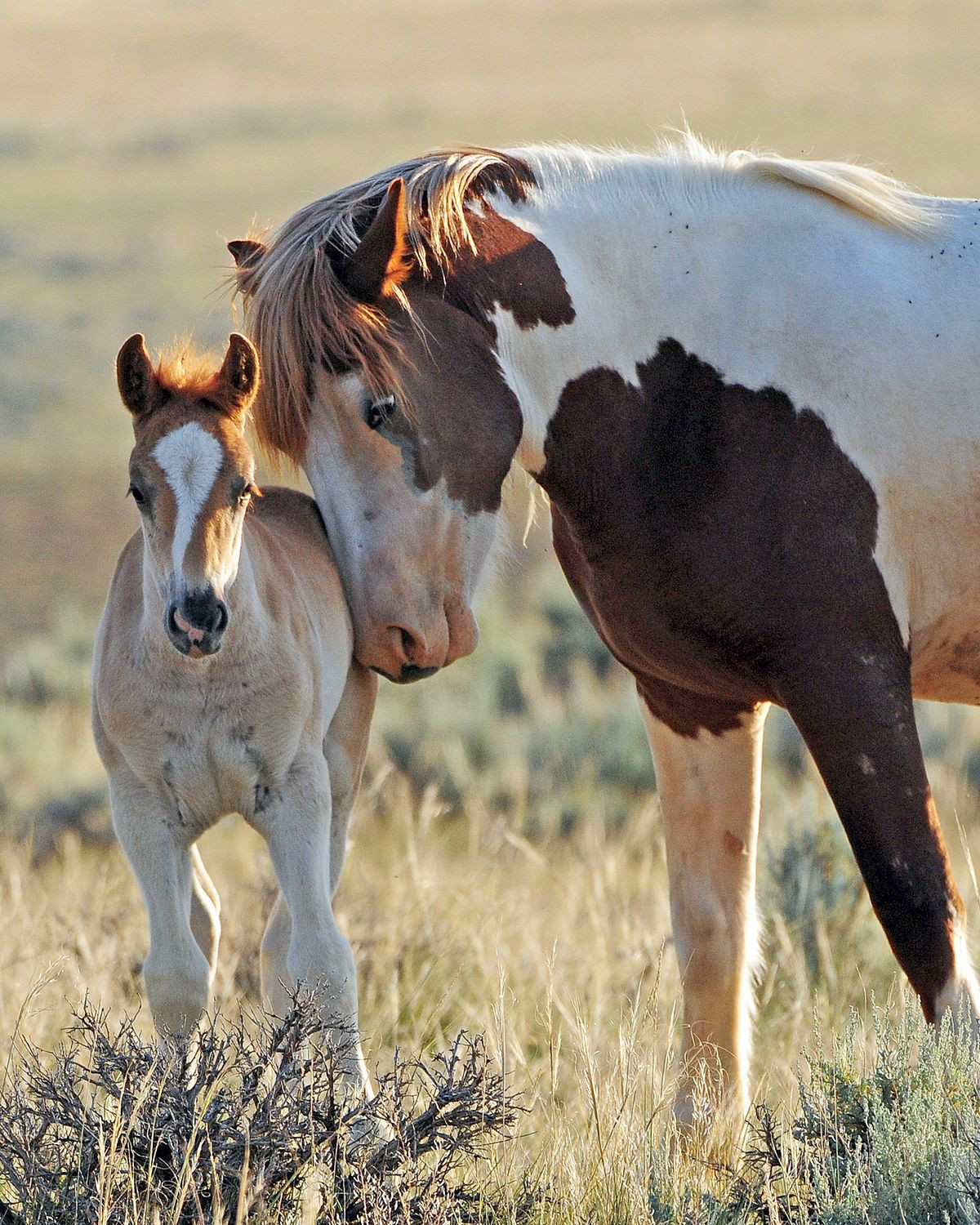 Tuff and Tigress, were the first mare and foal I'd ever seen at McCullough Peaks and because of that, they hold a special place in my heart. From that day forward, Tuff has always been my favorite mare. Now 17 years of age, Tuff still lives at the Peaks and this year, she gave birth to her tenth foal, the little filly Tallulah, aka "Tully". Unlike most of the mares on the range, Tuff is a non-responder to the Porcine Zona Pellucida Immunocontraceptive vaccine (PZP) and has foaled almost every year. PZP has been used to manage the population at McCullough Peaks since 2011 and has proven an effective method of birth control for the majority of mares in the herd.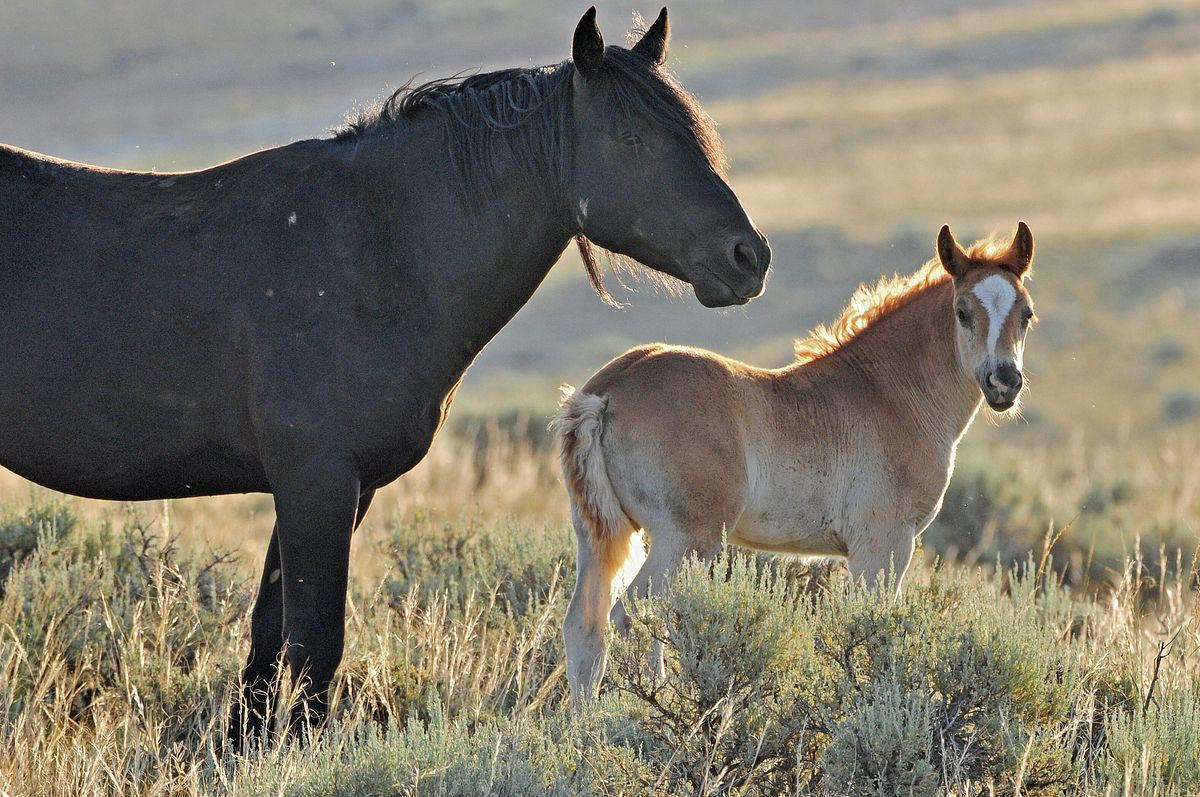 Tuff has seen many changes on the range during her long life. She had been Derby's only mare for almost ten years when he added the black mare, Windigo, to his harem in 2017 and she and Tuff became fast friends. Then in 2019, the mare, Pahaska, joined Derby's band. Unlike Windigo, Pahaska and Tuff were always at odds. Sometime during 2019, Tuff sustained an injury to her right front knee that has gotten worse over the years and continues to plague her. I always thought Pahaska had something to do with Tuff's injury, but how Tuff hurt her knee will forever remain a mystery.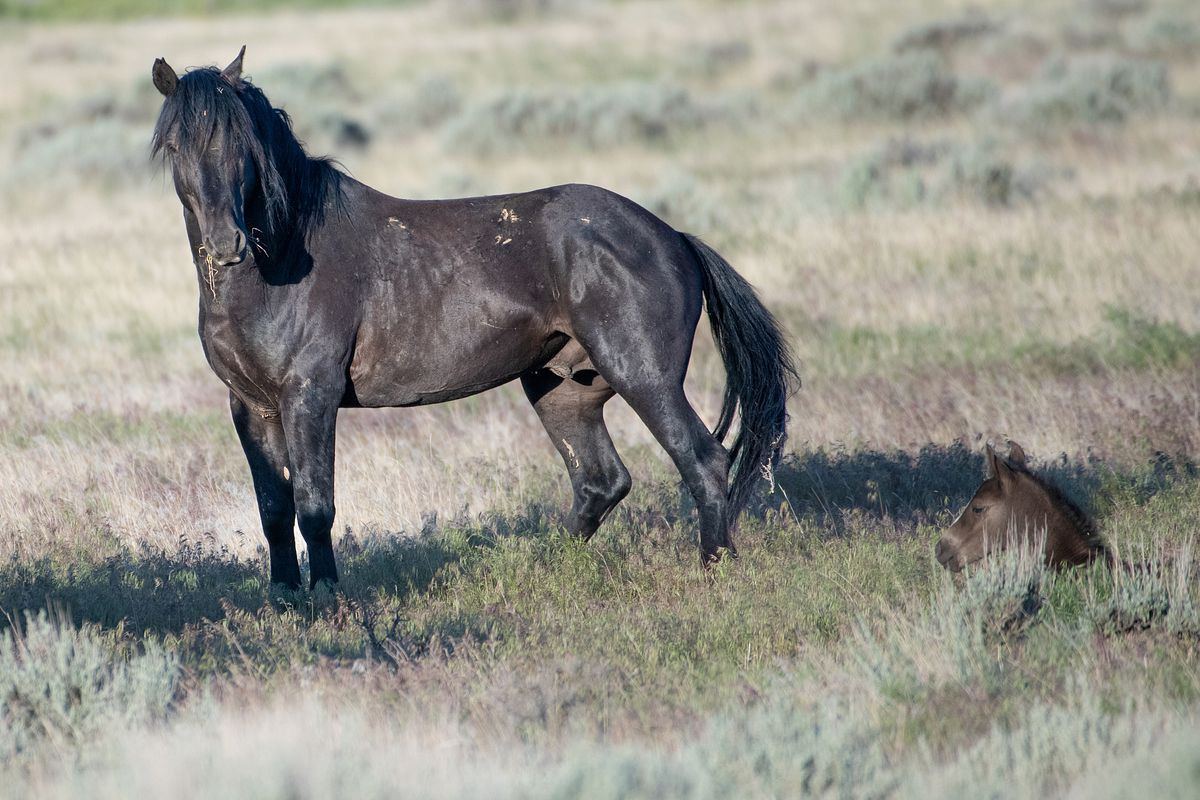 Even with her bad knee and with yearly injections of PZP, Tuff continued to foal. In 2021 she gave birth to the smoke black filly, Twilight. It was apparent that continued motherhood was taking a toll on Tuff, but, even so, she couldn't have been a more devoted mom. She doted on each and every one of her foals with as much zeal as she did her firstborn.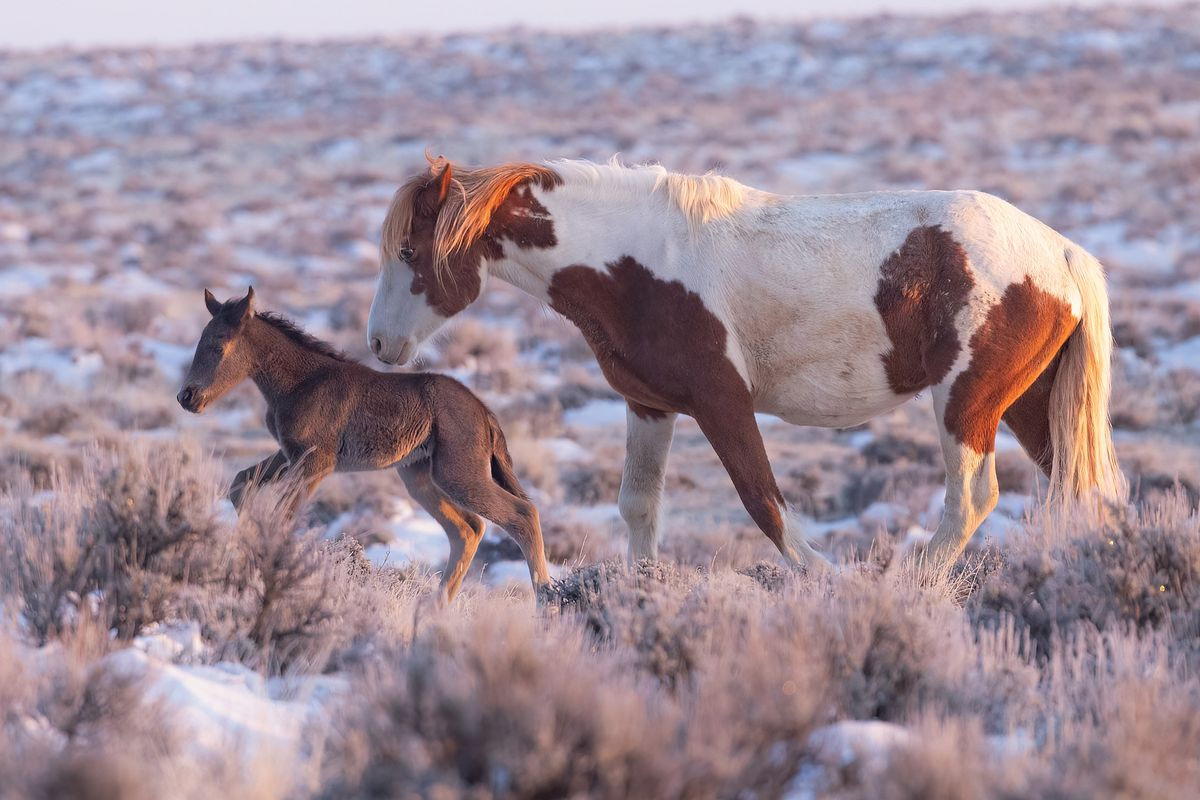 Unfortunately, with each birth, I could see Tuff's condition begin to decline. The extra weight of carrying a foal to term put additional stress on Tuff's bad knee and in a few short years her knee was noticeably swollen with Tuff's limp becoming more pronounced. I was extremely concerned when I noticed a very pregnant Tuff during the spring of 2022. Thankfully, Tuff birthed her colt, Tejas, with no apparent difficulties. As she was with all her other youngsters, Tuff was devoted to Tejas and with her loving care, he flourished.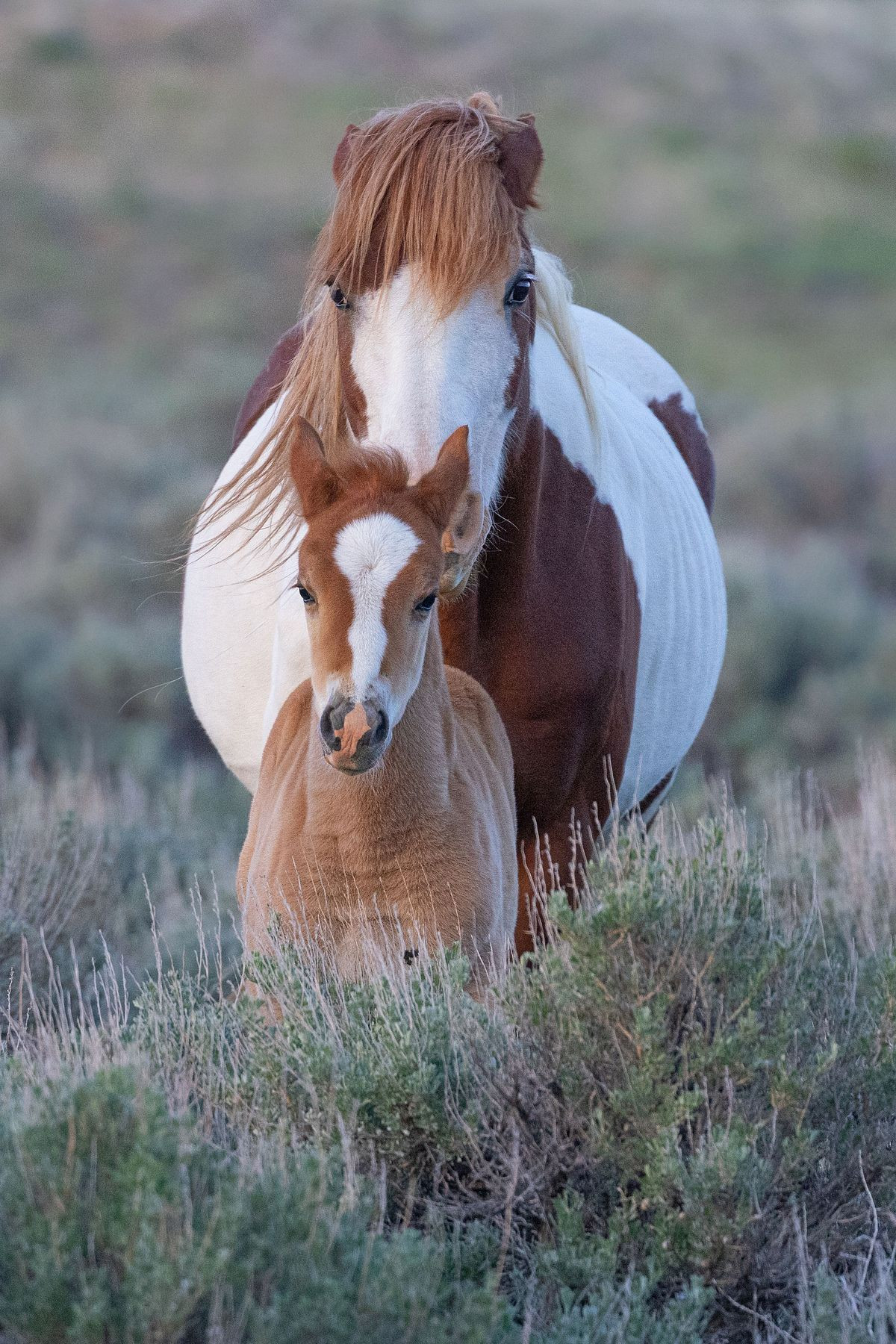 When an ailing Derby lost Tuff and the rest of his family band in the fall of 2022, Tuff valiantly safeguarded her two youngest offspring, Twilight and Tejas, from the aggressive new band stallion, Lansa. Tuff continued to look after the pair as they adjusted to their new situation. By late spring of 2023, they were one big, happy family, with Tuff and her band enjoying the spoils of the season after one of the harshest winters on record. 19-year-old Derby, Tuff's longtime band stallion, made it through the difficult winter, but sadly, he passed away during the summer of 2023.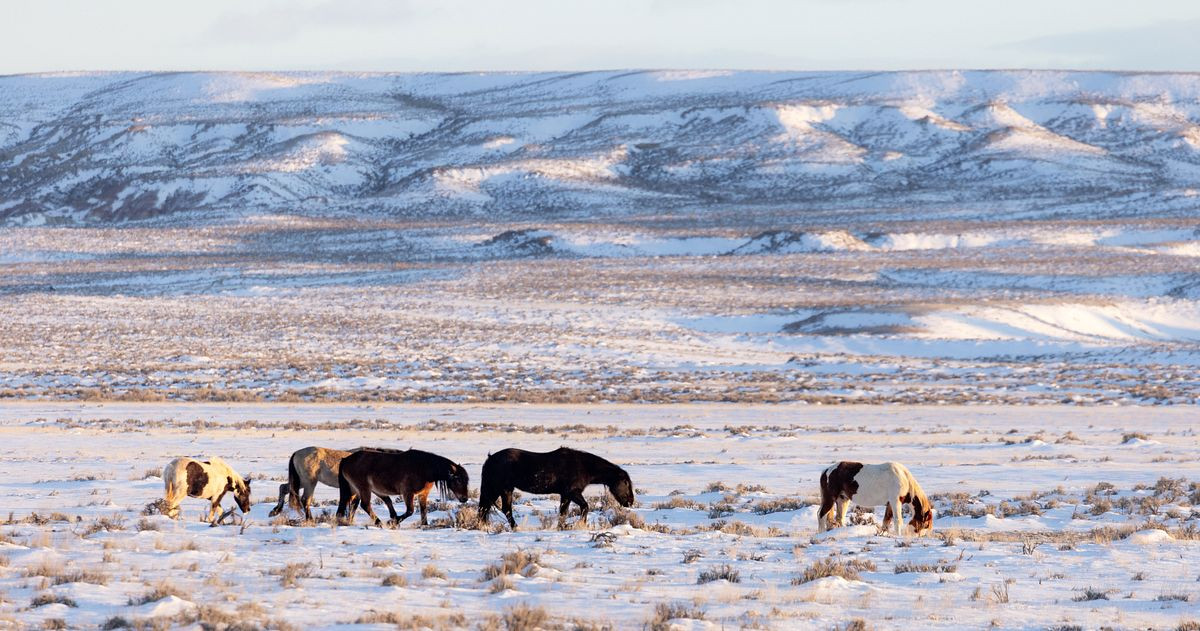 The exceptionally snowy winter brought an abundance of water and forage to the range, while the rainy spring and summer that followed left the landscape even more verdant. Lush grasses grew knee-high and waterholes that had been empty for years were overflowing. The horses enjoyed this season of plenty with most packing on the pounds after barely getting by during winter. Tuff and her family were no exception. All the horses in Lansa's band looked to be enjoying the spoils of summer. Even Tuff added some weight to her slight frame.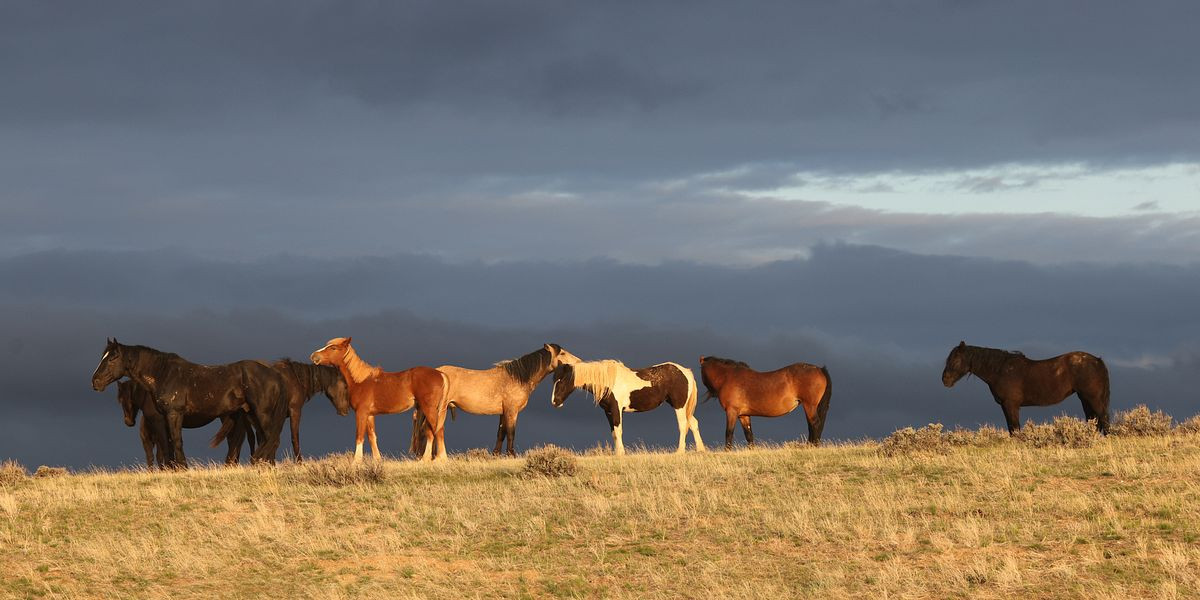 As summer began to wind down, McCullough Peaks experienced even more rainfall, leaving the range flooded and inaccessible. After waiting for the range to dry out for almost a week, I decided to visit on September 18th. With some searching, I found the Bridger Herd grazing in an area I like to call "Traveler's Ridge". When I arrived on Traveler's Ridge, the herd, which numbered about 60 horses, was huddled together in a dew-covered meadow. Most of the horses were napping or quietly grazing. While wandering around, I located one of my favorite bachelor stallions among them, the pinto, Remington. While photographing Remington, I noticed Tuff in the distance behind him, but didn't think anything of it. I continued photographing Remington until a tiny white speck caught my eye behind him. It was Tuff with newborn Tully, standing at her side, nursing.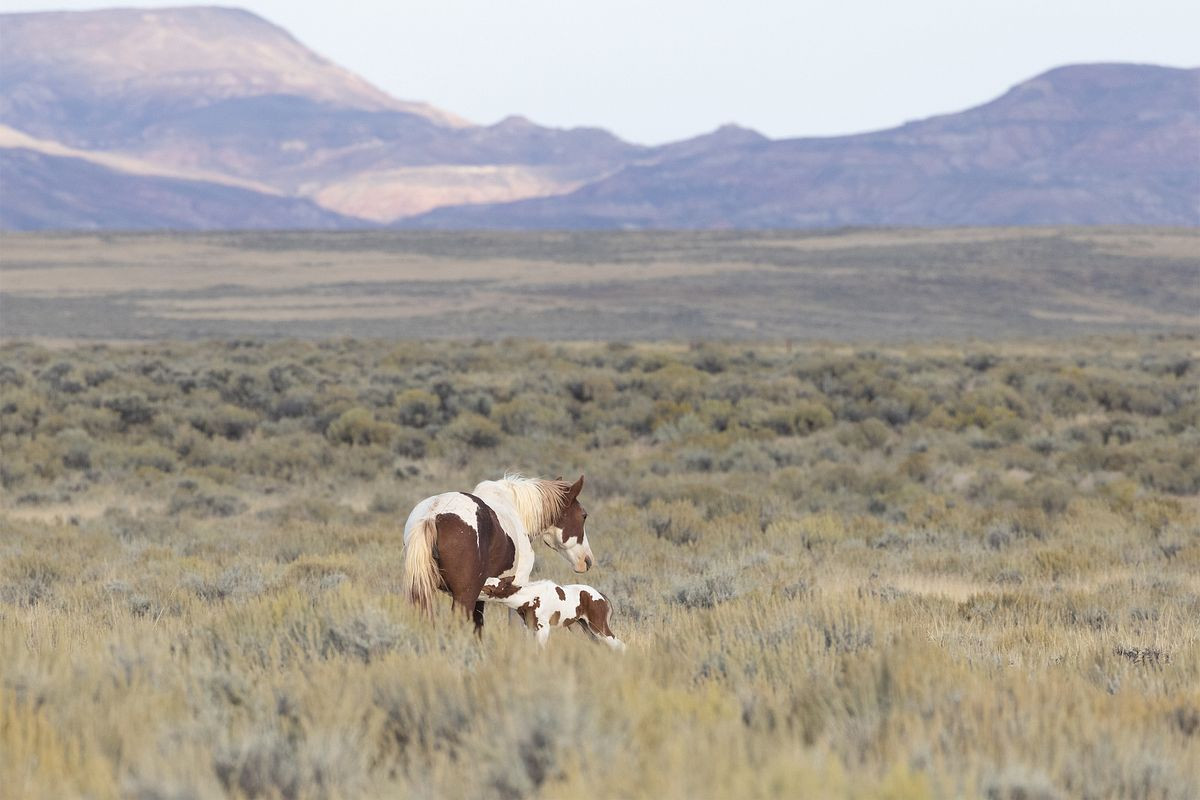 To be honest, I was shocked that Tuff had foaled. She hadn't looked pregnant to me. She only looked as though she had put on some summer weight just like the other horses. Tuff certainly didn't look like she did when she foaled in previous years. Considering Tuff was bred continuously by new band stallion, Lansa in October 2022, it seemed that he was the most likely sire of Tully. Although I'm always happy to see a newborn foal, especially one as beautiful as Tuff's little Tully, I felt a deep sadness as I worried if this last foal would be too much for Tuff.
As I watched Tuff from a respectful distance, I could see that Tuff's legs and tail were soaked with blood, so I guessed that Tully had been born very recently; most likely that morning or sometime during the night. What I found odd was that Tuff's family band was nowhere near Tuff, they were almost a mile away. Surprisingly, the stallion, Garth and his two mares, Miley and her daughter, Meeka, were standing right next to Tuff and Tully, seemingly guarding them, as Garth's lieutenant, Boreal, looked on.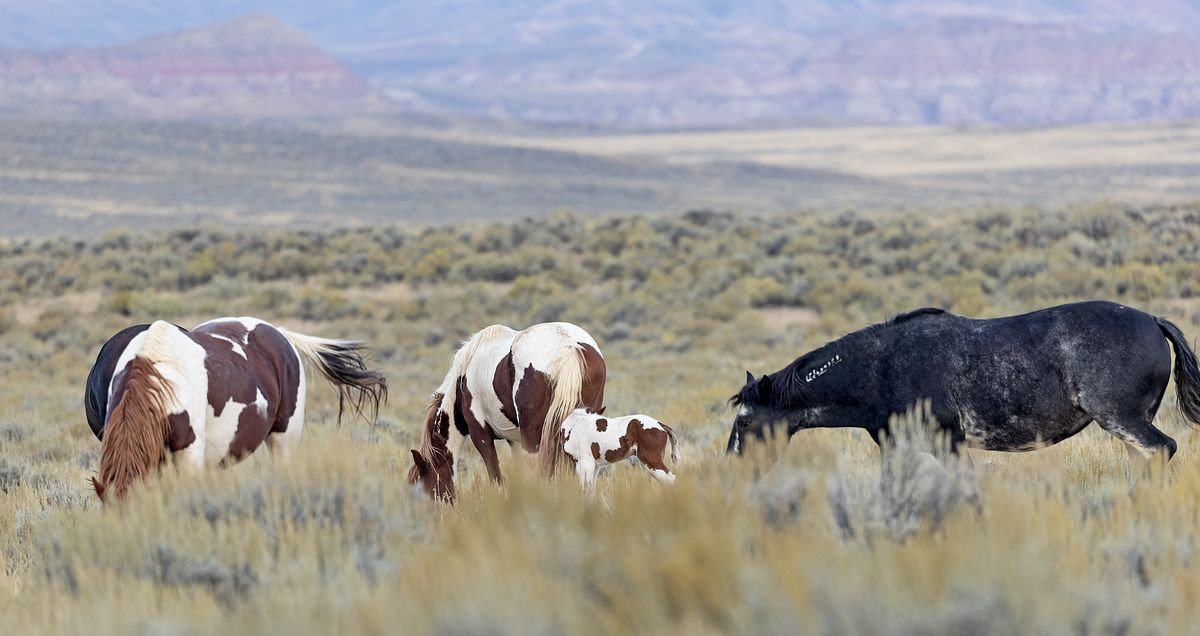 I couldn't quite figure out why Tuff would be with Garth's band and not her own family, but imagined Tuff's family left her as she was ready to give birth, figuring she'd catch up when she was able. After a while, Tuff and Tully headed in the direction of Tuff's family band, with Garth, Boreal, Miley and Meeka watching them go. I figured that was my cue to leave and decided to return tomorrow morning to check on Tuff and Tully.
When I arrived the next morning, the herd was still on Traveler's Ridge. As I hurried in their direction, I could see Tuff and Tully near one of the two tracks and following them closely was Garth and family. I glassed the area with my binoculars, but couldn't find Tuff's family and wondered what on earth was going on. It seemed as though Garth's family had adopted Tuff and Tully. Every time Tuff and Tully moved, Garth and his family followed. I also noticed Tuff's yearling colt, Tejas, had joined his mother and new sister. It seemed he was now part of Garth's band too!
Garth and his family were amazingly protective of Tuff and Tully. Not only were Miley and Meeka chasing off curious onlookers, but Garth was lunging at anyone who wanted a closer look at Tully. Since Garth is a seemingly good-natured stallion, I didn't think this new family situation was a bad thing. I just found it discouraging that Tuff's family band, which consisted of many of her daughters and their offspring, had abandoned their mom after all these years, but these things happen out on the range all the time.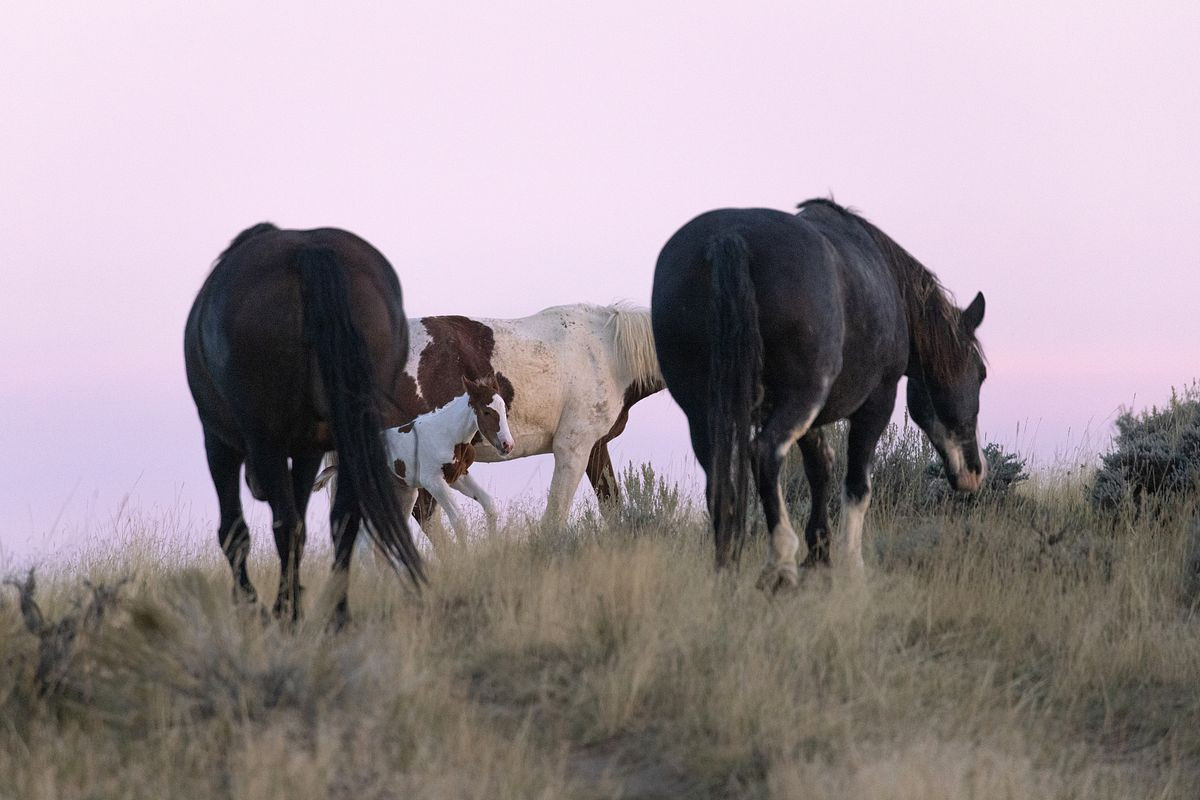 Eventually, the entire herd, including Tuff, Tully and Tejas, began to move to water. As I glassed the nearby waterhole, I found Tuff's family band, led by the stallion, Lansa, in line to drink. It seems that Tuff had seen them too because she abruptly left Garth's family, leading her two youngsters in the direction of Lansa's band and the rest of her family. Just like that, the new family was no more. And like yesterday, Garth didn't try to stop Tuff from leaving. He and his family just stood aside, and watched her go.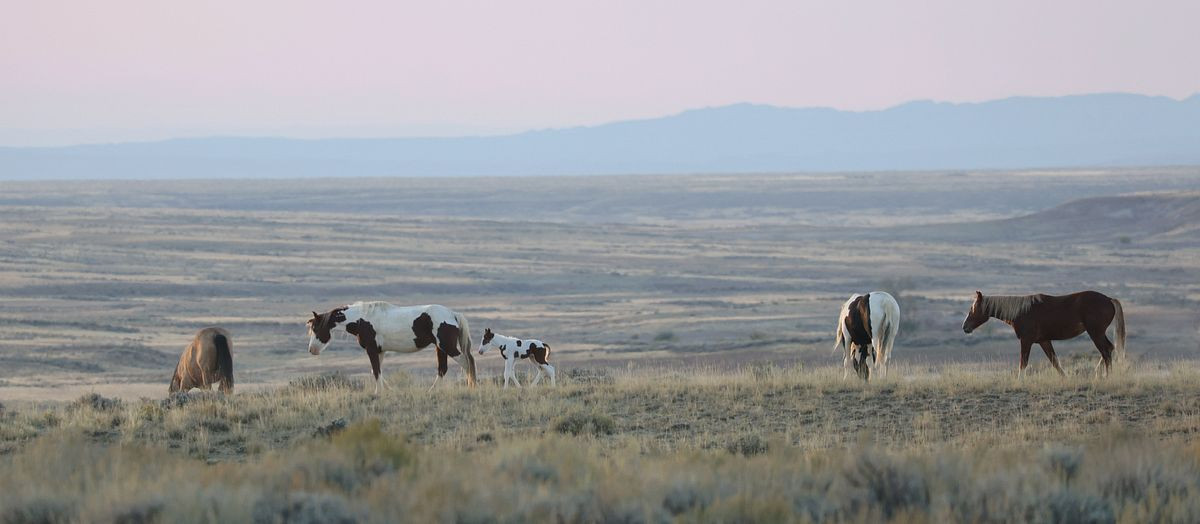 A few days passed before my next visit to McCullough Peaks, but when I returned, things seemed to be back to normal. I found Tuff, Tully and Tejas together with Lansa and their large, extended family with Garth and his family paying them little to no attention. I guess their looking after Tuff and her brood was just temporary. I was happy to see Tully looking healthy, nursing almost constantly from Tuff. Always a devoted mother, Tuff was doing her best to care for Tully even though she looked quite thin and was moving slowly. Carrying a foal to term can sometimes be very difficult, especially for an elder mare with a painful injury.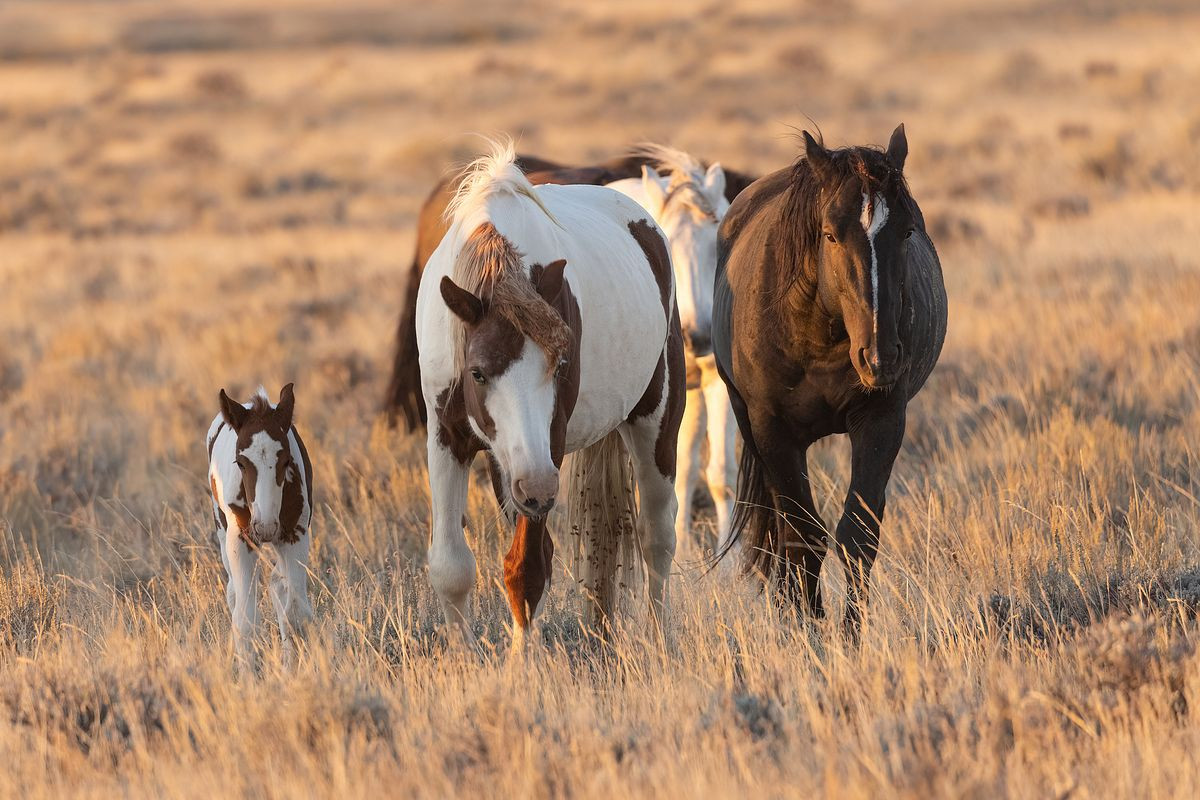 I returned to the range after a few days and set about looking for Tuff and Tully. The horses had spent the early morning drinking in an irrigation ditch and I watched as each group made their way up from the ditch in single file. At the end of the line I saw Tuff and Tully, but as I glassed them, I could see that something was wrong. They were running frantically and a group of stallions, including Tonkawa, Clearwater, Boreal and Garth, were chasing them. Stallions rarely show much interest in a mare unless they are in heat so I assumed Tuff was in "foal heat" which occurs 6-12 days after foaling. Because of her bad knee, Tuff is sometimes not able to move very quickly, especially when the horses take to a gallop, so she must have gotten separated from her band stallion, Lansa, and her family and then found herself in the middle of this mayhem.
It was very distressing watching the stallions chase Tuff, sometimes separating her from Tully, who stood confused in the middle of it all. I was so worried Tully would get trampled, but thankfully, that didn't happen. The big pinto stallion, Garth, who had come to Tuff's aid in the past, finally took charge, pushing the other stallions away and trying to herd Tuff and Tully in the direction of his family, but Tuff would have none of it. She could see her family in the distance and tried to make a run for it with Tully, but Garth wouldn't allow it and kept Tuff and Tully running in circles, wearing Tuff down. After a while, Tuff acquiesced to Garth's demands and began quietly grazing, while little Tully collapsed in an exhausted heap at her mother's feet. The scene I witnessed was terribly upsetting to me and I left with tears in my eyes hoping that when I returned the next day, everything would have quieted down.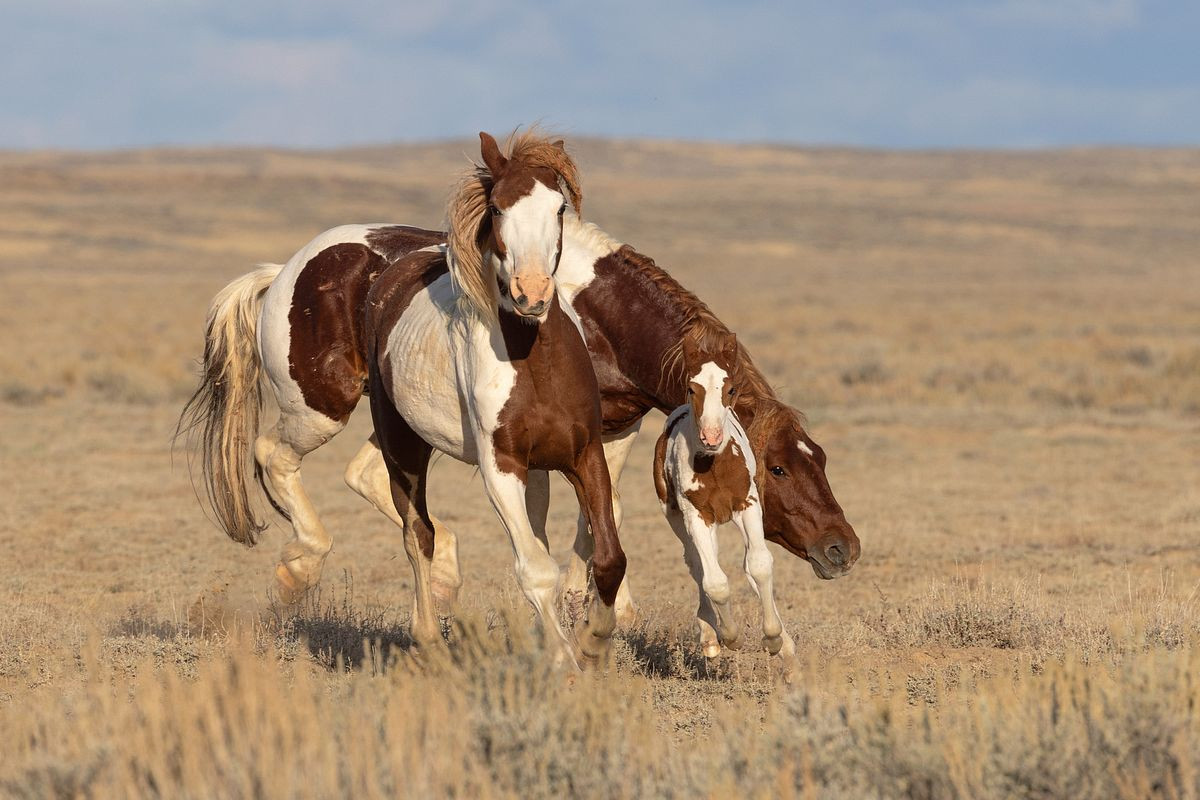 The next morning, I was happy to see Tuff standing over Tully as she napped with Garth, Miley, Meeka and Boreal, grazing quietly around them. All seemed to be well with this new family arrangement. I could see Tuff's old family band in the distance and it seemed that in the melee of the previous day, her yearling, Tejas, had returned to them, which was probably for the best. Tejas was very close to all the other youngsters in Lansa's tight-knit family band, and I felt he would be happier there amongst his sisters and all their youngsters.
As I watched Tuff and Tully transition to their new family over the next few weeks, it really seemed to be a perfect fit for them. Garth and his lieutenant, Boreal, who used to spar constantly, were now quietly following Tuff and Tully, ensuring their safety. Miley and Meeka readily accepted Tuff and Tully and were quick to chase away any inquisitive youngsters who dared get too close to the little one. The mares never seemed upset or jealous that Tuff had joined their family, as mares sometimes do, but seemed to welcome Tuff as an old friend.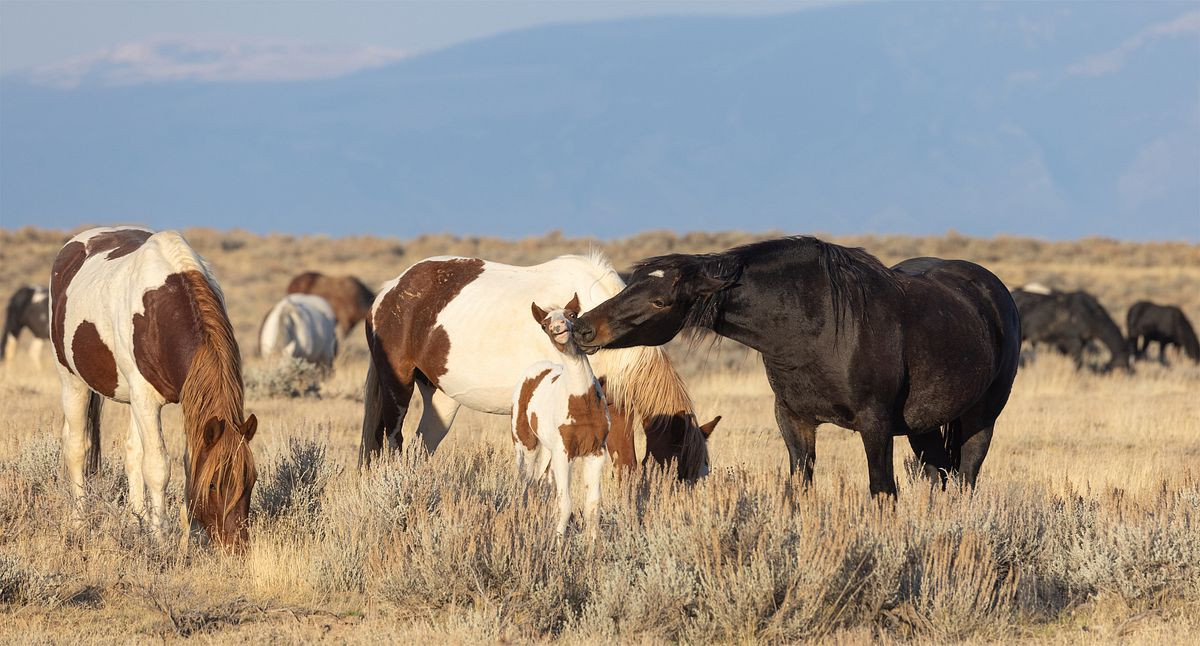 What I found most endearing about Garth and his family is that they traveled at Tuff and Tully's pace. Because of Tuff's bad knee, Tuff doesn't like to move quickly if she doesn't have to. When she was in Lansa's band, he was constantly chasing Tuff and nipping at her to ensure she kept up with the family. Lansa had no patience with Tuff lagging behind. Now that Tuff and Tully were with Garth and his family, they were often trailing far behind the rest of the herd, moving at Tuff's pace, no matter how slow.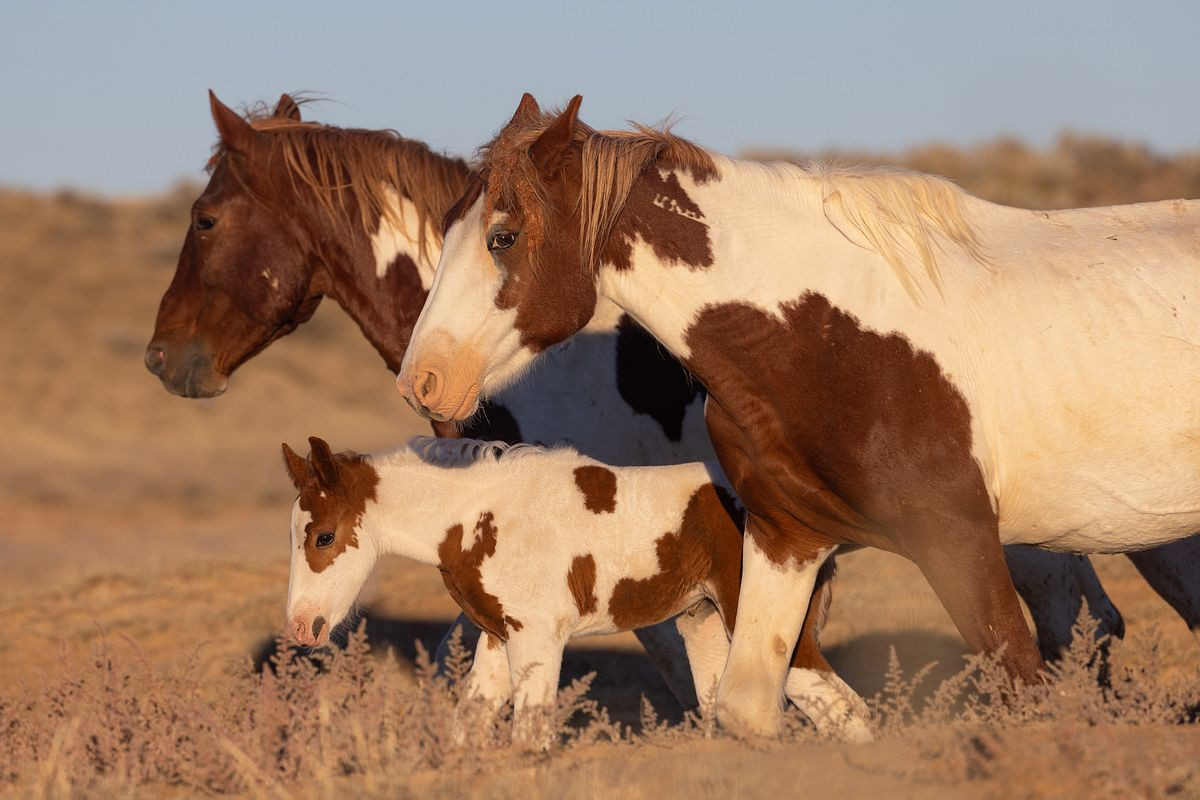 Garth and Boreal's calm demeanor reminds me of how they behaved last year when Meeka gave birth to the filly, Milagro. Tiny Milagro was born with a terrible shoulder defect that caused a pronounced limp and kept her from walking normally. While Milagro was alive, both stallions were very subdued and traveled at Milagro's pace, sometimes staying alone with their band miles from any other horses. Not all stallions behave this way. Some have a fiery temperament and would never allow a mare or foal keep them from where they wanted to go. I'm grateful for the thoughtfulness and concern shown by both Garth and Boreal when dealing with the injured and the young. In my opinion, Tuff and Tully couldn't have found a better family to take them in.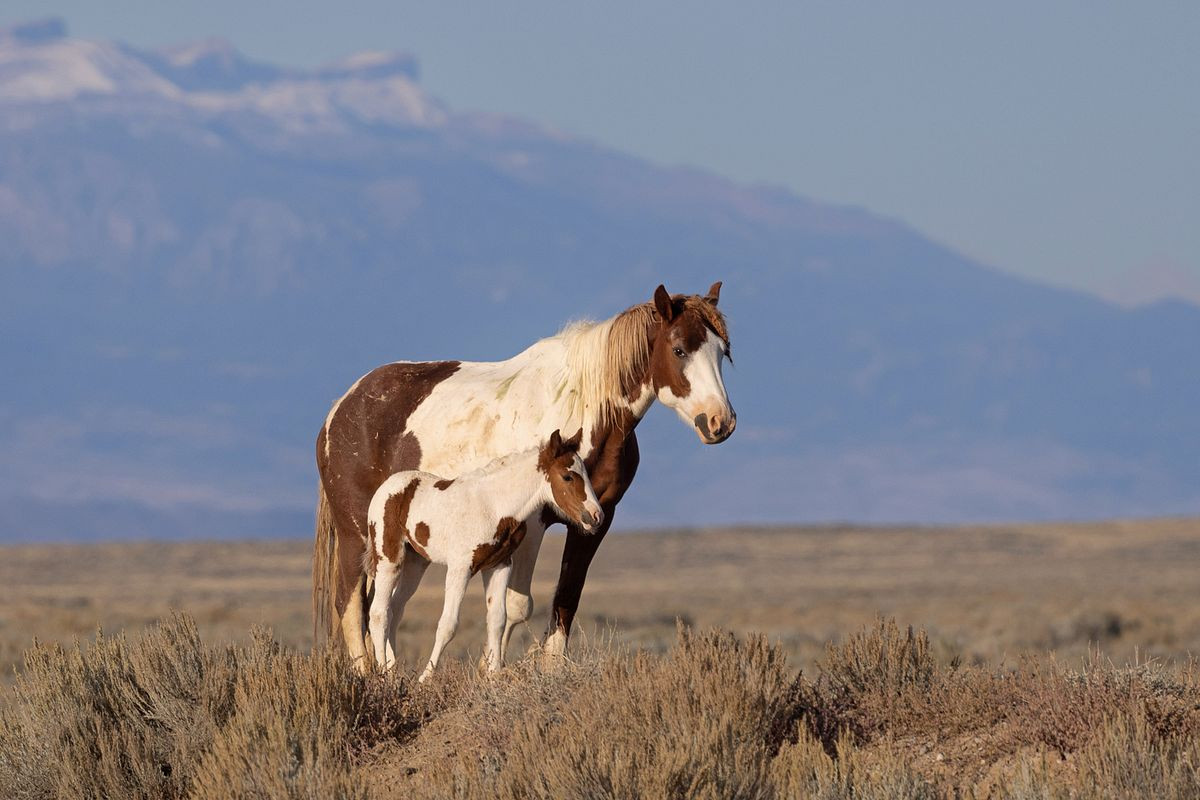 Even though all seemed well with Tuff and Tully, things were about to change on the range. An early winter blast was predicted during the week of October 23rd, with sub-zero temperatures, gale force winds and blowing snow. With Tully barely a month old, I worried how she would withstand such harsh conditions. Once the storm abated, I was able to find Tully and Tuff with their new family and neither seemed the worse for wear. Everyone in the family looked well, even Tuff and Tully.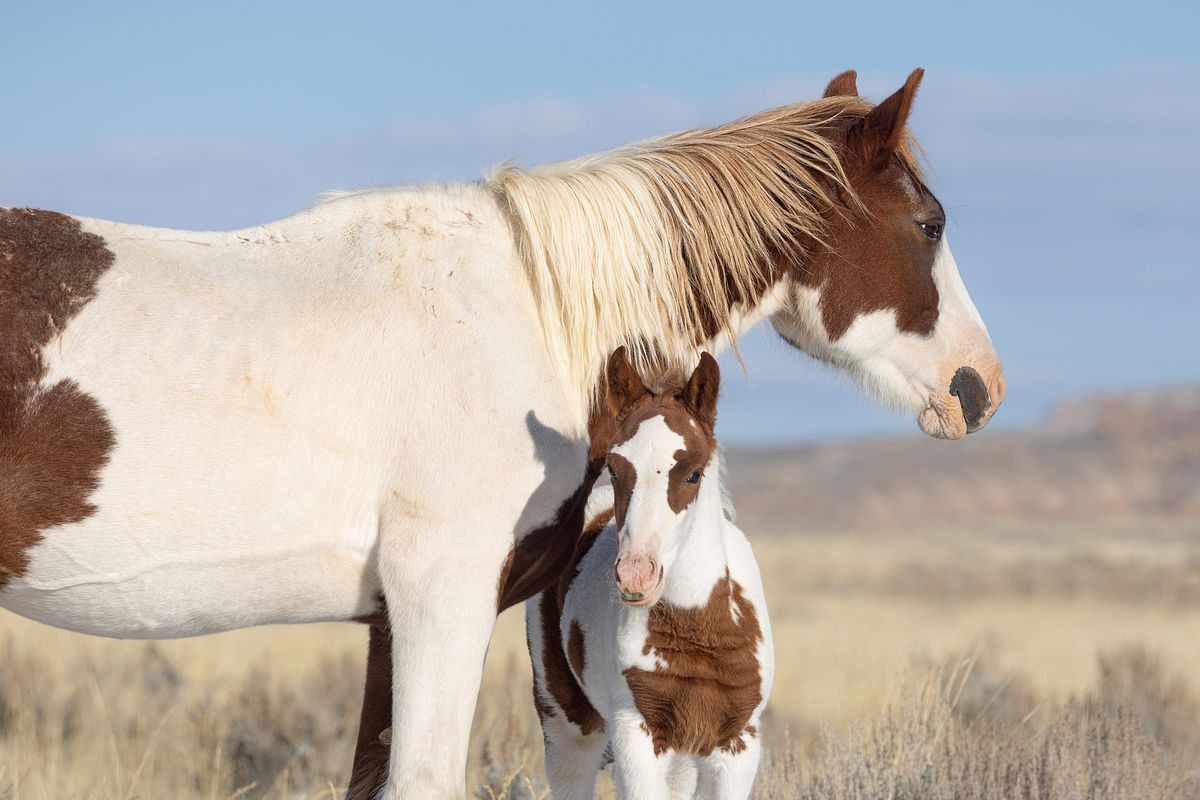 After getting over this first hurdle, Tuff and Tully still have a difficult winter ahead of them. Not only can the weather be extremely hard on an older mare with a newborn, but the BLM's unnecessary bait trapping is scheduled to begin on November 15th. Because Tuff means the world to me, I asked the wildlife biologist/horse specialist from the Bureau of Land Management to spare her during the roundup. Of course, I would like all of the horses to be spared, but Tuff is almost 18-years-old and has a bad knee, which makes her survival all the more tenuous. During roundups, horses that have pre-existing conditions, like Tuff's lameness, are often shot. I was told that Tuff would not be harmed or taken and I hope the same is true for Tully. I would like to believe that as fact, but all I can do is hope that it's true and that Tuff and Tully are not only spared, but make it through Wyoming's harsh winter.
Please keep Tuff and Tully and the rest of the McCullough Peaks herd in your thoughts as they do their best to survive during this difficult time. To find out what you can do to help these horses before the scheduled bait trapping, please click on the button below. Thank you from the bottom of my heart for caring about this amazing herd. Heaven help them all.
Help the McCullough Peaks Herd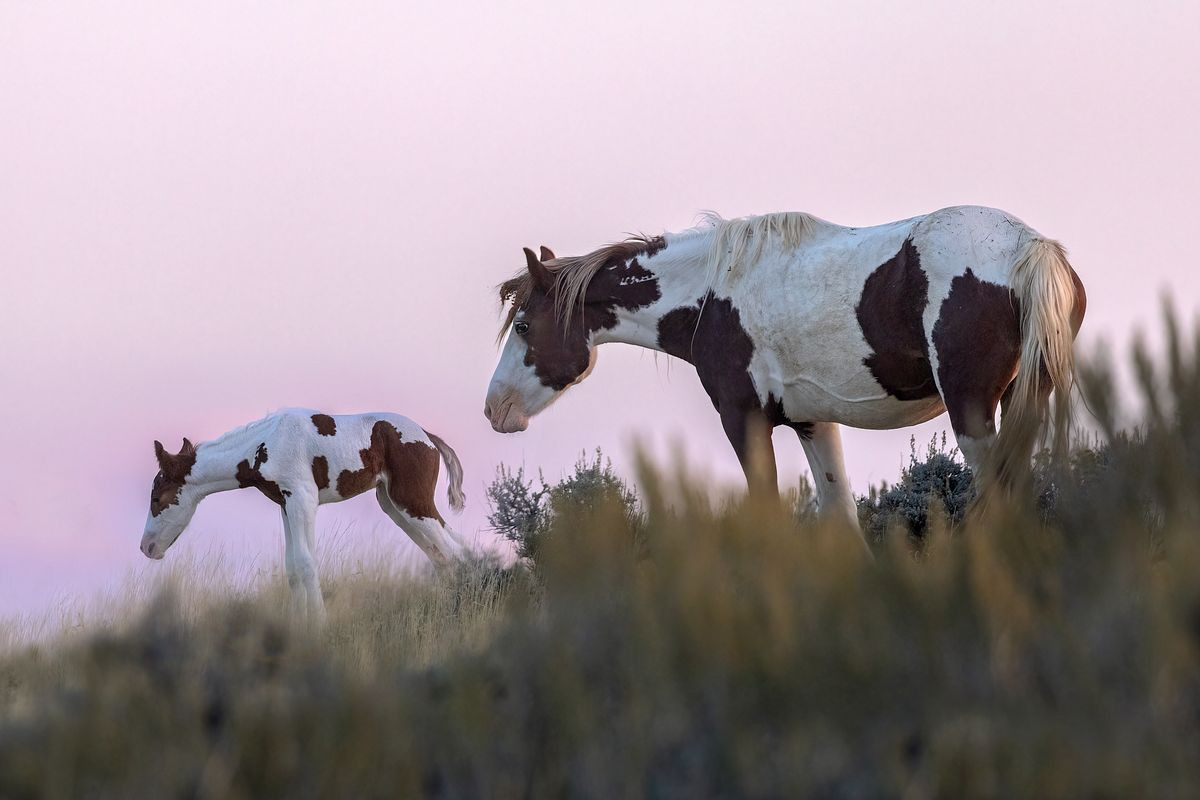 UPDATE ON TUFF AND TULLY 11/07/23: As of Tuesday, 11/07/23 , Tuff and Tully were no longer with Garth's band, but were traveling the range alone. The pair were together with a group of cows and both seemed well. Tuff seemed calm and content as she grazed and nursed Tully and seemed to have no interest in rejoining the Garth's band who was nearby and quite visible from where she was standing. I don't know why Tuff and Tully are no longer with Garth and family. There are no predators on the range, so they should be safe. This new development is not included in the story which was finished before it happened. Hopefully, Tuff and Tully will rejoin a family group as soon as they are able. I will continue checking on them and keep you posted. As of 11/15/23, they are still with the cows and away from the other horses.