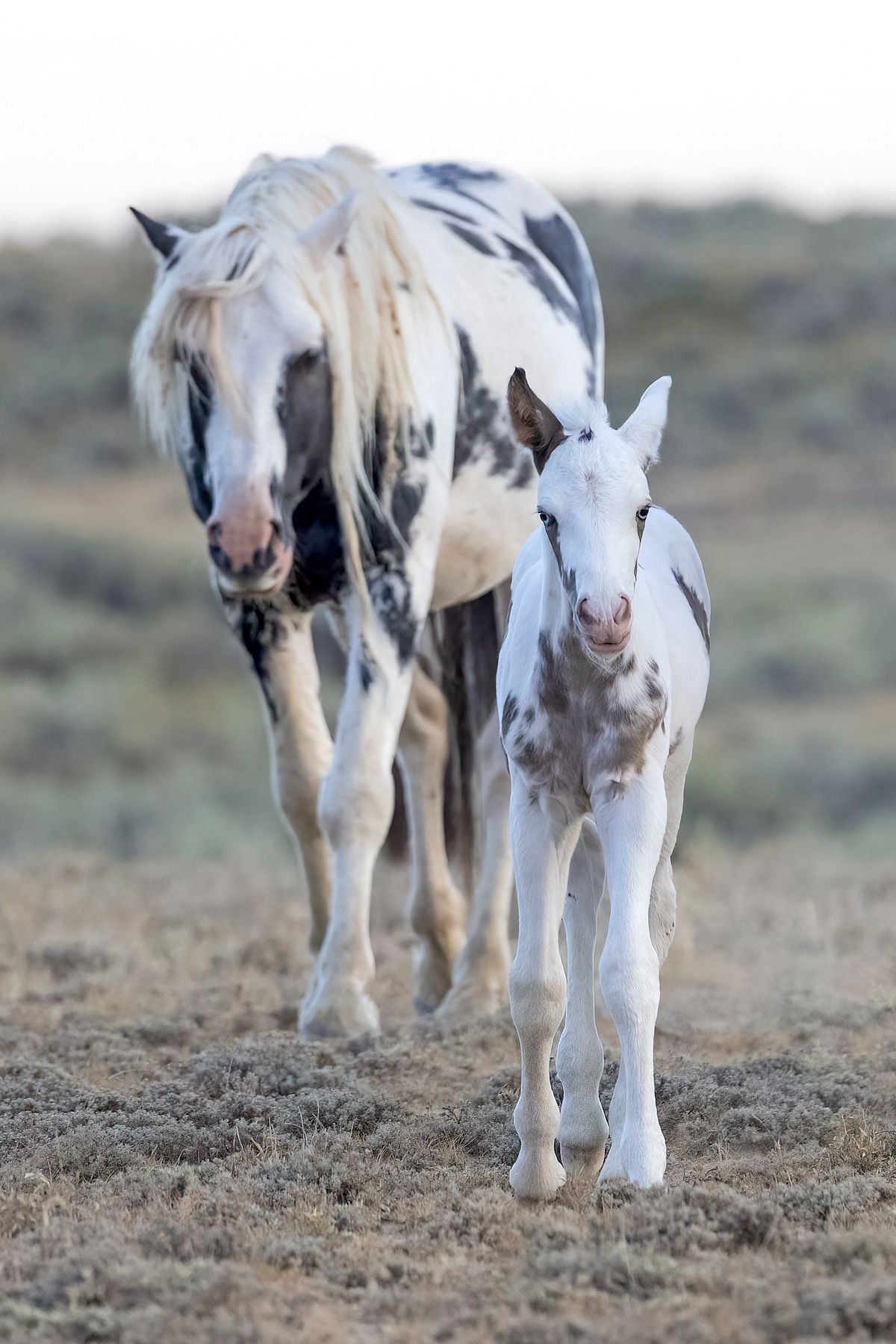 Early on the morning of August 26th, a new filly was born at McCullough Peaks. There have been quite a few foals born on the range over the last year, but this baby was one many of us were hoping for; a foal sired by the stallion, Thor. On this day, the lovely mare, Takoda, gave birth to a filly who was the mirror image of Thor. Even though Thor is a lieutenant in the stallion, Tahlequah's band, it appears that Tahlequah had no qualms with Thor breeding his daughter, Takoda. You may be surprised to find out that this is not the first time Takoda bore an offspring of Thor's. In August of 2022, Takoda gave birth to another Thor lookalike foal, but sadly, that newborn was unwell and passed away within 24 hours. Thankfully, after two weeks, Takoda and Thor's new little daughter, officially known as Thorsdottir, aka "Thora", appears healthy and well, leading many of us, who monitor these horses regularly, to breathe a sigh of relief.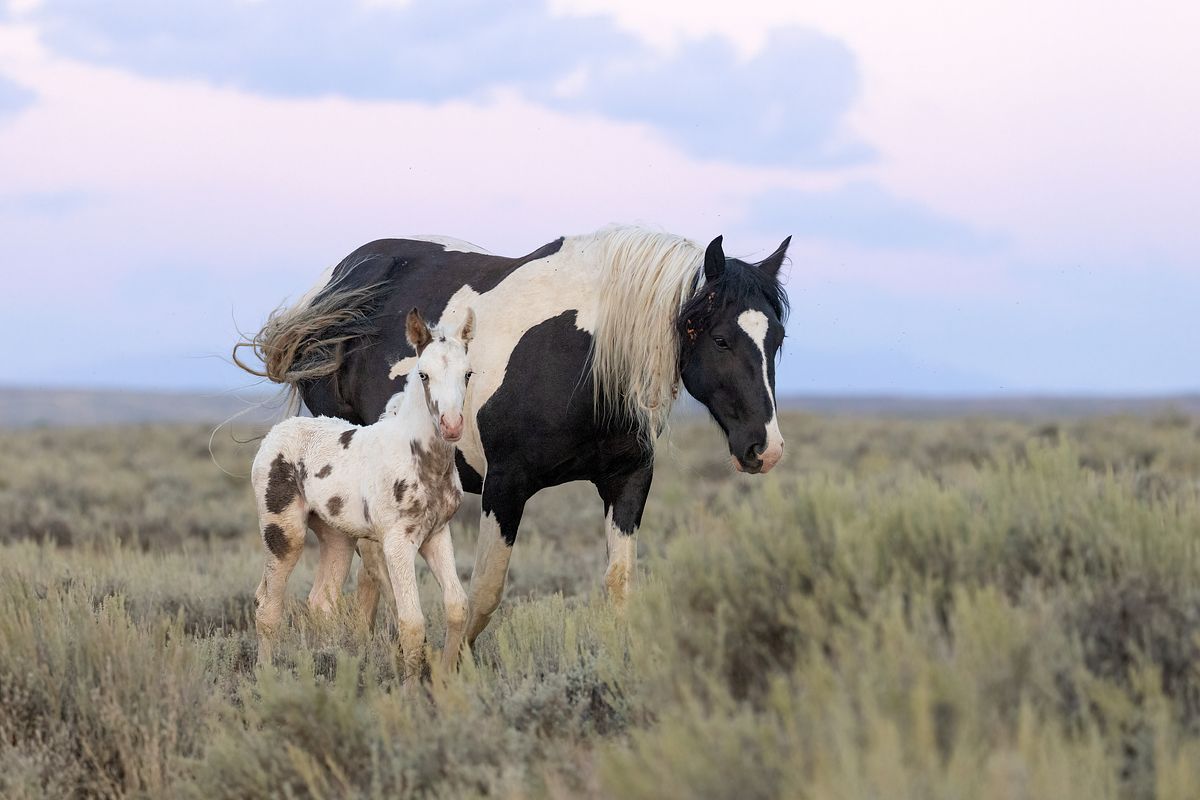 On the day Thora came into the world, we weren't expecting her. We knew her mother, Takoda, was pregnant, but we were uncertain when she'd foal. We'd seen Takoda and her family band on the evening of August 25th and she was still heavily pregnant. When my husband, Steve, and our good friend, Amy, and I went to visit the McCullough Peaks herd the next morning we planned on spending a few hours with the horses. It was still relatively dark when we arrived, but eagle-eyed Steve was able to spot the horses in an area where we never see them. We drove towards the herd and found them traversing a steep ravine after drinking at a nearby waterhole. We stayed in the car and watched the horses make their long approach from the water. As the sun began to rise, we photographed the horses as they made their way up the red rocks. It was a beautiful site watching the sun peak out over the Bighorn Mountains.
We continued to watch the herd approach and could see Tahlequah's band at the end of the line, with his lieutenant, Thor, bringing up the rear. Tahlequah's family didn't climb the steep hill with the other horses but made their way from the waterhole through a gully which gradually ascended to the top of the hill. As we watched their colorful family pass, we noticed a tiny bright white shape walking next to Takoda. It was newborn, Thora, and she looked exactly like Thor!
As we watched mom and foal, we could see Takoda's rear and tail were covered in blood indicating she had very recently given birth. Even though she was a first-time mom, Takoda was incredibly protective of little Thora and violently kicked at any horse that approached her newborn, including Thor.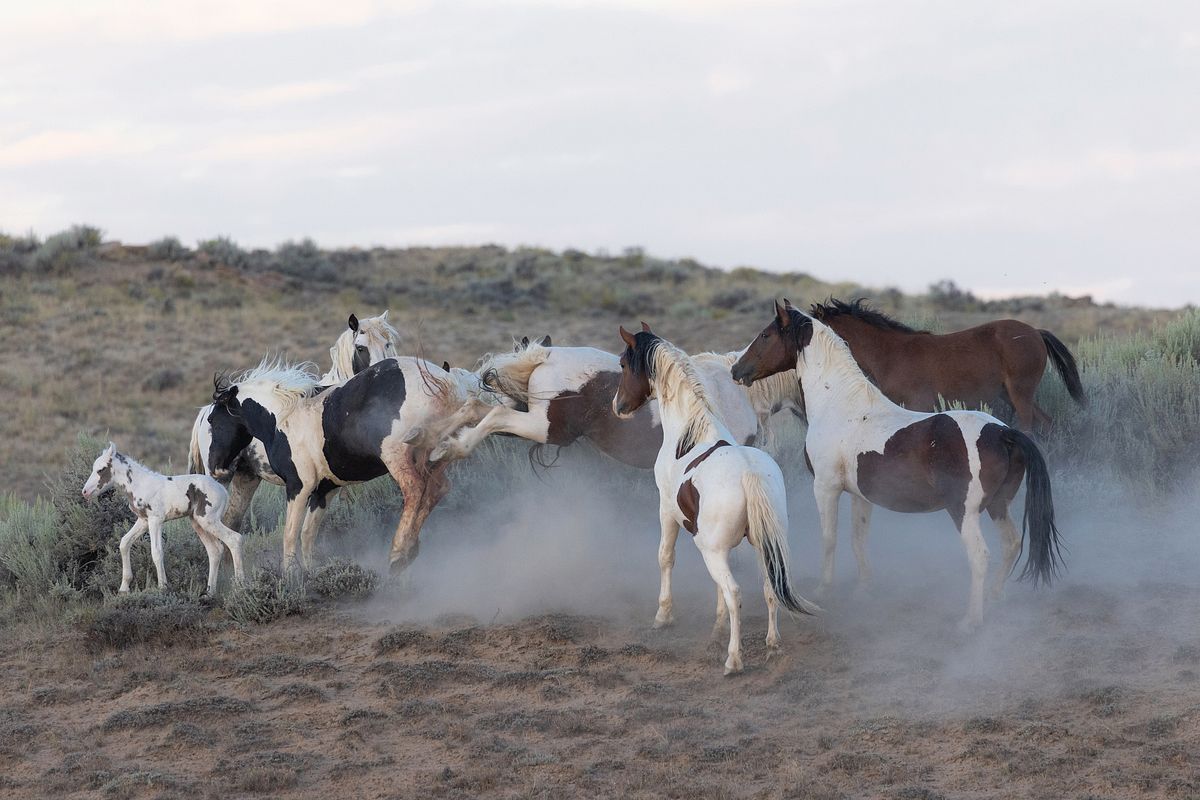 And Takoda wasn't the only mare protecting Thora. Elder mare, Shakira, and grandma, Tula, were doing their best to keep all the curious onlookers away, and it seemed the entire herd was very curious about their newest member.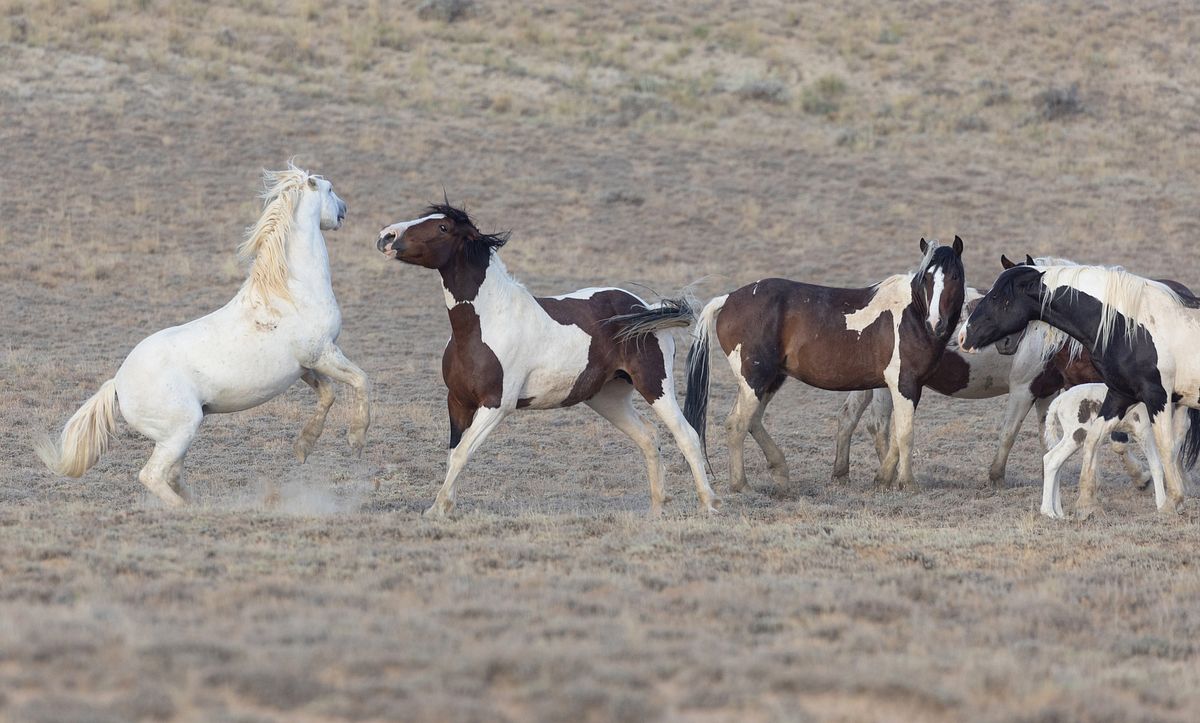 Just as we witnessed right after the birth of the filly, Kat Ballou, the horses seemed both excited and agitated by Thora's arrival. There was much whinnying and running about by both mares and stallions in a scene that can only be described as chaotic. When viewing their frenzied level of activity, you couldn't help but worry that tiny Thora might be injured in the fray. Thankfully, that didn't happen. Many of the horses, including stallions Garth, Boreal and Running Bear, and mare, Topeka, attempted to inch closer to catch a glimpse of the new baby. Their actions were met by a flurry of kicks and bites. Dad, Thor, seemed a bit confused by Thora's presence at first, but after a short while, his protective instinct kicked in and he too began chasing away all the equine gawkers.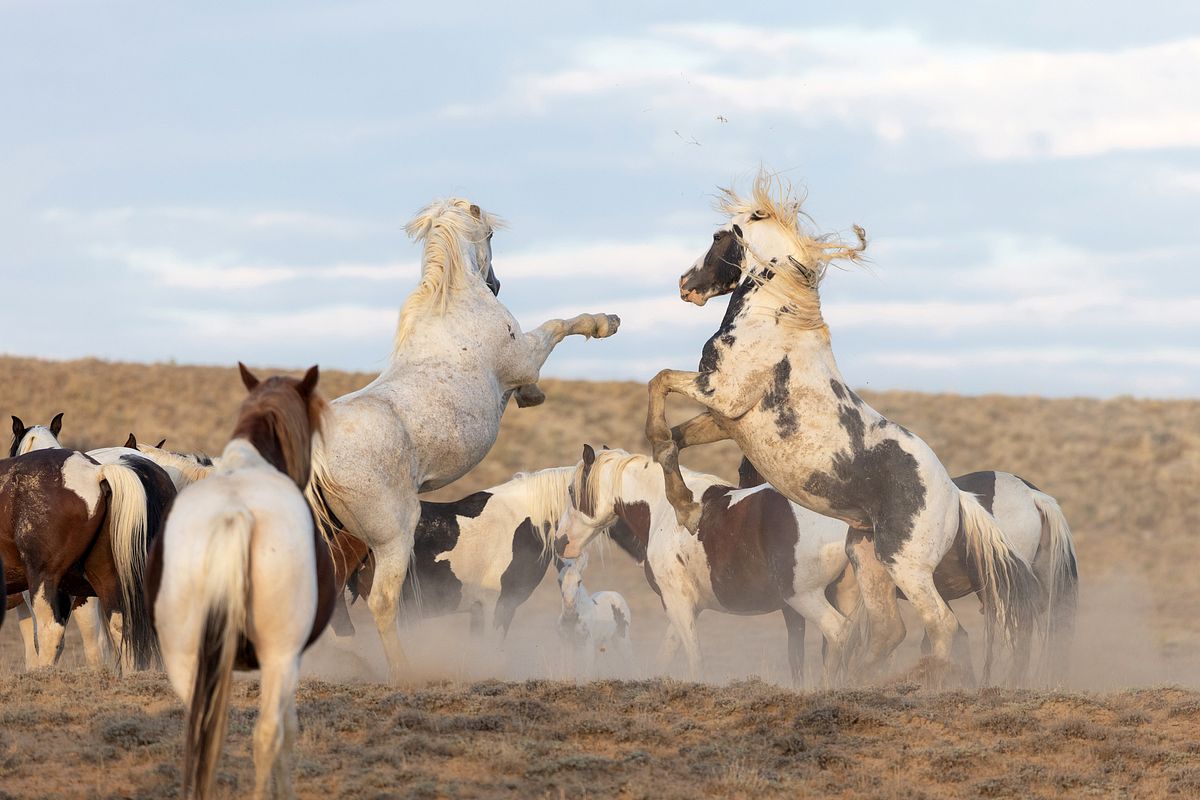 After about 45 minutes, the herd calmed down and seemed to lose interest in the newborn. They moved into the interior of the range to graze, leaving Takoda, Thora and the rest of their large family to nap on the hillside. As we watched the family from a respectful distance, we realized that little Thora had not yet nursed. Thora appeared unsteady on her feet and each time Takoda tried to nudge her in to nurse, she seemed uninterested.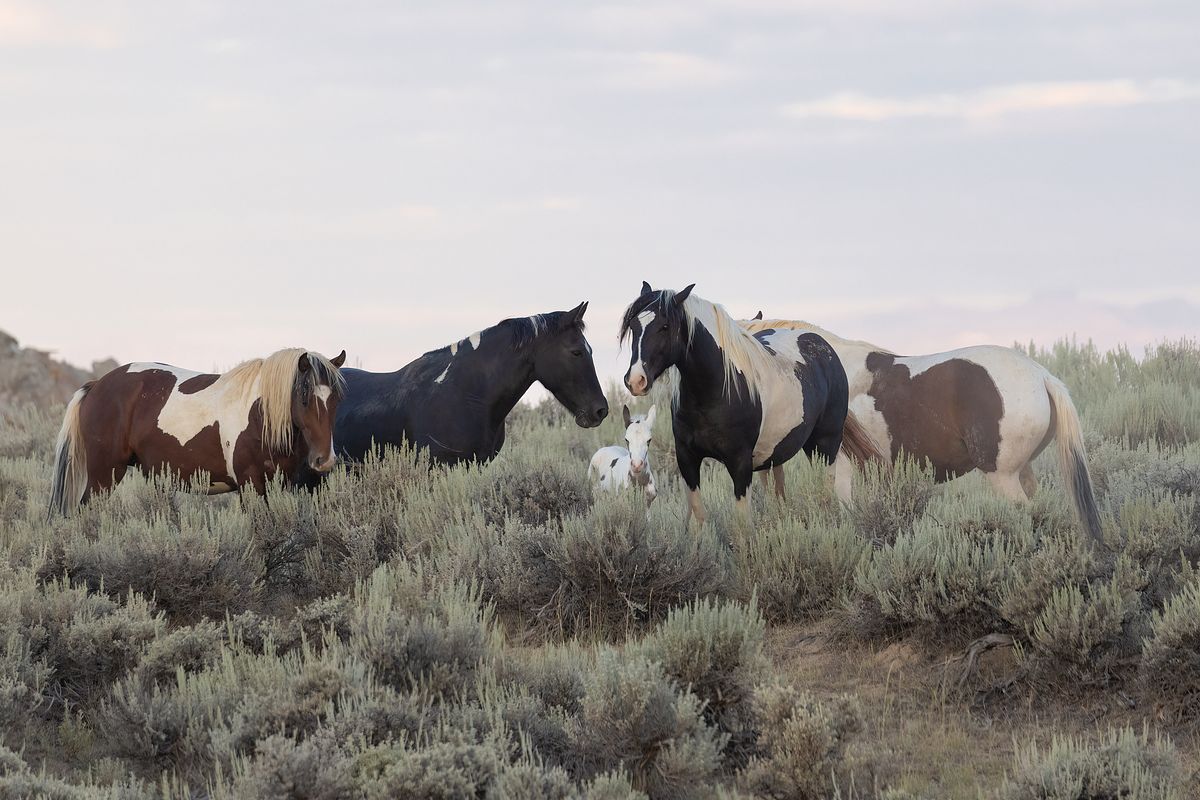 Newborn foals, like Thora, are born with no infection-fighting antibodies in their blood. Because of this, they must consume colostrum containing maternal antibodies from their mother's milk to protect them from infectious diseases. Colostrum is present in mare's milk for only the first 24 hours after foaling, so it's imperative that newborns nurse as soon as possible.
As 60 minutes approached without Thora nursing, we began to worry. Since we were in an area with good cell signal, I searched my phone to see how long it took a newborn foal to nurse and found that "a healthy newborn foal should be able to stand within one hour of delivery and should be nursing within two hours." Almost immediately after sharing that information with Steve and Amy, Thora began to nurse. We couldn't have been happier. I know I shed a few tears of joy at that moment and I'm pretty sure that Steve and Amy did too.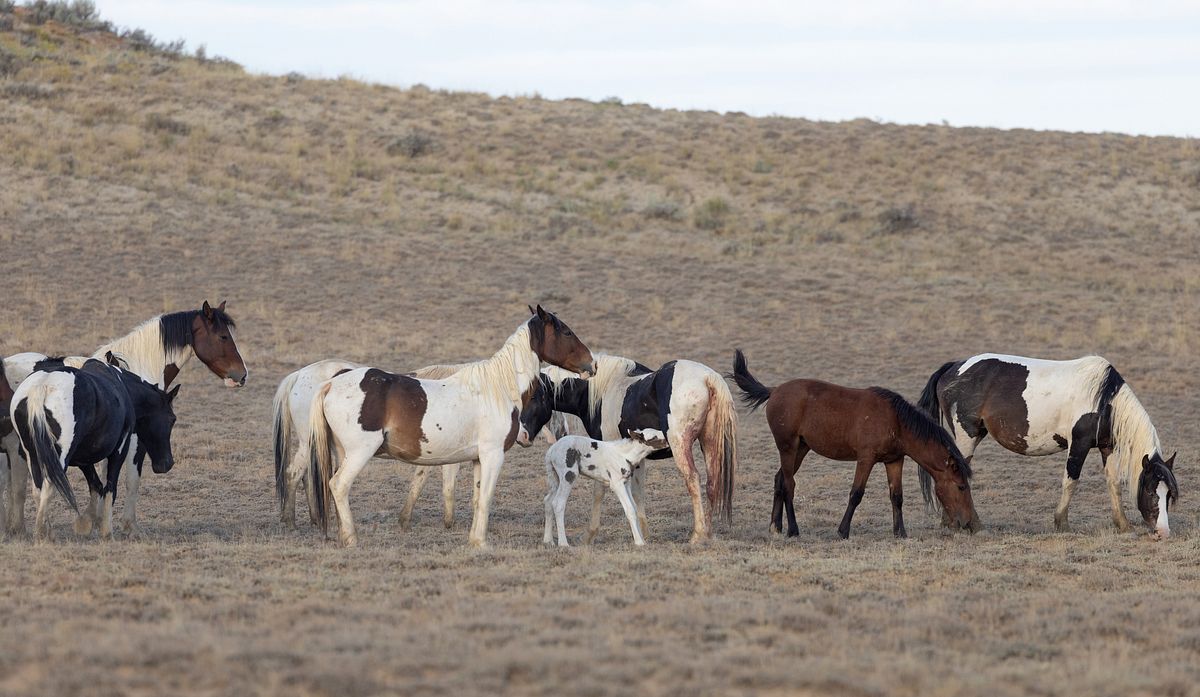 Once Thora nursed a few times, it was amazing to see the change in her. After standing mostly still for over an hour, she began to trot around her mother, even kicking up her heels!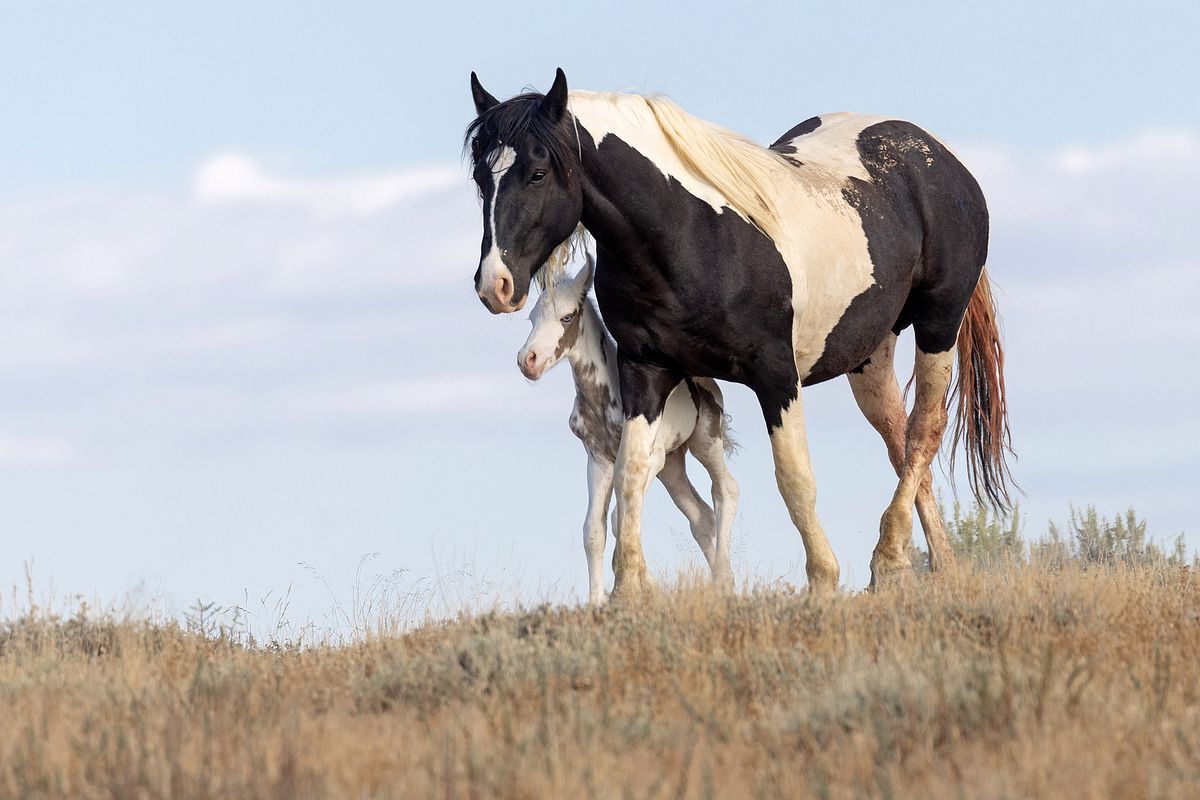 We weren't the only ones who noticed the increase in Thora's activity level. Her family noticed the change too, and with Takoda and Thora safely ensconced alongside the other mares in the band, the family began their trek towards the rest of the herd who were grazing a mile distant. We watched them as they walked past with little Thora disappearing into the tall sage and out of sight.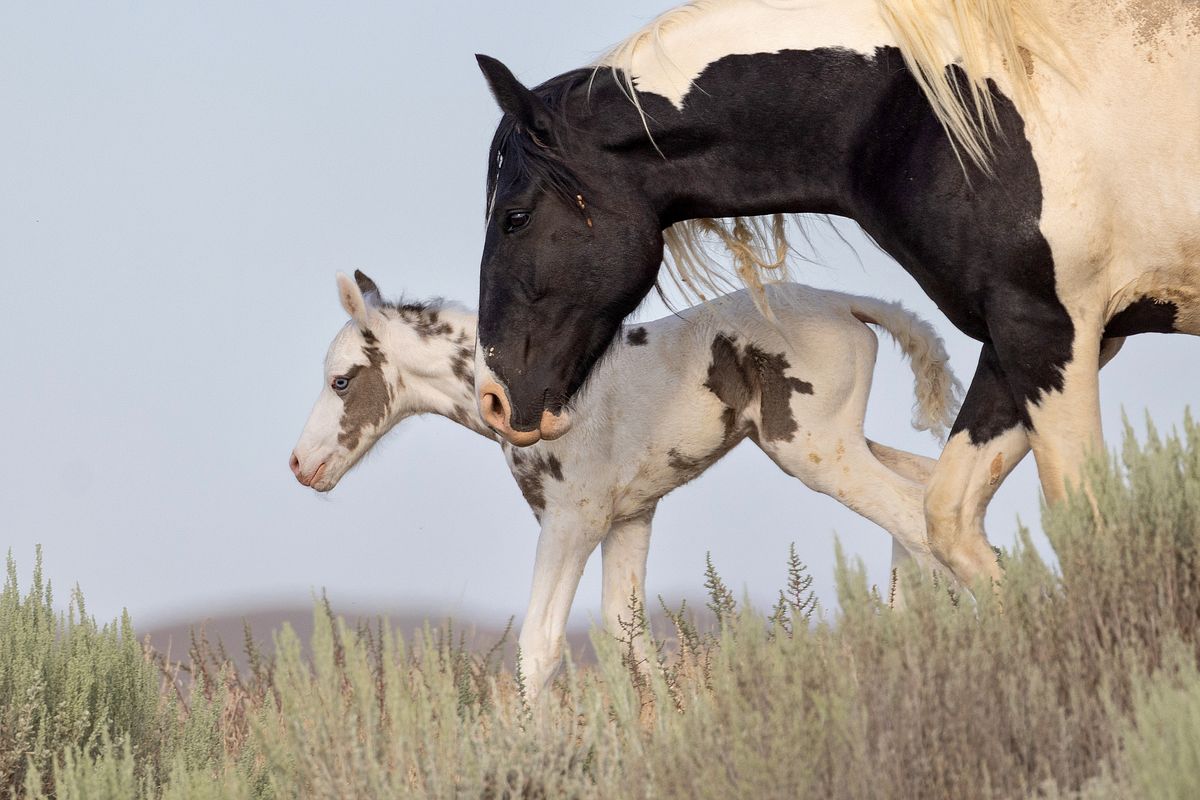 Since that first morning, we've seen Thora many times and each time she seems a bit more curious, a bit more independent, and much more exuberant.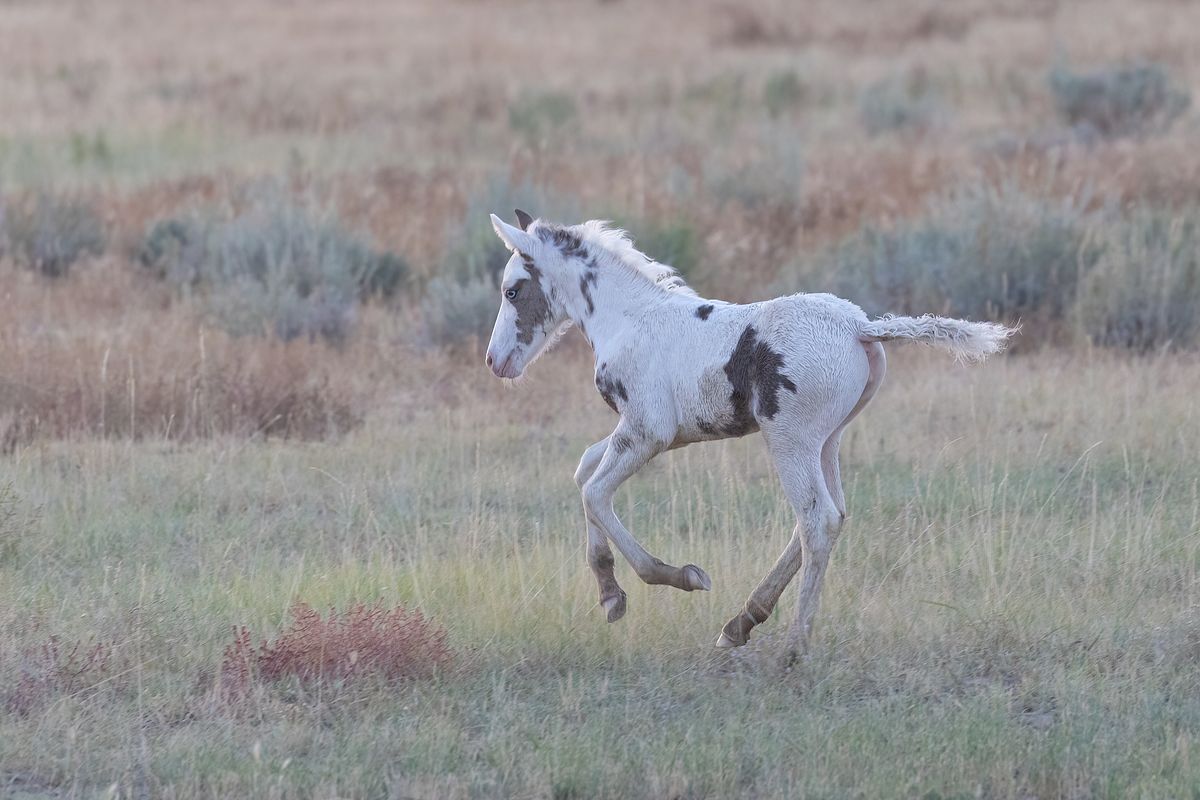 With the impending gather scheduled for November, it's hard not to worry about Thora's future, but with her loving mother and family around her, we can hope that she will grow into the beautiful mare she was meant to be, forever wild and forever free.