I have many stories about Washakie from over the years and right now, I'd like to share one with you from February 16, 2018. At that time, I thought we'd lost Washakie, but thankfully, he graced us with his presence for another four years. Of course, four years wasn't long enough, especially when you wished he could live forever. Here's his story.
"Washakie Walks Alone - February 16, 2018"
For those that know me, you might know that I have a favorite horse at McCullough Peaks; the magnificent pinto stallion, Washakie. Washakie will be 17 years old this year, and although he has always been a formidable presence on the range, he has had a difficult time over the last few years. In the summer of 2016, Washakie was seriously injured by a young stallion named Wapiti, who was intent on stealing Washakie's band. The deep, gaping wound Wapiti inflicted, nearly killed Washakie. After a while, the wound became terribly infected and Washakie was barely eating. As fall turned to winter, I feared the worst, but miraculously last spring, Washakie improved. Although the wound took a toll on him, Washakie held onto his three mares and continued to battle Wapiti through the summer months and into the fall of 2017.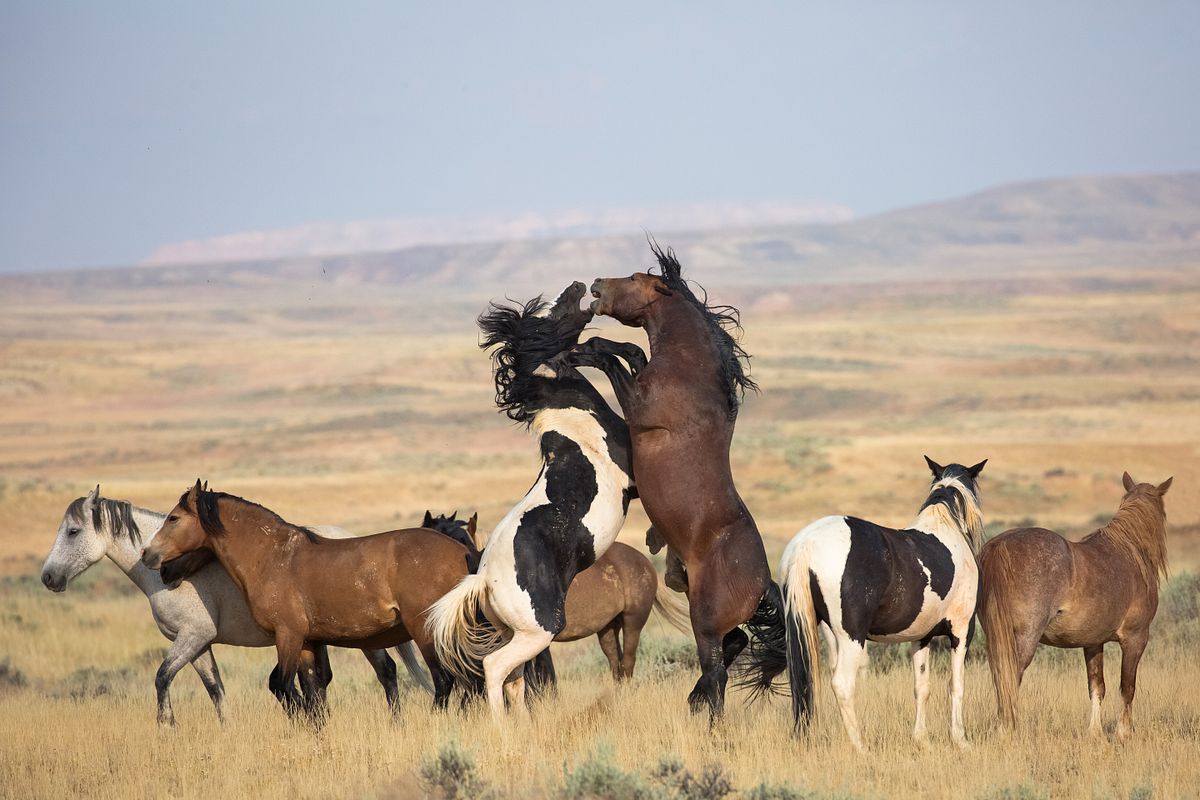 When I saw Washakie in late October, he was with his mares grazing on the east side of the range with a group of more than 60 horses. I couldn't help but notice that Washakie's old wound had been torn open, his fur matted with fresh blood. If the wound was painful, Washakie didn't let on. Any sign of weakness would cause his rival, Wapiti, to ramp up his relentless attacks, hoping to drive out the older stallion. When I left the range, Washakie and Wapiti, were grazing side by side, showing no sign of the animosity between them.
I returned to the Peaks later in the week, hoping to find Washakie and his family. I found the group of 60 horses and assumed that Washakie and his mares were still with them. I scanned the big herd, but Washakie, Wapiti and the mares were nowhere to be found. A few of the other horses from the big group had also disappeared. I told myself that Washakie and his family were probably with the other horses, away from the big group. I tried not to worry, but returned to the range almost every day that week in search of Washakie. But no matter where I looked, I still couldn't find him or his family.
Days turned into weeks as my search for Washakie continued. The weather was unseasonably warm and dry in November and early December, so I was still able to continue my quest. I hiked and drove through parts of the range I'd never seen before, but still no mares, no Wapiti and no Washakie. In mid-December, a large winter storm was predicted for the area. The wind and snow would most likely hinder my access to the interior of the range indefinitely, so I planned to spend the last day before the storm looking for Washakie. On that day, I drove and walked the range from sunup to sundown. The winds were howling making the horses jittery, with many of them galloping back and forth through the sage. During my search, I located just about every other horse residing at the Peaks, but I still couldn't find Washakie. I didn't want to leave not knowing where he was, but when the snow started falling fast and furious, I knew it was time to go.
As December turned to January, access to the range was limited. I visited occasionally, but had no luck finding Washakie. He and his mares often frequented the area around Whistle Creek Road in winter, but not this year. The fact that I couldn't locate his entire family gave me some hope that they were all still together, but something just didn't seem right.
In early February, friends alerted me that Washakie had been seen. A visitor to the range had spotted him with the bachelor stallion, Sundance, near Whistle Creek Road. Although I was ecstatic to hear that Washakie was alright, it was upsetting to learn he had lost his family. I drove to the range as soon as I received the news, hoping that Washakie was still in the area. When I first reached the range, I saw no sign of Washakie. I finally decided to search for him on foot and followed some recent hoofprints in the snow. Then in the distance I saw a black and white horse craning his neck as he looked in my direction....Washakie!!! I hadn't seen my boy in almost four months and as I caught sight of him, the tears started to flow. Wiping my eyes, I picked up my gear and headed in his direction. The hard crusty snow made for difficult walking and I figured it would take some time to reach him, but much to my surprise Washakie started trotting in my direction. I stopped and waited, wondering what would happen next. The big stallion stopped before he reached me, gazing at me with curiosity. Then I talked to him, like I would to any old friend. I told him I loved him and missed him. I told him that everything would be alright. He pricked up his ears as if he understood, and then lowered his head and started grazing.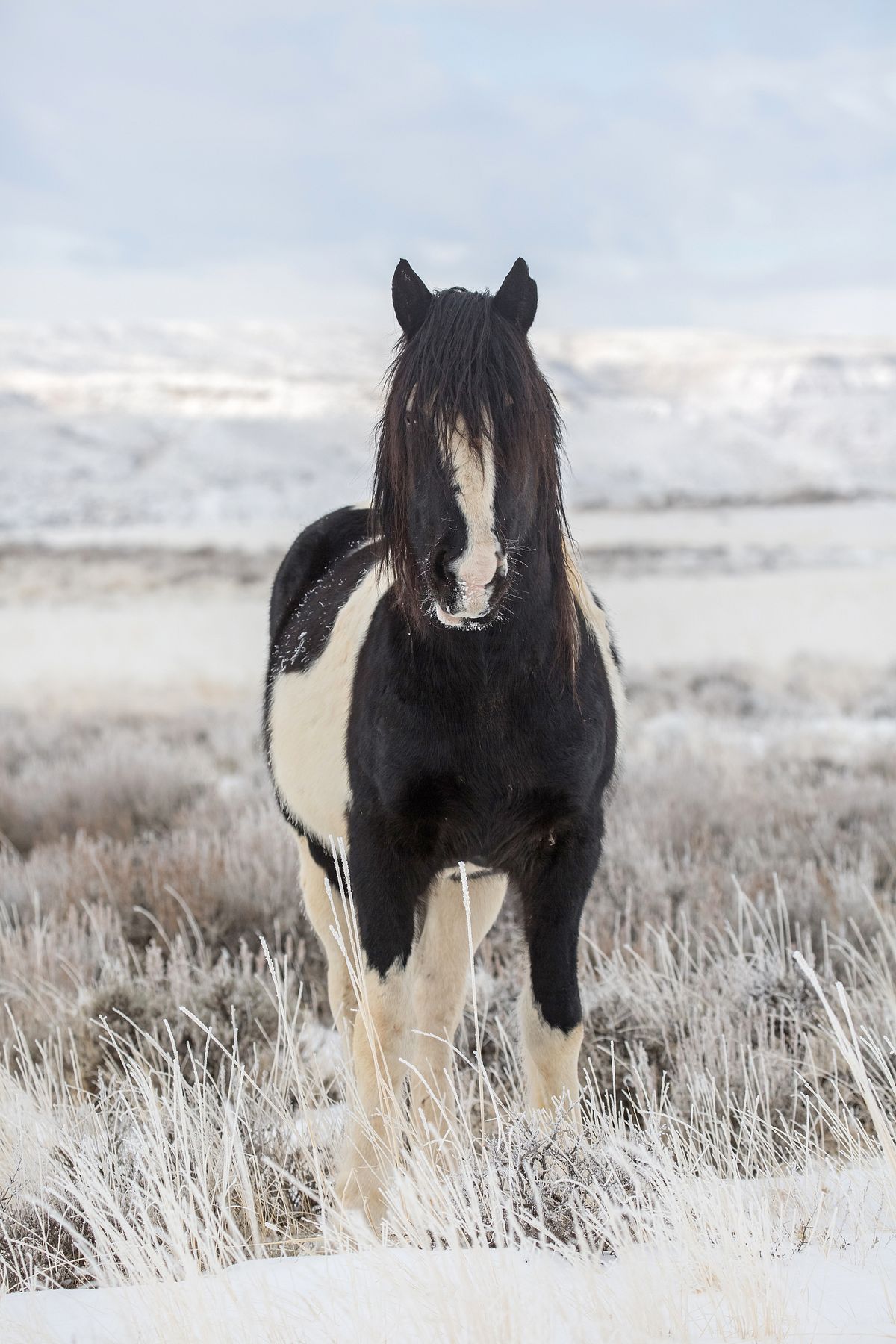 As I sat with him, I could see that Washakie looked well, but I couldn't help but wonder what happened. Another stallion, most likely Wapiti, had driven Washakie from his mares. But when did that happen? Washakie had been with his two older mares, Cheyenne and Adobe Girl, for almost ten years and I know he wouldn't give up any of them, even young Sanita, without a fight. Washakie had no fresh wounds to speak of, aside from a newly torn left ear. Even the nasty gash on his side had finally healed, so perhaps he was driven out months ago.
After all the years Washakie spent with his family, I was certain he felt lost without them. Even though his visible wounds had healed, the wounds to his heart might haunt him forever. In time, Washakie may connect with other bachelors as they pass through the range, and who knows, he may even gain a mare or two, but at 17 years of age, things will never be as they used to be. I know this is the way of the wild ones, but it breaks my heart to watch the mighty Washakie wander the range alone. Although his reign may be over, it gives me some comfort to know that Washakie has been to the top of the mountain and nobody can take that away from him, not even time.