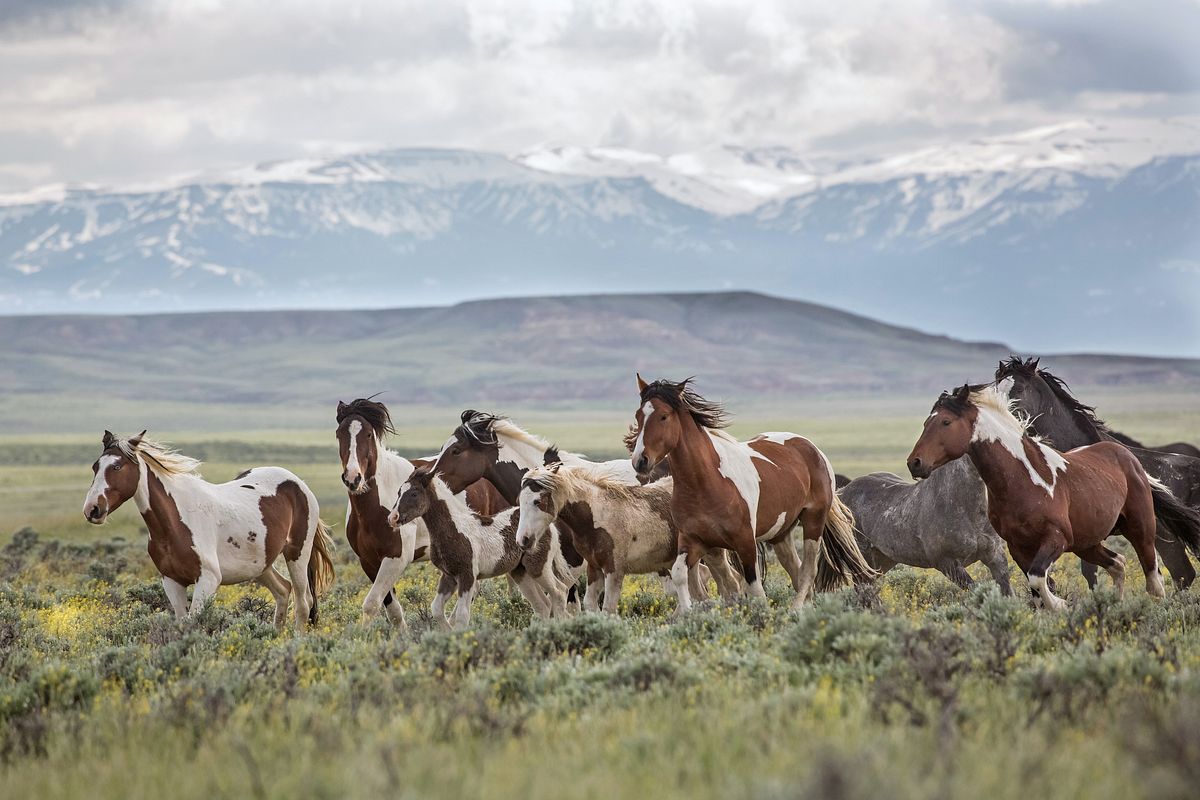 THE COMMENT PERIOD FOR THE BLM'S SCOPING NOTICE FOR THE REMOVAL AT MCCULLOUGH PEAKS HAS ENDED.  THERE WAS A TOTAL OF 4176 ELECTRONIC COMMENTS RECEIVED AT THE CLOSE OF THE COMMENT PERIOD ON FEBRUARY 7, 2023. THAT'S AMAZING! THANK YOU TO ALL WHO HAVE COMMENTED.

It's been a sad time for the McCullough Peaks wild horse herd, with the January 9 release of a Bureau of Land Management (BLM) Scoping Notice outlining plans for an upcoming bait trapping removal of many of our beloved wild ones. In the Scoping Notice, the BLM suggests taking the current population of 179 horses down to the low Appropriate Management Level of only 70 horses. I know many of us care deeply about this amazing herd, so it's up to us to comment on the Scoping Notice to let the BLM knows that we don't agree with their proposed plan. All public comments to the Scoping Notice must be received by 4:30 p.m. MST on February 7, 2023 to be considered. You can read the BLM's Scoping Notice at the link below.
Once the comment period is over, the BLM will analyze all comments submitted and later in the year will publish their Environmental Assessment where they will announce their proposed action. After the proposed action is published, there will be another 30 day comment period and then the Record of Decision will be published. As outlined in the Scoping Notice, the bait trapping can begin sometime after November 1, 2023.

After spending more than fourteen years observing and photographing the McCullough Peaks wild horses, I've developed a deep love and respect for them. This unique herd is not only beloved by me, but by people all over the country and the world who travel to the Cody, Wyoming, area to see them. Because these wild horses have become so important to so many of us, we need to tell the BLM that we want the McCullough Peaks herd to stay on the range where they belong.

With the help of other wild horse advocates, I've prepared some suggested talking points you can use as is, or modify, to send to the BLM in response to their bait trapping plan for the McCullough Peaks herd. Without your voice, we could lose many of these horses forever and I know that none of us want that. If you have any questions or need any help crafting your comments, you can reach me at sandysisti@yahoo.com. I would be happy to help you. Thank you all so much for caring about the McCullough Peaks wild horses.  It means more to me than you could ever know.

Here are some suggestions on comments to submit to this Scoping Notice:

1)The current appropriate management level (AML) at McCullough Peaks is 70-140 horses. The Scoping Notice proposes gathering and removing excess wild horses, through bait trapping, to the low AML of 70. If the population is reduced to just 70 horses, the McCullough Peaks herd will no longer be genetically viable. Dr. Gus Cothran, leading horse geneticist and professor emeritus at the Texas A&M School of Veterinary Medicine, states that, at a minimum, herd size must be maintained at 150 horses to ensure genetic viability. This fact is also acknowledged in the BLM's Wild Horse and Burro Handbook. The range can easily support at least 250 horses, so the best possible solution would be to raise the AML to 150 – 250.
2) In addition, there is a fairly high proportion of elderly horses within the McCullough Peaks herd. With a total population of 179 horses, there are approximately 60 horses greater than 15 years of age, with approximately 23 of them over the age of 20. These numbers need to be taken into consideration as the natural herd size could change drastically over the next several years as these horses age further and die off naturally. Because of this, removal of excess horses would bring the population well below the threshold for genetic viability, therefore, keeping the population at or above 150 is crucial. If it's decided to remove any of these elderly horses from the population, they'll become Sale Authority Horses and, if not rescued by a sanctuary, they could find their way into kill pens and eventually the slaughter pipeline. These horses should be allowed to live their lives to the end with dignity at McCullough Peaks, the only home they've ever known.
3) With regard to the issue of alternate fertility control for non-responding mares, there are currently only three known mares on the range that do not respond to the PZP Immunocontraceptive vaccine and continue to have foals even while receiving treatment. Two of these mares are 17 years old and one is 14 years old. Each of these mares are reaching the end of their reproductive years and will likely not add a significant number of additional foals to the population. Given concerns about its potential for permanent sterilization and injection site abscesses, GonaCon should never be considered as an alternative fertility treatment for these three mares or any others within the herd. Other alternative fertility control methods, including spaying and IUDs, are dangerous and inhumane and should never be used on wild mares. PZP has been used to effectively manage this herd since 2011 and its use should continue into the future.
4) The goal of the BLM should be to maintain a healthy herd with a genetically sound population. The BLM should increase, not decrease the herd size in preparation for future losses of elderly horses. With only a 2% growth rate and approximately 60 horses out of 179 over the age of 15, the population could re-balance itself naturally in the next several years. Because of this, the BLM should continue with its proven track record of PZP for birth control and dismiss any plans for future gathers.
5) In response to the issue of rangeland health, it is recommended that the grazing leases within the McCullough Peaks Herd Management Area be retired, thus leaving a healthier range for the wild horses and the native wildlife who reside there.

6) Retiring the grazing leases would also save tax dollars and reduce impact on native flora, fauna, and water resources. Taxpayers currently fund over 90% of the cost for commercial ranchers to graze private livestock on public land. Direct expenditures to administer public lands grazing is at least $120 million annually, more than $500 million with indirect costs. Yet less than 2% of the nation's beef supply come from public lands. Because wild horses are meant to be the primary use of the herd area retiring grazing leases would be the best overall solution to healthier range conditions while saving taxpayer dollars.
7) Another point is that this is a 10 year plan, meaning that for all the actions the BLM are planning to take over the next 10 years, this is the only opportunity they are giving for the public to comment. This is a violation of NEPA, the National Environmental Policy Act. The BLM needs to give the public an opportunity to comment each time they are taking action against the McCullough Peaks herd.
---
Comments must be received by 4:30 p.m. MST on February 7, 2023 to be considered.
It is important that you submit your own comments.  Please do not rely on a "sign on" letter, because the BLM considers those as one comment.
---
THE COMMENT PERIOD FOR THIS SCOPING NOTICE IS NOW CLOSED.  THANK YOU TO ALL WHO HAVE COMMENTED.
---
You can also submit written comments here:
Refer to DOI-BLM-WY-R020-2023-003-EA
BLM Cody Field Office
Attn: Abel Guevera, Wildlife Biologist
1002 Blackburn Street
Cody, WY 82414
---
WHEN MAKING PUBLIC COMMENTS TO THE BLM:
We need as many people as possible to submit comments and let the BLM know how important the McCullough Peaks herd is to them personally and to the public.
Keep your comments:
Civil
Mature
Professional
Scientific and fact based
DO NOT make any comments that are rude or threatening in nature.  Any rude or threatening comments will only hurt our chances to protect this herd.

Thank you to our friends at Save Our Wild Horses for this helpful guideline.
PLEASE NOTE THAT COMMENTING HAS BEEN DISABLED FOR THIS BLOG.
---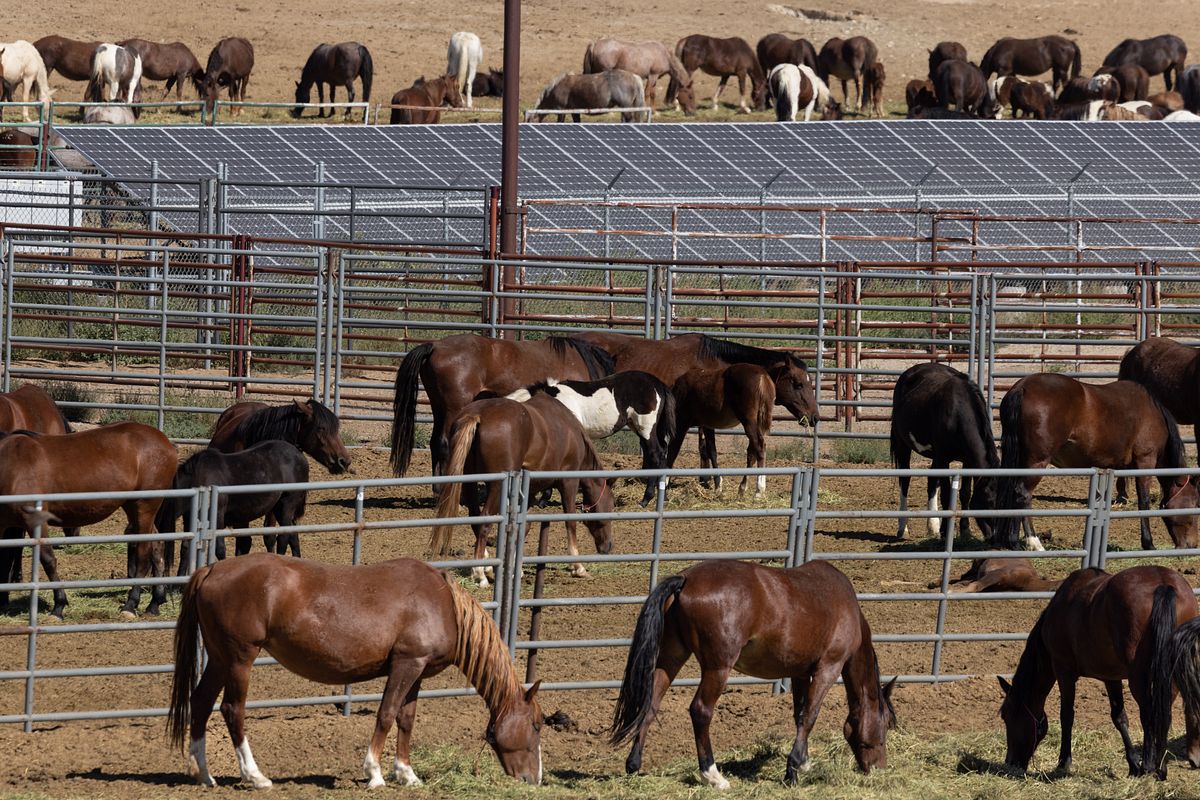 ---