After last year's snowy Christmas, my husband, Steve, and I decided to visit McCullough Peaks on December 26 to check on the wild horses. All the Jeep two tracks were drifted over with snow, so we figured we'd be glassing the hillsides for the wild ones, hoping to catch a glimpse of them in the distance. Lucky for us, most of the Red Point herd was digging for grass along Whistle Creek Road, so we parked our Jeep and walked through the drifts along the road to get a closer view of the horses.
The first thing we noticed was that the herd seemed quite agitated. There was a lot of galloping and whinnying going on, which isn't normal behavior. Then we saw mares from Jicarilla and San Jose's bands, led by the mare, Tigress, run towards the stallion, Maverick's band. Mares galloping towards another band are very uncommon, so we pointed our binoculars towards them to see what had them so excited.
We saw that Tigress, India and the other mares had stopped about 100 feet from Maverick's band and were staring at them intently. Once we glassed Maverick's band, we could see what all the commotion was about. Maverick's daughter, the young mare, Keota, had just given birth to her first foal. We couldn't see the newborn, but we could see that Keota was hunched over, with the afterbirth visible. She and her young brother, Kassidy, were sniffing at something on the ground, which we assumed was the foal, but even standing on tiptoes we couldn't see anything. Because we didn't want to disturb the horses at this critical time, we left Keota and her newborn and planned to come back the next day to check on them.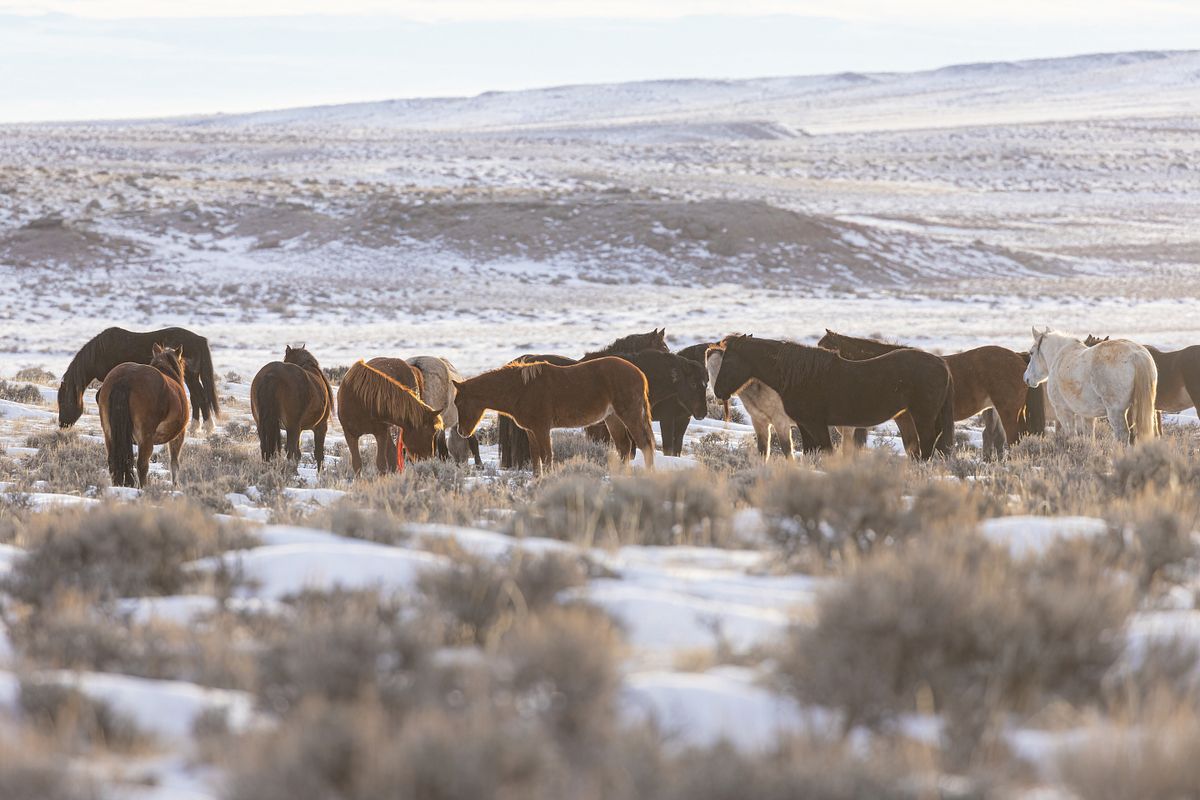 We returned to the range the next two mornings and were able to locate the entire band, who were still very close to where Keota had given birth. Unfortunately, we couldn't find Keota or her newborn. Keota foaled while still with her natal band, so it was possible that she and her foal might have been scooped up by another stallion and could be hiding somewhere. That's exactly what happened to her sister, Kenai, who was taken by Washakie after she gave birth to Klondike Girl last May. We tried to keep our hopes up, but since it was so cold and wintry on the range, we couldn't help but think the worst may have happened. We even alerted the BLM Wildlife Manager about Keota and her missing foal, but after visiting the range to search for them, he couldn't find them either.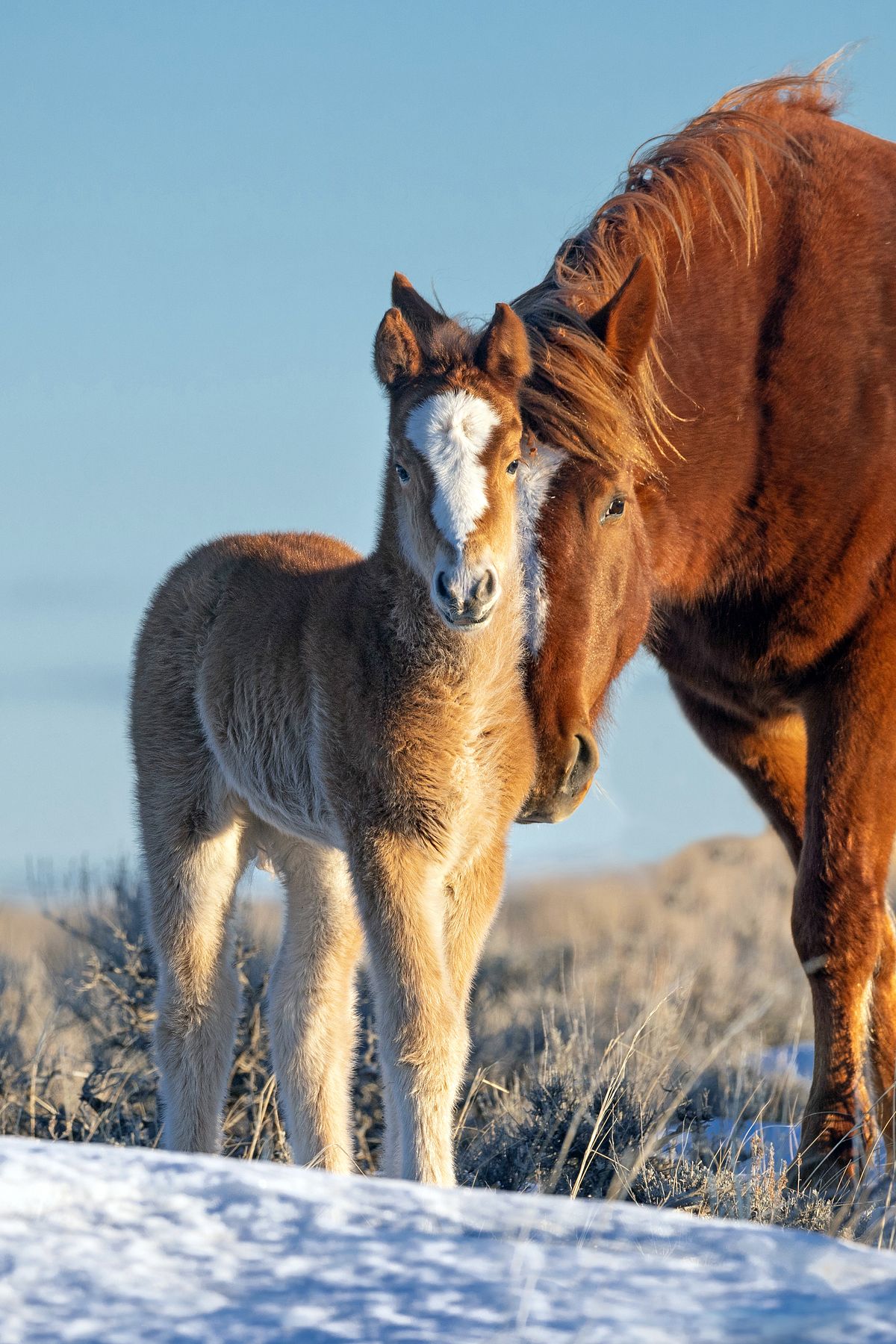 When more than a week passed since the birth, we had pretty much given up looking for Keota and her newborn. The next time I visited the range, I saw Maverick's band near Whistle Creek Road and drove past them to see if I could find the stallion, Traveler, and his family. With Traveler nowhere in sight, I returned to Maverick's band and thought I saw something odd from the corner of my eye. Surprisingly, it was Keota and she had her tiny foal with her!
I don't know how it happened, but Keota and her newborn had returned to her natal band, back with Mom and Dad (Kodiak and Maverick) and the rest of the family. The newborn filly, now officially named, Kat Ballou, was very lively and aside from nursing almost constantly, she spent the rest of her time running around on the snowdrifts until she exhausted herself and keeled over near Keota for a nap. The other youngsters in the band were extremely curious about Kat Ballou and would sneak over to investigate her while Keota was grazing, only to be chased off by Kat's ever-watchful great-grandma, Totem. Maverick's band seemed settled and at peace with this new family member and I left the range feeling relieved.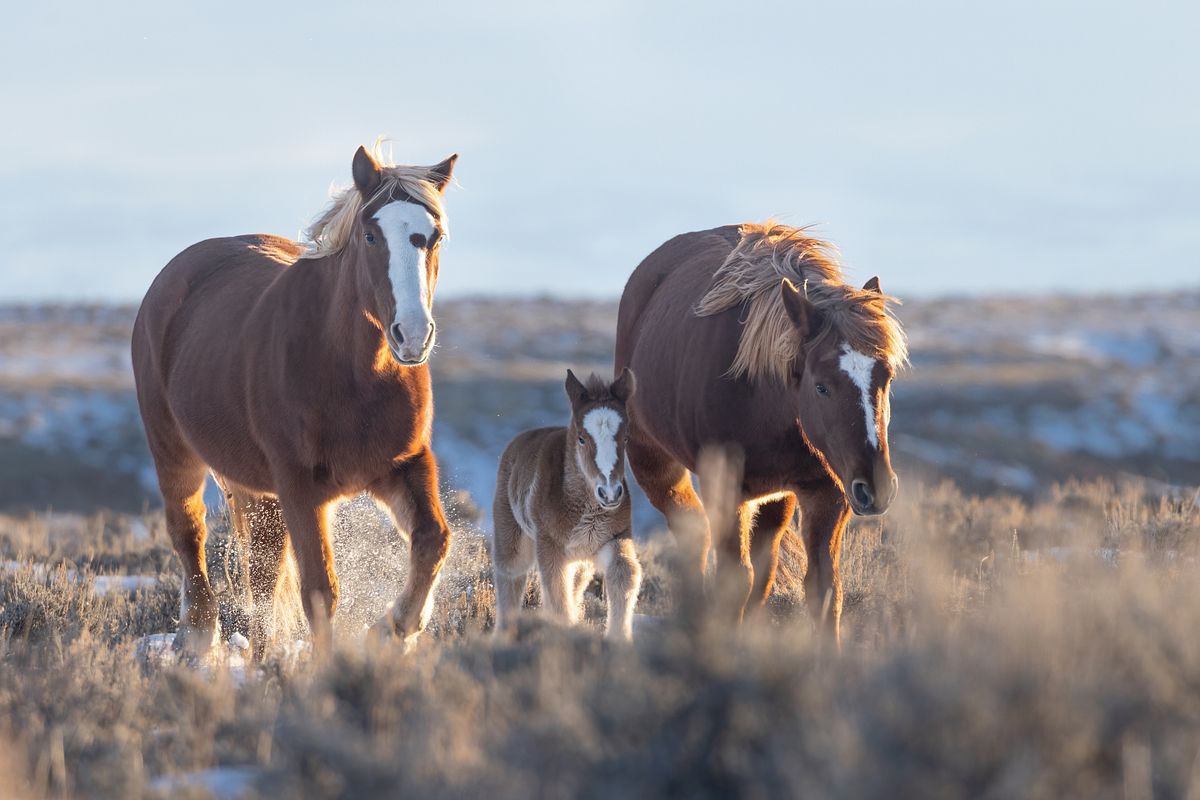 Surprisingly, little Kat Ballou wasn't the only foal born to the Red Point herd this winter. Another newborn appeared with her mother in late January, almost exactly a month after Kat was born. Because of the extreme winter weather and the inaccessibility of the range, I hadn't visited much in January. The impending snow and subzero temperatures predicted for late January and February had me worried about Kat Ballou and her family, so I decided to check on them before the next bout of winter hit.
When I arrived at the range on January 25, I was happy to find the Red Point herd within view from the highway. I drove to a hilltop, hoping to spy Kat with her family below. As I got out of my Jeep, I saw a sorrel foal approaching with her mother. I assumed the pair were Keota and Kat Ballou, but as they got closer, I realized it wasn't them. While the horses had been away from the snowy roads for the last few weeks, another sorrel mare, June, had given birth to her own sorrel filly, little Jules. Jules appeared to be a couple of days old when I met her and I watched with great interest as her mom, June, moved the family towards their favorite seasonal grazing area. Keota, Kat Ballou and the rest of Maverick's band followed June's procession to the north. I wondered to myself if the horses could sense the impending winter storm that would be bearing down on them in a few days.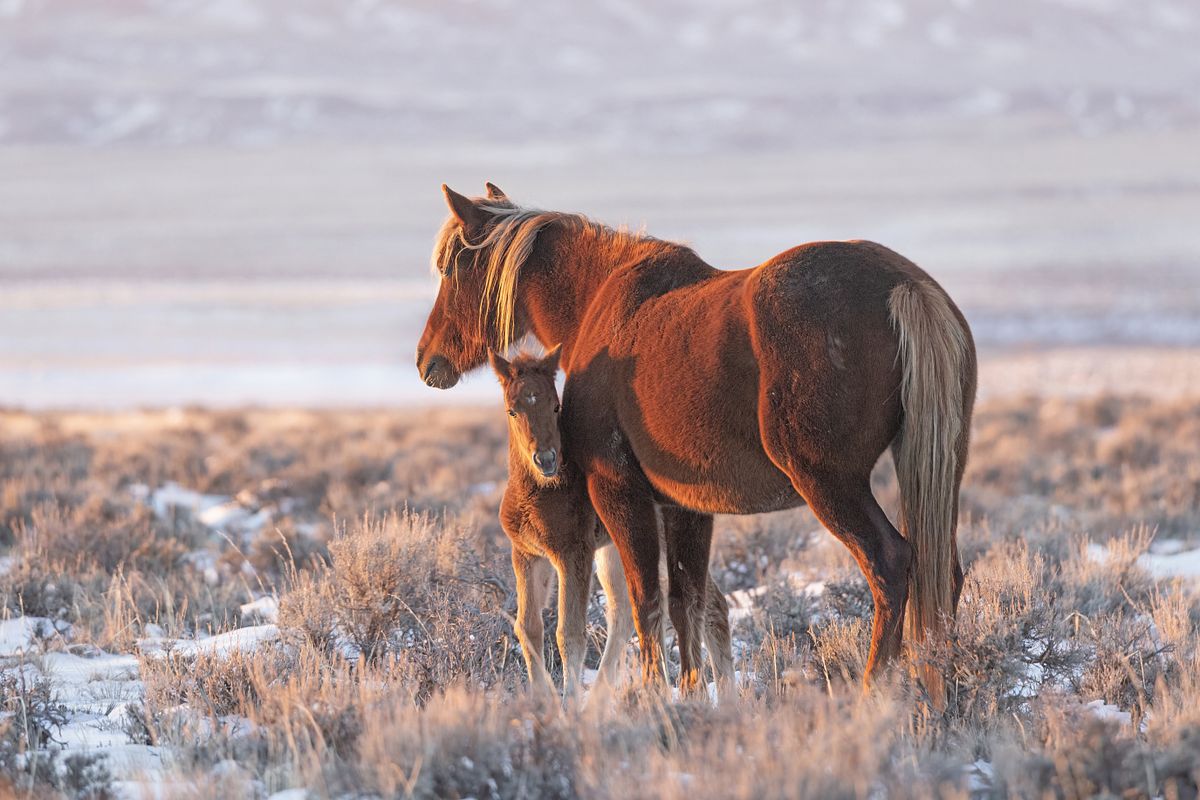 Just 36 hours after I visited the wild horses, a major storm hit McCullough Peaks with blowing snow, howling winds and temperatures well below zero. In conditions like this, I don't normally visit the range and like the wild horses, I hunkered down waiting for the system to pass. When I traveled to the range a few days later, temperatures were -34 Fahrenheit without wind chill. Wild horses in good body condition can withstand temperatures down to -40 Fahrenheit without difficulty, but these temperatures are dangerous to newborns. In this extreme cold, I never approach the horses, fearing I might cause them to move and waste precious energy. I planned to glass the range from the highway and hoped I might see the families with newborns through my binoculars. As luck would have it, the Red Point herd was huddled together in a ditch near the highway and I was able to spot both June with Jules and Keota with Kat Ballou. What a blessing on such a cold day! Thankful for the brief sighting, I headed home.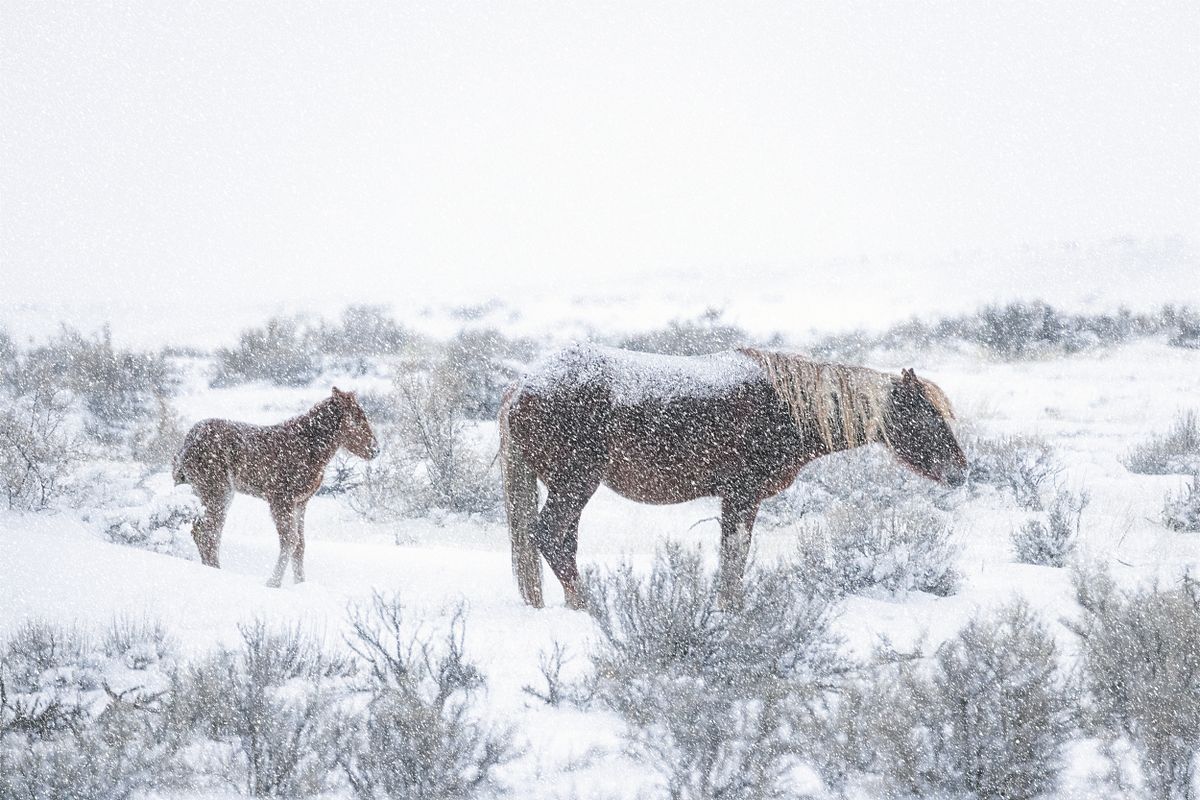 That frigid morning was the last time I saw the wild horses for a few weeks. During the month of February, storm after storm pummeled the range leaving McCullough Peaks buried in snow. Under these conditions, the wild horses migrate to steep hills and buttes where the howling winds blow the snow away, thus making it easier to find forage. These hillsides are quite a distance from any navigable roads or trails, but I would occasionally spot the Red Point herd as tiny specks on the horizon. It wasn't until almost a month later that I was able to see both Kat Ballou and Jules closer than a mile distant and I was very happy with how well they looked. Both girls appeared healthy and robust, with little Kat Ballou looking almost stout.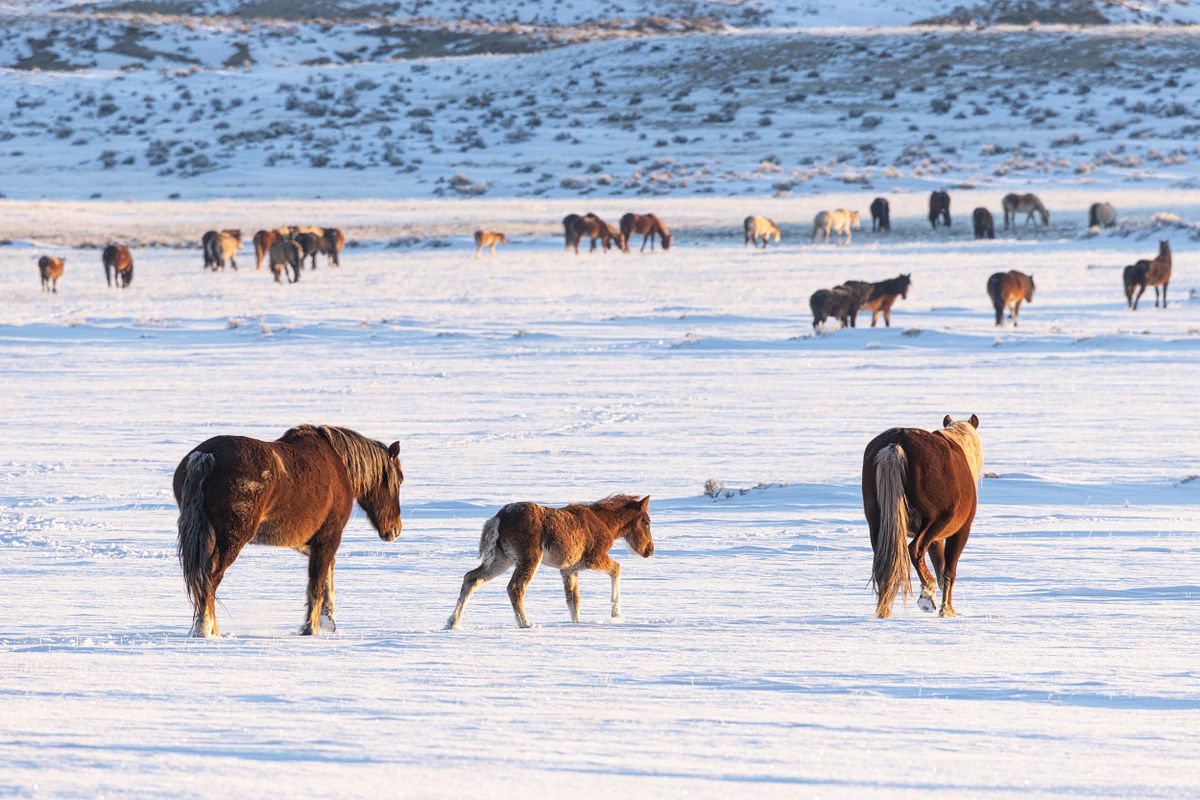 Since coming into this world, Kat Ballou and Jules have endured heavy snow, freezing rain, 50+ mph winds and subzero temperatures and, as of this writing, both appear unscathed. Winter is an incredibly difficult time to be born, but with their doting moms and large extended families looking out for them, both of these little ladies have been able to withstand what Wyoming has thrown at them thus far. Things are never certain in the wild world, but I'm hopeful these two lovelies will grow into the beautiful mares they were meant to be.